Denver Moves Full Steam Ahead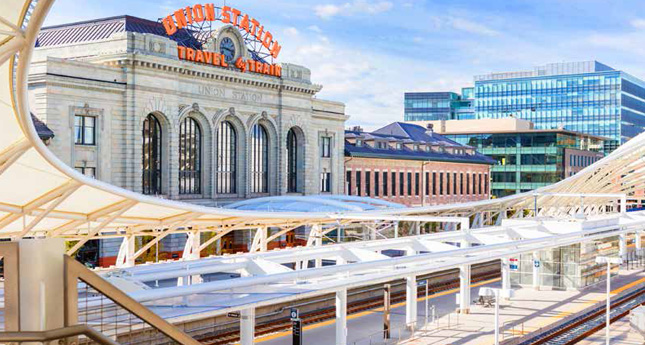 - June 24, 2016
Back when Denver was nothing more than a small frontier town, a dusty outlier on a trodden trail, most people kept heading farther west. All that changed when the railroad laid tracks through the heart of town, transforming it into the largest stop between Chicago and San Francisco. By the 1860s the lure of gold and silver in the Rocky Mountains cemented Denver as a railroad hub. The Union Depot handled more than 200 trains per day during railroading's golden age. Trains gave way to automobiles, eventually leading to traffic congestion, with smog as a byproduct. By 2004 fed-up voters approved a $4.7 billion funding initiative to streamline rail and commuter connectivity spanning eight counties — Denver's bold vision to address downtown gridlock. That vision became reality April 22 when Denver joined the big "urban" league with inaugural rail service from the airport to downtown Denver in just more than 30 minutes. (RTD FasTracks is the regional transportation district and brainchild behind Denver's transportation renaissance.) The former cow town now sports a modern-day public transportation marvel designed to meet the needs of its 21st-century citizens. Today Denver features an alluring harmony of cowboy beginnings fused with an edgy urban vibe capitalizing on mountain highs. Wesley Marshall, associate professor of civil engineering, University of Colorado at Denver, loves going to cities where one can easily get around without having to rent a car. "Denver is definitely beginning to move in that direction," he says. "Beyond transit, downtown Denver has also pivoted into a city where walking and bicycling are quickly becoming great options. It's easy to get access to the bike share system, and even if you need a car for a bit of time, there are now several car sharing services such as Lyft and Uber." According to Marshall, Denver learned from other urban places by focusing on new mixed-use developments at TODs (transit-oriented development) along the new rail corridors. "However, I also feel like they've fallen into some of the same old traps, such as focusing a bit too much on trying to relieve traffic congestion — when that isn't what transit is for — and in turn placing these rail lines along highways, which severely limits the TODs."
Rail provides a more permanent economic solution to boosting a downtown renaissance, as people want to live by convenient rail stops. "Economic development seldom pops up due to a new bus stop, but rail stations — and the permanence of the tracks — make for a different story," notes Marshall. Busy business travelers find air travel to Denver more convenient than ever. Ranked as the second-largest airport in the world by size,
Denver International Airport
handles more than 50 million passengers annually, making it the fifth-busiest airport in the United States. DEN boasts non-stop service from 24 international destinations in 10 countries. New 2016 Denver routes include Virgin America's link to San Francisco (SFO), Sun Country Airlines' daily non-stop service to Minneapolis/St. Paul (MSP), Lufthansa's non-stop flight to Munich (MUC) and Air Canada's non-stop service to Montréal (YUL). Other airlines currently connect through Denver, including Aeromexico, Air Canada, Alaska Airlines, American Airlines, British Airways, Delta Air Lines, Frontier Airlines, Great Lakes Aviation, Icelandair, JetBlue Airways, Southwest Airlines, Spirit Airlines, United Airlines and Volaris. The
Westin at Denver International Airport
opened November 2015, epitomizing the trend of travelers with air connections seeking the convenience of staying overnight at the airport. Guests access the hotel on the south side of Jeppesen Terminal on Level 5. Looking like gigantic glass wings, the architecture's distinctive and bold design reaches forward to the future, suggesting a new chapter for Denver's groove. From a platform under The Westin, catch the 24-mile rail line to downtown's
Union Station
. Completely restored in 2014 and decorated in the lavish Beaux-Arts style, Denver Union Station once again serves as a transportation hub and houses the stately 112-room
Crawford Hotel
, a former railroad hotel. Ask for a Pullman room, modeled after the private sleeping cars of yore. For an in-depth focus on Denver's eras of transportation, explore its past. Rail fans will delight in viewing steam trains, historic locomotives and narrow-gauge mountain trains at the
Colorado Railroad Museum
. The
Forney Museum of Transportation
displays more than 600 artifacts from all kinds of historic transportation, with its biggest prize the Union Pacific Big Boy Steam Locomotive 4005. Then hop over to
Wings Over the Rockies Air and Space Museum
for a history of the former Lowry Air Force Base. Acquisitions include the U.S. Air Force's B-1A Lancer and B-52 Stratofortress bomber.
SCENIC DRIVES
Drive west on I-70 to Mount Evans Scenic Byway & Wilderness, the highest paved auto road in North America, known as the "Road to the Sky." Park and climb the last quarter-mile to the 14,260-foot summit. Along the way you'll discover rare flowers and bristlecone pines, considered the oldest living things in the world. You might even see bighorn sheep and mountain goats. Head north for 65 miles on I-25 to Fort Collins, home of Colorado State University. Located at the foot of the Rocky Mountains, Fort Collins offers an unbelievable array of culture, cuisine and outdoor activities like biking, hiking and canoeing. Foodies congregate here along with craft beer aficionados looking to sample the wares at the world-famous New Belgium Brewery. Steer south on I-25 to Pueblo, connecting with U.S. 50 to Cañon City for the world's largest suspension bridge. Spanning the Arkansas River, the 1,260-foot-long bridge supports more than 2 million pounds. Buy a ticket to ride the aerial tram and the world's steepest incline railway to the bottom of the gorge. Splurge on the Royal Gorge Route Railroad, a heritage train that transits a 24-mile roundtrip through the "most arresting scenic site in all of American railroading."