Are you looking to enhance your business trip with a little leisure? Look no further than Portugal, a country renowned for its captivating blend of history, culture and natural beauty. And with TAP Air Portugal, you can effortlessly transform your business trip into an unforgettable bleisure adventure. Discover why Portugal and TAP Air Portugal are the perfect combination for an enriching and rejuvenating experience.
PORTUGAL STOPOVER
Take a break from your professional commitments and refresh your mind and soul amidst Portugal's unparalleled natural beauty. Don't worry, if your final destination is one of the many destinations we fly to in Europe, the Middle East and Africa, you can still discover and explore Portugal. With TAP's Portugal Stopover Program, customers can easily add a free stopover in Lisbon or Porto for up to 10 days — whether flying one-way or round-trip. To make this offer even more enticing, Portugal Stopover customers get access to exclusive offers and discounts on hotels, restaurants, shopping, museums and countless activities. If you want even more Portugal, add a second destination in Portugal at a 25 percent discount on airfare on visits to regions like the Azores and Madeira.
EXPLORE THE VIBRANT CITIES AND PRISTINE COASTLINE
TAP Air Portugal offers convenient flights to Portugal's major cities, including Lisbon, Porto and Faro. Lisbon and Porto are vibrant urban destinations, providing an ideal backdrop for mixing business and pleasure. After a successful day of meetings or conferences, immerse yourself in the rich historical charm of Lisbon, with its stunning architecture, winding streets and world-class museums. In Porto, known for its famous Port wine and picturesque riverfront, wander through atmospheric neighborhoods. Or head to the sunny Algarve region, which offers a perfect blend of pristine beaches and traditional Portuguese culture. Anywhere you go, one of the highlights of Portugal is undoubtedly its culinary scene, with delectable seafood, tantalizing pastries and world-famous wines.
SEAMLESS TRAVEL EXPERIENCE
TAP Air Portugal's commitment to providing a seamless travel experience makes it the perfect choice for your trip. With a modern fleet of aircraft, comfortable seating and attentive service, you can relax and recharge during your flight.
With more than 90 non-stop flights weekly from North America to Portugal from 10 gateway cities, Portugal is easier to get to than ever. TAP's extensive network ensures easy connectivity throughout Portugal and beyond to more than 65 destinations in Europe, the Middle East and Africa, allowing you to maximize your time.
When you choose TAP Air Portugal, you can earn miles and  gain access to exclusive benefits and rewards, whether as a member of the TAP Miles&Go frequent-flyer program or the loyalty program of one of our Star Alliance partners.
Embark on an extraordinary bleisure trip to Portugal and beyond with TAP Air Portugal and enjoy a world of possibilities for an unforgettable experience that seamlessly combines work and play.
Start planning your trip and learn more at flytap.com/en-us/stopover.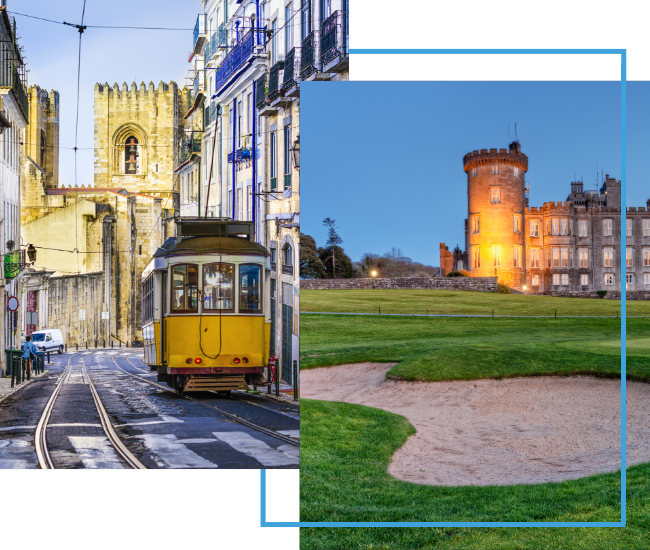 FX Excursions
FX Excursions offers the chance for once-in-a-lifetime experiences in destinations around the world.
Explore Excursions
There is something magical about sipping a glass of local wine while watching the sun slip into the Aegean Sea as the afterglow tinges traditional, white-washed Cycladic houses with glorious shades of rose, purple and gold. Ancient Greeks believed Helios, the Sun God, caused sunsets by driving his fiery chariot into the sea. Standing at water's edge in Mykonos, watching the sky slowly turn from purple to inky black, you almost believe it.
Sponsored Content
The Islands of Tahiti are among the most beautiful and sought-after vacation destinations in the world. The endless images of overwater bungalows with Bora Bora's majestic peak towering over waters of every shade of blue have an intrinsic pull. But with 118 islands and atolls to explore, there is so much more to this spectacular region of the Pacific.
The prospect of a post-visit treasure hunting session inside the shops of landmark museums such as the Louvre in Paris, the Uffizi Gallery in Florence and The British Museum in London can be irresistible. However, some of Europe's smaller and more unusual museums boast retail spaces with a surprising "wow" factor, often as well-curated as the galleries.