With spring on our doorstep, the world prepares to see bursts of color, from bold bluebells to vibrant cherry blossoms. While every destination welcomes spring, these places not only see beautiful flowers blossom but also celebrate these blooms with festivals and floral-themed offers from local hotels.
Whether you're a fan of tulips or wildflowers or daisies, here are some cities ready to welcome visitors to experience spring blooms for themselves:
Where to Experience Bluebells
In Brussels, Belgium, lies an indigo forest that erupts into shades of purple and blue every spring. This forest, Hallerbos, located 25 minutes from the city center, begins to see green, wild hyacinths turn to bluebells in mid-April. The forest's website updates daily during the spring season to track the bluebells' blooms. Fans of these blooms can extend the bluebell experience at Hotel Amigo, located next to Grand Place outside of Schaerbeek. Here, the concierge team can arrange a private chauffeur to visit the forest. Back in the hotel, guests can enjoy relaxing in a botanically inspired room, where bright colors, wooden sculptures and modern furnishings make for a pleasant experience.
Where to Experience Cherry Blossoms
What better place to see the cherry blossoms than in their original home? In Tokyo, Japan, the city transforms into a sea of cherry blossoms from late March to early April. Since the eighth century, viewing cherry blossoms has been an important pastime in Japanese culture, and Tokyo offers many spots to witness the blooms, including Meguro River, Yoyogi Park, Rikugien Gardens and Ueno Park. For a bird's eye view of the blossoms, stay at Park Hyatt Tokyo, located at the top of a 52-story tower. In addition to personalized services and top-class gourmet dining options, the hotel also boasts 360-degree views of the city and Mount Fuji.
Where to Experience Tulips
Head to Seattle, Washington, this spring to see native flora come alive. In April, the city hosts the iconic Skagit Valley Tulip Festival, where fields of colorful tulips and daffodils awe the more than 1 million visitors. Soak up every minute of tulip season with a stay at Thompson Seattle, where the building's sleek, glass façade offers views of Puget Sound. Head to the restaurant's rooftop cocktail lounge to enjoy city and waterfront views.
Where to Experience Medicinal Flowers
The cassia flower has long been reported to have anti-inflammatory and antioxidant properties, as well as a form of natural hair care, coloring and conditioning. In Jerusalem, Israel, visitors can learn about the biblical roots of cassia, in which it is believed to have served as an essential oil and core ingredient in anointing oil. At Cassia Jerusalem, a property named after the same flower, guests can see the beautiful flowers hanging from trees surrounding the property.
Where to Experience Wildflowers
In Tucson, Arizona, the Sonoran Desert transforms into a painter's palette of wildflowers. Hike one of its trails in April to witness Mexican gold poppies, desert bluebells, paper flowers, owl's clover and more. Through April and until June, a visit to the desert also promises sights of desert plants in bloom, such as saguaro, ocotillo, barrel, prickly pear and cholla cacti. Graduate Tucson serves as the perfect hub to enjoy Arizona's wildflower blooms. Its rooftop bar, Moonstone, features cocktails inspired by the natural flora, with drinks like The Bluebell (vodka, pineapple rum, lime and pineapple) and The Desert Rose (tequila, Cocchi Americano, lemon, strawberry and rose water).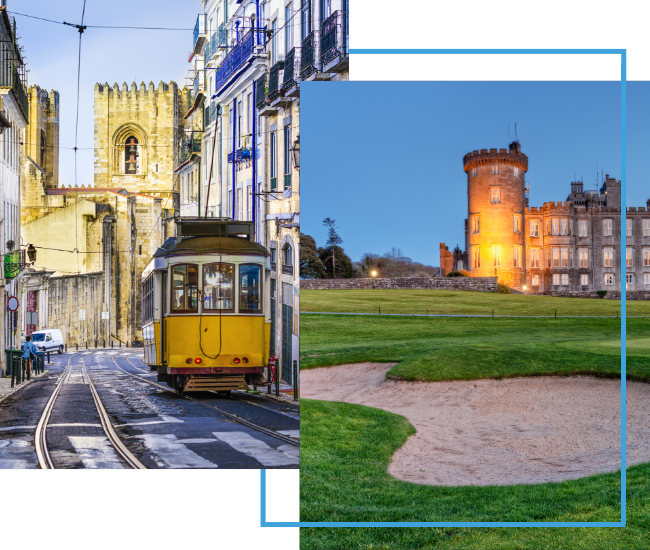 FX Excursions
FX Excursions offers the chance for once-in-a-lifetime experiences in destinations around the world.
Explore Excursions
Located in the heart of Houston's Theatre District, the recently renovated Lancaster Hotel originally opened in 1926. The classic interior with an abundance of natural light floods the two-story lobby. A shimmering chandelier and elegant marble floors juxtapose nicely with the contemporary art displayed on the salon staircase wall.
Sponsored Content
Nashville's once-modest skyline continues to evolve as its luxury market grows. Lavish hotel properties are added to the landscape while acclaimed chefs stake claim in the robust culinary scene and premier cultural offerings round out the city's repertoire.
The Woodward Geneva and Swiss International Air Lines recently launched a new collaboration to transport passengers to the counter of Michelin-starred restaurant L'Atelier Robuchon. As part of the SWISS Taste of Switzerland inflight culinary program, the partnership provides Business and first-class travelers on SWISS long-haul flights departing from Geneva and Zürich carefully curated menus inspired by the restaurant.