A couple weeks ago I went on a weekend trip to Virginia Beach. I have been to different parts of Virginia but never Virginia Beach, so I was excited to explore a new area. I had a short flight from Philadelphia to Norfolk followed by a quick 20-minute ride to my hotel. My driver took the scenic route from the airport so I could see more of the destination.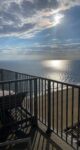 I was staying at Marriott Virginia Beach Oceanfront and had a jam-packed weekend planned. The hotel was stunning, I had a beautiful room with a great view of the beach and the ocean. I got to enjoy my room for a little bit but then had to get ready for a trip to the hotel across the street for a distillery tour.
The Cavalier Hotel is one of the oldest resorts in the area and is the only hotel in the United States with a distillery. Our group took a tour of the distillery and learned how they make the whiskey, bourbon and other spirits. After the tour we went in the tasting room and got to sample some of the spirits. I am not normally a fan of whiskey or bourbon, but I really enjoyed the tasting.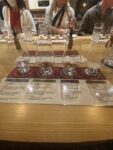 After the tour, we went back to the Marriott for dinner at Orion's Roof. We got prime seating and enjoyed dinner with a stunning view of the beach and sunset. After a busy day, I was really tired, so I got ready for bed and watched a movie in my room.
The next day we had another busy day. We started the day exploring Virginia Beach's Boardwalk Art Show, going on for 65 years. Once we saw all of the art show, we enjoyed lunch in the Beach Club's VIP section. The food was amazing, and the entertainment was great. When we had finished lunch, we headed to Virginia Beach Aquarium. I love aquariums, so I was so excited to explore.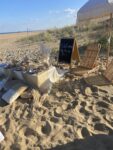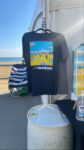 Later that night we had a beautiful picnic on the beach provided by The VB Picnic Co. The company sets up the picnic for your group and then comes back to clean up when you are done. The picnic comes with a delicious charcuterie board, flavored seltzers and a great venue. Our picnic ended with a stunning sunset, and we even saw some dolphins out in the ocean.
I had a great time during my trip and am already planning my next vacation to Virginia Beach to explore the things I didn't get to see.
— Mary Melnick, social media and editorial coordinator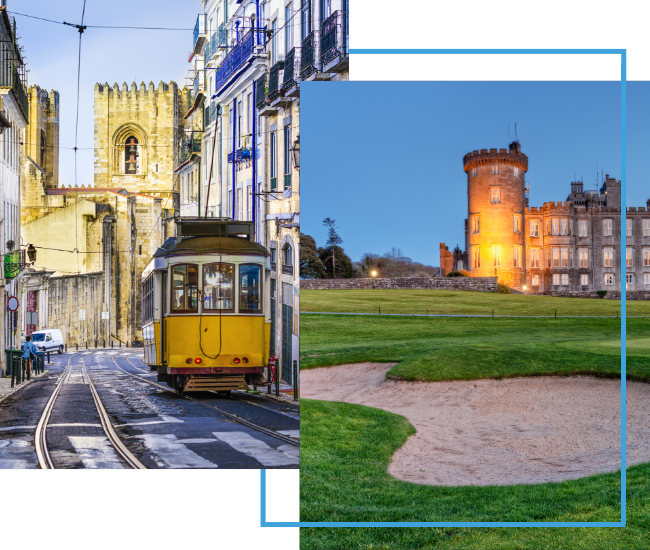 FX Excursions
FX Excursions offers the chance for once-in-a-lifetime experiences in destinations around the world.
Explore Excursions
Imagine yourself lounging in a stone cottage suite with a fireplace and freestanding tub, sipping hot chocolate in a rustic game and reading room with a raftered ceiling, and ice skating and cross-country skiing in the crisp mountain air. Sounds pretty perfect, doesn't it? Especially when you add in seasonal touches.
Sponsored Content
The Saronic or Argo Saronic Islands of Greece call travelers to explore its seven small islands and islets brimming with history, natural sites and more. With most easily accessible by boat, the islands' proximity to ports of Athens make the Saronic Islands an ideal destination for those preferring shorter boat rides. In fact, trips from Athens ports to the islands take only between 10 minutes and two hours, depending on the island you choose, making them perfect for day or weekend trips. From Piraeus port, you can access Hydra, Spetses, Aegina and Poros directly. Come explore these stunning islands with us and find the inspiration to plan your next trip to these islands. Hydra Hydra town curves around a slope overlooking the Argosaronic Gulf like an amphitheater and is considered one of the most romantic destinations in Greece. Most unique to the island is its lack of vehicles. People on the island get around on mules and donkeys as well as water taxis, making for a peaceful and laid-back day. Hydra lies a two-hour ferry ride from Piraeus port in Athens.
For the first time in Olympic history, when the 2024 Summer Olympics kick off on July 26, 2024, they will not do so in a stadium. Instead of an Olympic venue, the entire city of Paris will become the Olympic stadium, hosting the games among monuments, on bridges and on the grounds of some of the world's most historic sites. The Opening Ceremony will take place on the River Seine, where athletes will drift along on a flotilla of boats as spectators wave them on from the quays and bridges throughout the city.