A couple weeks ago I went on a weekend trip to Virginia Beach. I have been to different parts of Virginia but never Virginia Beach, so I was excited to explore a new area. I had a short flight from Philadelphia to Norfolk followed by a quick 20-minute ride to my hotel. My driver took the scenic route from the airport so I could see more of the destination.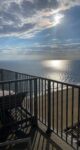 I was staying at Marriott Virginia Beach Oceanfront and had a jam-packed weekend planned. The hotel was stunning, I had a beautiful room with a great view of the beach and the ocean. I got to enjoy my room for a little bit but then had to get ready for a trip to the hotel across the street for a distillery tour.
The Cavalier Hotel is one of the oldest resorts in the area and is the only hotel in the United States with a distillery. Our group took a tour of the distillery and learned how they make the whiskey, bourbon and other spirits. After the tour we went in the tasting room and got to sample some of the spirits. I am not normally a fan of whiskey or bourbon, but I really enjoyed the tasting.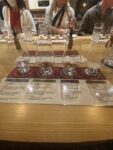 After the tour, we went back to the Marriott for dinner at Orion's Roof. We got prime seating and enjoyed dinner with a stunning view of the beach and sunset. After a busy day, I was really tired, so I got ready for bed and watched a movie in my room.
The next day we had another busy day. We started the day exploring Virginia Beach's Boardwalk Art Show, going on for 65 years. Once we saw all of the art show, we enjoyed lunch in the Beach Club's VIP section. The food was amazing, and the entertainment was great. When we had finished lunch, we headed to Virginia Beach Aquarium. I love aquariums, so I was so excited to explore.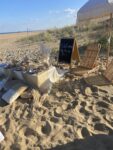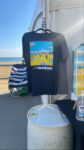 Later that night we had a beautiful picnic on the beach provided by The VB Picnic Co. The company sets up the picnic for your group and then comes back to clean up when you are done. The picnic comes with a delicious charcuterie board, flavored seltzers and a great venue. Our picnic ended with a stunning sunset, and we even saw some dolphins out in the ocean.
I had a great time during my trip and am already planning my next vacation to Virginia Beach to explore the things I didn't get to see.
— Mary Melnick, social media and editorial coordinator
FX Excursions
FX Excursions offers the chance for once-in-a-lifetime experiences in destinations around the world.
Crystal Bridges Museum of American Art, located in Bentonville, Arkansas, presents Diego Rivera's America, the first major exhibition focused solely on the Mexican artist in more than 20 years, on view until July 31. Crystal Bridges is the second and final stop for the exhibition, the only remaining opportunity for visitors to experience Rivera's expansive vision of America.
Sponsored Content
Are you looking to enhance your business trip with a little leisure? Look no further than Portugal, a country renowned for its captivating blend of history, culture and natural beauty. And with TAP Air Portugal, you can effortlessly transform your business trip into an unforgettable bleisure adventure. Discover why Portugal and TAP Air Portugal are the perfect combination for an enriching and rejuvenating experience.
In San Antonio, Texas, old buildings are seldom destroyed. When they fall into disrepair, they are instead repurposed and restored to maintain the city's history and traditions for future generations to appreciate. Whether it's a former brewery or bank transforming into a chic hotel or a candy factory evolving into stylish lofts, this Texas city embraces both history and sustainability.