I joined several friends in St. Louis, Mo., for a convention and the Go! St. Louis Marathon. I wasn't running, but I was there to support my friends and enjoy the Gateway City.
My first non-Chicago baseball game was in St. Louis against the Cincinnati Reds. Now, some 35 years later, I once again saw the Cardinals face the Reds at Busch Stadium. This time the Cardinals lost, but as a Cubs fan, I was not unhappy.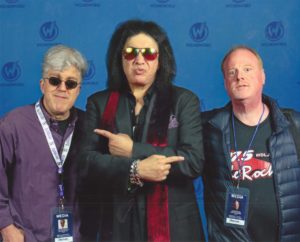 On Saturday night, the non-runners enjoyed a Gene Simmons concert at the Pageant. Pageant, opened in 2000, is a cool concert venue seating up to 2,300 people. It was built for intimate concerts and has fantastic sightlines and awesome acoustics. It is one of those places that just feels cool.
As a kid, Kiss was the first rock band I loved. As Simmons kicked off the show with "Deuce," I was immediately that kid again. By the time he finished with a little Chuck Berry tribute, Simmons once again had proven why he is one of the greatest and still a master showman.
The Go! St. Louis Marathon encompasses 11 different races, attracting more than 25,000 runners. The Sunday weather was perfect for running, but I did resist the urge to enter, as the finish line featured St. Louis-themed food. Somehow I always seem to have more fun watching runners as opposed to running myself.
My trips always involve good food, and I never miss the chance to return to an old favorite. In St. Louis my old favorite is Lombardo's. I enjoyed the Linguine Seafood, while my friends loved the Filet Gorgonzola, the Chicken Lucciano and the Veal Piccatta. Delicious food, a relaxing atmosphere and an attentive staff made for a wonderful feast.
When searching for cannoli, Nick and Elena's came highly rated, and it did not disappoint. The secret is always in the filling, and Nick and Elena's got it just right — creamy and cheesy, without being sugary-sweet.
It was a short three-day weekend with a full itinerary. Outstanding food, rocking music, baseball and great friends made for a lot of fun. I even had a few warm, nostalgic moments.
— John Wroblewski, distribution specialist
FX Excursions
FX Excursions offers the chance for once-in-a-lifetime experiences in destinations around the world.
COMO Hotels and Resorts offers travelers new immersive luxury retreats for 2022. Perfect for couples, small groups or solo travelers, the new COMO Journeys are available to book in Australia, Bhutan, Indonesia and Thailand.
Sponsored Content
IHG® Hotels & Resorts certainly has a lot to celebrate, starting with an incredible growth story. Over the past five years, IHG has acquired or launched six new brands: Six Senses® Hotels Resorts Spas, Regent® Hotels & Resorts, Vignette™ Collection, voco™ hotels, avid® hotels and Atwell Suites™. Most recently, IHG reached an important milestone with its 6,000th open hotel. The company looks to further expand its portfolio by 30 percent with 1,800 hotels in the development pipeline, with significant focus on growth in the luxury segment where IHG is positioned as one of the top two hotel chains.
Anantara Chiang Mai, the deluxe resort on the banks of Thailand's Mae Ping River, relaunched the city's most famous high tea experience, served on the terrace of the 100-year-old British Consulate that today houses the resort's Service 1921 Restaurant & Bar.