Last weekend my husband and I traveled to San Diego to attend our friends' son's wedding. We flew via Alaska Airlines, taking advantage of the Companion Fare benefit via our Alaska Mileage Plan Visa Signature credit card (always ranking high on GT Tested, The Trazees and Wherever awards lists). To fit our schedule, it meant we flew from our home in Southern Oregon to Seattle and then from there to San Diego. A little out of the way, but it meant that we flew over the Bootleg Fire in south-central Oregon, currently the largest wildfire burning in the United States at over 400,000 acres. The pyrocumulonimbus clouds were incredible, reaching close to our cruising altitude of 32,000 feet.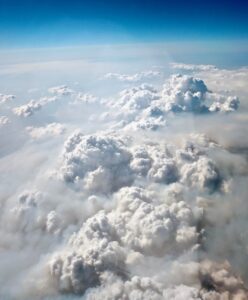 It was heartbreaking to think, though, of all the forests and wildlands burning below.
Our good travel buddies, Paul and Julie, picked us up at SAN and, as it was the dinner hour, drove us a short distance away to Tom Ham's Lighthouse on Harbor Island. It sits right on the tip of the narrow island and incorporates a working beacon into its design. The restaurant proper sits above the first-level event space and features wrap-around windows and a large outdoor dining space offering expansive views of the bay and the city skyline.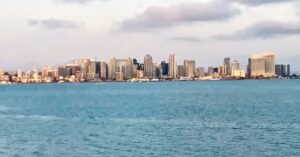 We arrived ahead of our reservation and so took seats in the bar and sipped some wine until our table was ready. When we first got there the sun hadn't yet set, so we could check out the Navy ships across the way and the recreational boaters and sailors on the bay; but as night fell and we moved to our table out on the edge of the dining deck,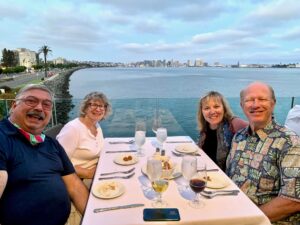 we took in the lights of the city and the lit-up masts of the Star of India, part of the Maritime Museum of San Diego on the waterfront.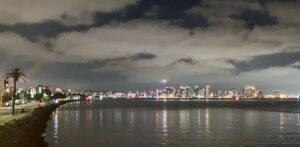 Tom Ham's claims the title of Best Seafood Restaurant in San Diego, and its menu offers a host of seafood platters featuring everything from raw oysters to Maine lobster, Dungeness crab and P.E.I. mussels. We kept it simple and ordered an appetizer of fried calimari with a delicious honey lime chili dipping sauce and followed up with a shared pan of paella, combining seafood with chicken and chorizo on a bed of perfect saffron rice.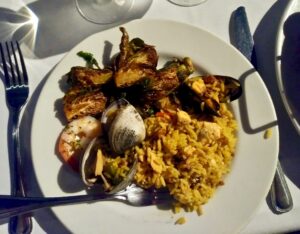 We also shared a side of Vermont maple-glazed Brussels sprouts with bacon — superb! We kept our desserts on the light side: crème brûlée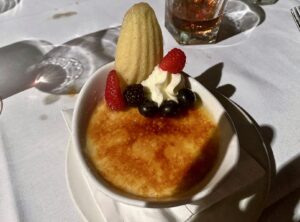 and a scoop each of creamy chocolate gelato and an intensely flavored mixed berry sorbet.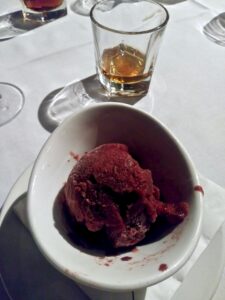 What a wonderful introduction to San Diego, complete with perfect, balmy weather.
The next afternoon, after spending a long morning at the San Diego Zoo, we returned to the waterfront for some rehydration and food. We headed to Seaport Village,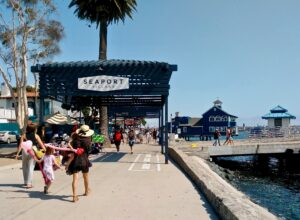 a shopping, dining and entertainment complex adjacent to the Tuna Pier and a short walk to the USS Midway Museum.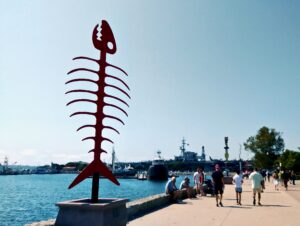 We were looking for Mike Hess Brewing and took a while meandering through the various buildings before we found it, tucked between two other restaurants and right alongside the waterfront promenade. It's a cozy, friendly little place with a nice outdoor deck where the refreshing breezes off the water make it a great spot to cool off with one of the brews on tap. Only one drawback: There are no restrooms on the premises. You need to trek about a block to the Village's shared restrooms, so be prepared!
Harry and I shared a couple of fish tacos (perfectly cooked fish and great flavor) and an order of fish and chips (lightly battered and crisp) along with our beers. We sat and watched the ships out on the bay and the people strolling along the waterfront and decided that, yes, San Diego is a very nice place to visit, indeed.
— Patty Vanikiotis, associate editor/copy editor
FX Excursions
FX Excursions offers the chance for once-in-a-lifetime experiences in destinations around the world.
With the autumn in full spring, now is time to start planning your fall weekend getaway.  Whether a relaxing weekend on the lake, leaf-peeping or hiking, check out these fall travel trends from vacation rental management company Vacasa.
Sponsored Content
Without a doubt, the pandemic changed the role of airports in the travel industry. Hamad International Airport's role evolved in many ways since the pandemic hit. Now, more than ever, airports are responsible for creating a secure passenger experience. As the gateway to Qatar and the world, the safety and wellbeing of staff and passengers has always been at the core of Hamad International Airport's strategy.
I imagine that when writer Hans Christian Andersen mused, "Life itself is the most wonderful fairy tale," he was standing at the edge of Copenhagen's historic Tivoli Gardens, one of his favorite haunts, enlivened by the swirl of human happiness that surrounded him: children laughing; carousels spinning; games of chance played for prizes; lovers holding hands; hungry people whispering over sweets, hot drinks, beer and towering, open-faced smørrebrød, Denmark's quintessential sandwich. That fairy tale lives on today at the second-oldest amusement park in the world, a spectacle of folly architecture, bakeries, gardens, rides, restaurants, puppet shows and joy ... and which also happens to be one of the city's most storied places to convene for business.