Did you know we have an office in Sarasota, Florida, as well as Yardley, Pennsylvania? This happens to be convenient for me, as my mother and her male companion, Arnold, retired to Venice, Florida, about 20 minutes or so from our Sarasota office. It so happens my father-in-law and mother-in-law also retired down there, as well.
Since I was taking a business trip to see one of our account executives, Carrie Cox, and visit clients, my family decided to tag along and spend time with our family while I was hard at work. I also was able to extend into the weekend so I could spend some time with our family.
Being in Florida in mid-May was a great time. One of the days I went to lunch with Carrie to a place across the way from our office. There we sat out on the deck while we ate, ordered salads and took in a little fresh air while we caught up on some clients and chatted.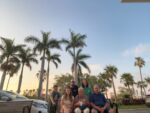 On the first day I was working, my mother and Arnold took my family on a boat, as they belong to Freedom Boat Club, located next to their condominium building. They spent the day in the Gulf of Mexico enjoying the sunshine and warm weather. They tried to go fishing, but apparently the fish were not cooperating. Of course, if I was there …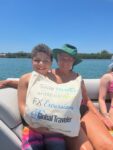 Another day they spent at the beach and pool. My mother and Arnold have a condo right on the beach. They are about eight floors up and overlook the pool and beach, which didn't help my morale to get to work, but I was able to spend the weekend utilizing both. It was a nice, quick vacation for us. My mom was glad to spend time with two of her 12 grandchildren. Something about being in the warm salt air always invigorates me.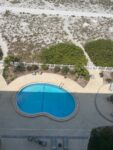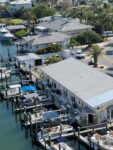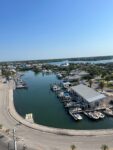 Venice Beach, Florida, has a little main part of town with some great restaurants and shops. A couple of the nights we were able to go to dinner. I always love going out to eat at different restaurants in different towns. One of the nights my wife's father and stepmother joined us. Another night we went out with just them. Being able to sit at a restaurant and catch up is always the best part of these visits. The ice cream afterwards is not too shabby, either!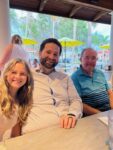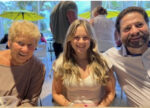 Of course, my family is asking when we can go again, and my mother is asking when we are coming down again. The truth is, I am looking forward to the next time I am needed down there. Carrie, just let me know!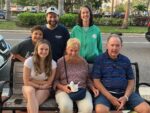 — Eli R. Shapiro, director of sales
FX Excursions
FX Excursions offers the chance for once-in-a-lifetime experiences in destinations around the world.
Sponsored Content
Exclusive Sailing with Global Traveler
Contemporary lifestyle hotel brand art'otel expands throughout Europe with the launch of three new properties in Zagreb, London's Hoxton and Rome, all slated to open between fall 2023 and early 2024. These three hotels join the brand's existing boutique hotels in Berlin, Amsterdam, Cologne and another London property.