Last night I attended a performance of The Tempest by GreenMan Theatre Troupe. Adding to the fun was seeing my friends Scott and Elizabeth on stage.
This isn't the first foray into acting for Scott and Elizabeth. Both have impressive résumés. Acting actually brought them together. After meeting at an audition, they married a few years later.
Written around 1610, The Tempest is one of Shakespeare's last plays. Mixing comedy, magic and romance with themes of loss, forgiveness, revenge and freedom, The Tempest has been called a comedy, tragedy, romance and more. It runs the gamut of emotions and elicits the same from the audience.
GMTT was formed in 2003 when Jill Perez and Carol Thorpe came together with director David Soria. Currently presenting a four-show season, GMTT also offers classes and workshops in theatre arts.
Having seen Scott and Elizabeth in other forms of entertainment, I knew they would be good, but their performances and the size of their parts was impressive. I was proud of my friends and happy for them. They did great.
GMTT put on a fantastic production, and I look forward to returning for future shows. Upcoming shows include Scooby Doo in That's How the Cookie Murders! and Bright Star by Steve Martin and Edie Brickell.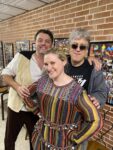 — John Wroblewski, online writer
FX Excursions
FX Excursions offers the chance for once-in-a-lifetime experiences in destinations around the world.
Grand Hyatt Vail offers travelers an exciting lineup of experiences for winter 2022/2023. The property celebrates its 40th anniversary in conjunction with Vail Mountain's 60th anniversary this December.
Sponsored Content
There's no better time to plan the vacation you've been missing. Step aboard with your better half, your friends or the whole family and reconnect, reunite and rejoice with 25 percent off cruise fares for all guests. We'll also help everyone get there with 25 percent off airfare from 20 major gateways across the country or $100 savings per person on flights from all other gateways when you book your air travel using Flights by Celebrity.*
From Costa Mesa and Newport Beach to Corona Del Mar, Dana Point and Laguna Beach, there are no shortages of lavish hotels and full-service day spas spanning Orange County. Spa enthusiasts are spoiled for choice, with so many different flavors of high-end interiors, signature treatments, elaborate services, retail areas and, often, swanky snacks served in cafés and solariums.