I recently saw Haley Reinhart in concert at two fantastic venues in the Chicago area. Over the weekend, I saw Haley again, but this time it was via Zoom for a chat on music and travel.
Haley was born into a musical family. With musician parents Harry and Patti, Haley was often on stage as a toddler. By age 8, she began seriously performing with Midnight, her parents' band. In 2011 she placed third on American Idol.
Since then, she has performed as a solo artist and with Scott Bradlee's Postmodern Jukebox. She received a gold record for her cover of Elvis Presley's "Can't Help Falling in Love," used in a gum commercial.
Haley states it was always going to be music for her. Never pressured by her musical parents, Haley just knew music was meant for her.
Her music choices are a bit unconventional, but that's just Haley going with what she feels is her natural progression. Her choices also showcase her talent and range, including jazz, rock, pop and more.
Haley talked about this and more, including how close her family is. This is especially evident when father Harry joins her on stage. It's always magical for them and the audience, which, in the Chicago area, includes many relatives and friends.
We finished with travel talk. I have seen Haley several times in the Chicago area, and each was in a different venue. Haley said it is somewhat planned but also just how it happened. Knowing Haley, I see it as her trying new things and not staying with the comfortable.
After many years of touring, Haley has logged in many cities and venues. She mentions wanting to return to New Orleans for a solo concert. Currently in Nashville, Haley is checking out the area, something unusual for her with her tight schedule.
Of course, Chicago is special to her. She lists her local favorites for dining and entertaining, all excellent choices.
Her Off the Ground tour has a few more stops, including Indianapolis and Oakland. I pushed for scoop, hoping there would be more Chicago stops added. While Haley didn't confirm this, her smile indicated it is a strong possibility (or, at least, that's my hope).
I have followed Haley for many years, attending several of her concerts. It is always such a great time meeting her at the shows and seeing her perform. Interviewing her for GT was a real thrill, and I appreciate her time and consideration.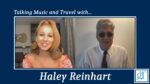 (Click here for the interview.)
— John Wroblewski, online writer
FX Excursions
FX Excursions offers the chance for once-in-a-lifetime experiences in destinations around the world.
Grand Hyatt Vail offers travelers an exciting lineup of experiences for winter 2022/2023. The property celebrates its 40th anniversary in conjunction with Vail Mountain's 60th anniversary this December.
Sponsored Content
Experience the beauty of Alaska and save 60 percent off cruise fares on your second and fourth guests. Plus, drinks, WiFi and tips are all included.
From Costa Mesa and Newport Beach to Corona Del Mar, Dana Point and Laguna Beach, there are no shortages of lavish hotels and full-service day spas spanning Orange County. Spa enthusiasts are spoiled for choice, with so many different flavors of high-end interiors, signature treatments, elaborate services, retail areas and, often, swanky snacks served in cafés and solariums.