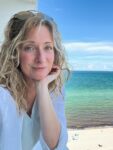 Here's a secret.
If you ever see my hair in its naturally curly state, it's because something has shifted.
Usually these bouts of curly-haired, carefree living only happen on vacation. But occasionally they sneak into my regular life, reminding me to release my grip and let my life unfold.
One such example happened a few weeks ago in Miami.
I'd started my Sunday by driving into Miami to catch a Marlins baseball game. Although I'm a baseball fan, this was my first game to see inside a dome – with air conditioning.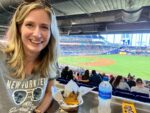 For decades I've watched baseball in the steamy summer weather of Kansas and the brisk mountain chill of Colorado. I've seen home runs hit into the San Francisco Bay, sat in the press boxes at Busch Stadium, took home a foul ball from Wrigley Field, and been sunburned at The Ballpark in Arlington, but never had I watched a baseball game dressed in shorts, wishing I'd brought a flannel.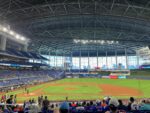 This was perhaps my first indication a potential shift was on the horizon.
After the Marlins took home an unexpected win in the bottom of the 9th, I drove to the Carillon Miami Wellness Resort. Over the course of my life I've spent more time in stadiums than spas, though I suspect they've both served a similar purpose. I once booked a flight and asked my mom to meet me at my alma mater just so I could scream at a football game and release some pending angst. She did, and I did. I hopped back on the plane, headed back home, and all was well.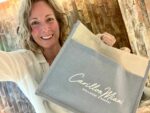 But screaming is somewhat frowned upon at spas, so I adjusted my survival tactics and booked several new treatments at the spa I'd never even heard of before.
The Prism Light Pod red-light therapy system felt a bit like a tanning bed with a breeze. V.E.M.I. is designed to put participants in a deeper meditative state with music, pulsating vibrations within your chaise lounge, and a visual kaleidoscope of groovy images on the flatscreen in front of you. But my favorite was the Ballancer Pro, a touchless lymphatic drainage system, reminiscent of farmer's bibs inside a body-sized Ziplock baggie. The puffy grey suit contoured to my body, starting at my chest, separated down both legs and around my feet, proceeding to expand and contract like a blood pressure machine, for 17 minutes.
Sensing the absurdity of the moment and my total lack of control, I began to laugh at both the crazy contraption and the situation. It's as if I'd forgotten spas were created for relaxation rather than resistance.
Once unzipped from my space suit, with my dry hair on top of my head in a messy bun, I stepped into the more traditional area of the spa. The hot tub, steam room, polar shower and sauna began to more fully calm my being. Briefly, I sauntered through each of these amenities twice, leaving behind stress and gaining more clarity with each move. I was about to call it a day when another guest caught my eye and asked, "Have you been in there yet?" She pointed to a curved entry with the sounds of birds chirping within. I admitted I had not, and she told me not to miss it, only increasing my curiosity.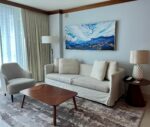 I grabbed what felt like my 13th towel of the day and cautiously stepped forward. Inside, all I saw was a shower with three buttons each pointing towards a different body of water. I pressed the middle button, named something along the lines of "Amazonian Thunderstorm" and looked up towards the faucet head, spilling out a gentle, warm stream of water. Soon, with my head back and my eyes closed, my imagination allowed the sound of exotic birds chirping to create a virtual outdoor shower within my mind. Next, the waves of thunder and a dimming of the lights introduced a quicker, heavier rainfall and a colder sensation of water. After a few more flickering crashes of virtual thunder and lightning, the water pressure eased, the sound of birds returned, and a satisfying calmness released any remaining pressure I held within.
This is the moment I repeated three times before gathering my robe and saying to another dry-haired guest, "Have you been in there yet?"
Later that night, I walked to the beach just outside the resort, looked up at the sky and vowed to have more moments of curly-haired tranquility. There's no denying the prioritization of my own health and wellness certainly leads to more serenity and less screaming.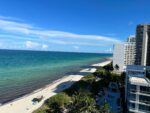 And of course, my curly hair never looked better.
— Carrie Cox, account executive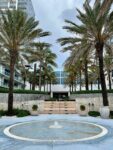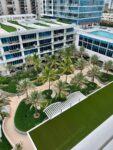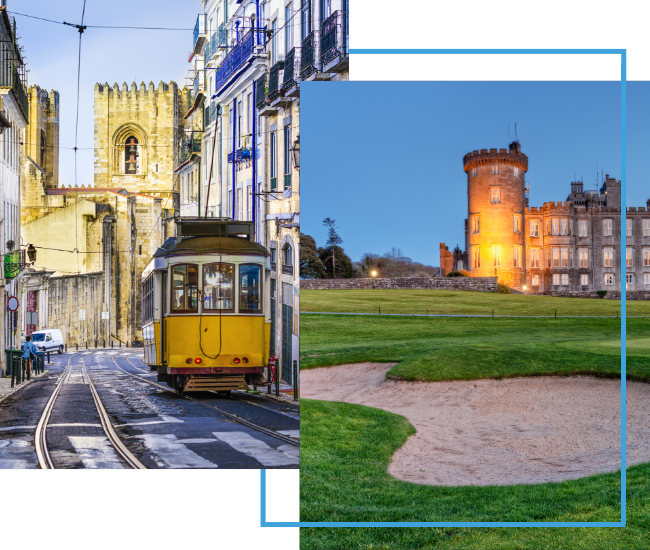 FX Excursions
FX Excursions offers the chance for once-in-a-lifetime experiences in destinations around the world.
Explore Excursions
More than 22 million visitors pour into Bangkok each year, adding to the roughly 11 million residents of the Thai capital famous for its bustling streets. Packed with food carts, markets and cultural spectacles, life in Bangkok is unusually defined by its vibrant street scene, both day and night. That means you don't necessarily need a solid plan when heading out on any given evening.
Sponsored Content
United Airlines is in the midst of a major initiative to modernize its fleet over the next several years. After first announcing the plan in 2021, planes fitted with United's signature interior are finally beginning to appear across the airline's narrowbody fleet of Boeing and Airbus planes. United flyers are sure to notice these enhancements from the moment they step on board: Each new or updated plane sports remodeled seats, seatback entertainment screens for everyone, Bluetooth connectivity and more, all adding up to a better experience on every journey.
As first-time restaurateurs, but with plenty of hospitality-related experience, Ria and Kevol (Kev) Graham were not entirely comfortable opening their first restaurant in the Brooklyn neighborhood of Williamsburg, where several upscale restaurants and 5-star hotel dining is just a block away. And to make matters worse, they opened in July 2020, when New York City was in the middle of the COVID-19 pandemic.