In 1977 the Chicago White Sox had a magical season. The "South Side Hitmen" belted a (then) record 192 home runs while contending for the American League West division title for most of the season. Newly signed Eric Soderholm was one of the main parts of the team.
Coming off of a devastating knee injury that sidelined him for more than a season, Eric was the first free agent signed by the White Sox. He had a career year in 1977, capped off by being named the AL Comeback Player of the Year.
During his playing career, Eric sought alternative health methods such as hypnotherapy, biofeedback and Nautilus strength training. Eric had business ventures after his playing career ended, but he found his true calling through daughter Misty. After graduating from the San Diego School of the Healing Arts, Misty worked at Deepak Chopra's Center for Well Being while studying and teaching all forms of massage and alternative healing.
Eric's son Chad "brought a mad-scientist perspective to the mix," and wife Ginny, with a strong business sense and a need to help others, pulled it all together. The timing was perfect for the Soderholm family to share their knowledge. In 1997 SoderWorld Healing Arts Center was founded.
Located in Willowbrook, Illinois, SoderWorld specializes in holistic treatments; spa services; and mind, body and spirit workshops. More than 25 treatments and services are offered.
As I walked up to the A-frame log cabin housing SoderWorld, surrounded by woods, I was immediately hit with a real sense of serenity. Eric pointed out the meditation garden, the nature pond (with ducks and swans), the labyrinth and other features of the land. The recent snow and cold prevented me from fully experiencing the outdoor portion, but I could still imagine the peaceful feeling of the area.
Inside SoderWorld there are eight professional treatment rooms, a 3-D sound healing room, an infrared sauna, an aqua flotation bed, an on-campus massage training and yoga academy and more. There is also a Himalayan salt cave, on my list to try on my next visit.
After talking to Eric at length at SoderWorld, I came away impressed with his attitude and outlook. SoderWorld is definitely a business, but the bottom line isn't profit. Eric and family enjoy working and being together. They want to share their knowledge and help others.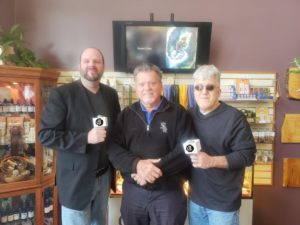 As a firm believer in energy, I felt a great spirit about SoderWorld and the Soderholm family. Eric speaks without preaching. His passion was palpable as he talked about attaining peace and getting the other important things in life.
On the second floor of SoderWorld is a photo of Eric in his White Sox uniform. While he is proud of his on-field accomplishments, Eric has more pride in what his family is doing now. Baseball was fun and provided the means to eventually get to where he is now, but SoderWorld is his center of peace, prosperity, joy and abundance.
— John Wroblewski, online writer
FX Excursions
FX Excursions offers the chance for once-in-a-lifetime experiences in destinations around the world.
COMO Hotels and Resorts offers travelers new immersive luxury retreats for 2022. Perfect for couples, small groups or solo travelers, the new COMO Journeys are available to book in Australia, Bhutan, Indonesia and Thailand.
Sponsored Content
Set on a seaside bluff overlooking Land's End in Cabo San Lucas, Vista Encantada Spa Resort & Residences is a Baja paradise specializing in serene vistas and impeccable hospitality, offering a Pacific coast lifestyle with authentic Mexican touches. Guests can now earn a fourth night free at the stunning resort, plus a $100 resort credit, when booking through March 20, for travel through June 15.
Anantara Chiang Mai, the deluxe resort on the banks of Thailand's Mae Ping River, relaunched the city's most famous high tea experience, served on the terrace of the 100-year-old British Consulate that today houses the resort's Service 1921 Restaurant & Bar.