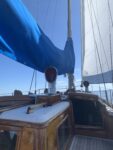 Last summer I took a trip to New York City and its surrounding area for some much-needed time with my close friends before we began new jobs and graduate programs. On one pleasant summer day, when the air wasn't too warm and the breeze could be felt even amid the skyscrapers of the city, we decided it would be a great day to go sailing. After a few days of exploring New York City, we wanted a break from the busy streets and welcomed something quieter.
One of my friend's grandparents have owned a stunning sailboat for more than 40 years, keeping it docked at Riverside Yacht Club, just a 40-minute drive outside of New York City in Greenwich, Connecticut.
I had never gone sailing before and was beyond excited to get onto the water and see how a sailboat worked up close. After a lovely lunch overlooking the water, we were boated by club staff to the sailboat and soon embarked onto the sea.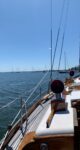 We couldn't have chosen a lovelier day to go sailing; there wasn't a cloud in the sky and a steady gust continued throughout the day, keeping the sails full and the boat moving at a constant speed. I even got to try my hand at steering the boat and directing the sails. Although I live close to a river in Florida, looking out along the coast to see New England houses pressed up against the water seemed different to me. Perhaps you have to live somewhere long enough to recognize the subtle differences elsewhere, and I found the architecture of the houses as well as their proximity to one another along the rocky shorelines a stark contrast to the Florida riverside and beachside homes I am more used to.
Although the air and water were still too chilly to wear our swimsuits and dive into the choppy waves, we basked in the sun on the deck of the sailboat, sipping sodas and applying and reapplying sunscreen.
As the sun began to set, we returned to the club and enjoyed some snacks and cocktails before finally packing up our things and heading back into the city.
— Aoife O'Riordan, associate editor
FX Excursions
FX Excursions offers the chance for once-in-a-lifetime experiences in destinations around the world.
Manchester, a city already buzzing with energy, welcomes some exciting new additions, from boutique hotels to highly anticipated culinary destinations to historic venues. Plan a trip to Manchester to not only indulge in your favorite soccer team but also to enjoy delicious food, both charming and luxury accommodations, and lively events and venues.
Sponsored Content
ISN'T IT TIME? It's time to treat yourself to the vacation you deserve, and Celebrity Cruises® offers the perfect escapes. With an award-winning fleet of ships that sail to more than 300 destinations around the world, Celebrity will take you almost anywhere you want to go in style. Enjoy stunning staterooms and suites, culinary experiences imagined by Michelin-starred chefs and intuitive service. Celebrity makes sure your vacation is effortless from the start, which is why drinks, WiFi and tips are Always IncludedSM on every sailing.
Porvoo, Finland, only an hour from Helsinki, is a medieval coastal town and a cultural haven, well known for its exciting culinary scene, colorful wooden houses and cafés. Here, you will discover the new Runo Porvoo Hotel, a family-owned landmark building and business blending Finnish traditions with contemporary Nordic design, world-class artwork and the rustic-meets-modern allure of American Shaker-style furnishings.