As host and lead investigator for Oddity Files, Kitsie Duncan has sought the paranormal in some of the most interesting haunted locations around the world. In her recently released book, I'd Rather Talk to Dead People, Duncan shares her experiences in these locations.
The title of the book is no joke. Duncan enjoys talking to dead people. Fortunately, for me, Duncan was happy to talk last weekend about a few of her favorite haunted locations.
Located in New Albany, Indiana, Culbertson Mansion State Historic Site was the home of William Culbertson, once the richest man in Indiana. In 1888 the mansion's carriage house burned down, killing those inside. One belief is the spirits of those who perished still reside there. This is just one theory of the cause behind missing objects, puffs of smoke, shadowy figures and more that have been reported at Culbertson Mansion.
Bobby Mackey's Music World, located in Wilder, Kentucky, has been dubbed "the most haunted night club in America." Mackey claims the site once housed a slaughter house. There are several legends explaining the possible existence of spirits at Mackey's.
The Crown Point Jail in Indiana was considered escape-proof until John Dillinger proved otherwise in 1934. Placed on the National Register of Historic Places in 1989, the Old Sheriff's House and Jail is also rumored to be inhabited by spirits.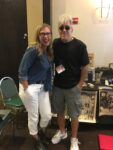 In our interview, Duncan discussed her experiences at these places, but she goes into much more detail in her book. She shares her stories and the stories of the spirits.
I did get a bit of a kick out of sharing my tale of haunting at Pfister Hotel in Milwaukee with Duncan, who hadn't previously heard the rumors. I don't know if Duncan will investigate Pfister, although I hope she does.
I already ordered my copy of I'd Rather Talk to Dead People, and I look forward to reading about these historic haunted places and everything else. Duncan is a straight-shooter with no fluff. This book promises to be an intriguing journey with someone who has firsthand experience.
Will I'd Rather Talk to Dead People make my "Good Reads" list? Check back here soon.
— John Wroblewski, online writer
FX Excursions
FX Excursions offers the chance for once-in-a-lifetime experiences in destinations around the world.
Galataport Istanbul, a new cruise and lifestyle destination on the Bosphorus in Istanbul, welcomed its first ship, SeaDream II, on Oct. 1. Approximately 150 passengers and crew from Bulgaria Varna arrived at 10 a.m. for a two-day homeport operation before continuing to Bulgaria Burgaz.
Sponsored Content
History and culture are etched into every corner of Greece. Beginning with its language, the oldest written language still in existence, and moving from the traces of passing civilizations and religions to pre-historic findings and works from many movements, there's a wealth of culture to discover on your next trip to Greece.
The countdown to Halloween weekend is on! Are you are still unsure about plans? Do you go to a house party? Stay in to hand out candy? Try something different this year and join Philadelphia's  The Mütter Museum at its 6th annual Mischief at The Mütter.