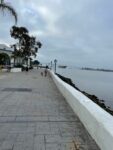 Last week I enjoyed my time on a business trip to San Diego, California. My colleagues and I attended the GBTA conference and hosted our annual The Trazees awards at University Club Atop Symphony Towers. For the business travelers out there, I'm sure you are aware just how hard it is to find time to maintain healthy sleeping, fitness and eating habits while also trying to attend team dinners and hosting parties and events.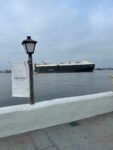 Luckily, with large trade shows, there is typically a lot of time spent on your feet, which eases the guilt of splurging on meals. At 6 a.m. Monday, I found myself tying my running shoes and kickstarting my day with a run on Portside Pier in San Diego. I recommend this to anyone who enjoys a long walk or short three- to four-mile run, as one thing I've learned is one of the best ways to explore a foreign place is by running through it. The pier was only three blocks from my hotel, which led me directly to an enormous, pirate-looking ship that I later found out was the Star of India — a famous sea vessel dating back to 1863 and preserved by Maritime Museum of San Diego. How cool is that?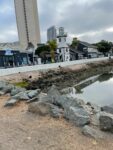 I turned left at the ship and started jogging toward Seaport Village, seeing several little coffee shops along the way. Many people had a similar idea, as I crossed paths with several dog walkers, joggers and walkers. Every step I took there was something new to look at, whether it was a boat shop or restaurant. Seaport Village was adorable! I wish I had free time to explore it because it appeared to have authentic dining options and California surf shops, but it is probably best for my pocketbook I didn't get the chance to explore beyond the windows. As I jogged past the village, I witnessed a large freight boat entering the bay under Coronado Bridge.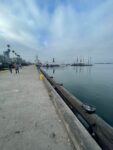 As I looped my way back around, I couldn't believe how satisfying the run was. The morning air was perfect, with no humidity to suffer through like Florida summers. It took 30 minutes out of my day to see a large amount of San Diego, and all I had to do was get out of bed and get my body moving. The exercise allowed me to start my day clear-minded, and I felt like I got to do an entire day's worth of sightseeing.
— Christyn Pek, business development executive
FX Excursions
FX Excursions offers the chance for once-in-a-lifetime experiences in destinations around the world.
Pantone recently unveiled its color of the year for 2023. The highly anticipated announcement has become a tradition, each year introducing a new color to represent the coming year. In 2021, Pantone declared 2022 to be the color of Very Peri 17-3938, a blend of purple and blue. For 2023, Pantone's Color of the Year is Viva magenta 18-1750. A shade from the red family, this color represents a new signal of strength. Brave and fearless, Viva Magenta is rooted in nature and embraces joy and celebration.
Sponsored Content
Much of the global business travel industry has already made sustainable business travel a priority with a focus on reducing emissions and their environmental footprint. But the industry, as well as external stakeholders, such as policymakers, recognize more needs to be done.
The UNESCO World Heritage neighborhood of Balat rivals İstanbul's Old City for its historic significance, with an added splash of color. Its cobbled hilly streets boast a full rainbow of houses, cafés, restaurants and churches painted in pinks, reds, oranges, yellows, greens and blues — parts even surpassing my native San Francisco's steep, colorful corridors. The most vibrant stretch of homes, dating anywhere from 50 to 200 years old, runs along Kiremit Caddesi.