As my travel schedule slowed to a crawl in 2020, I did what millions of Americans did during quarantine, searching for love and distraction — I adopted a puppy! I personally believe adopting or rescuing a dog/cat/animal is the best and most responsible way to find a new furry friend. I was lucky enough to have a robust adoption non-profit close by, The Wagmor.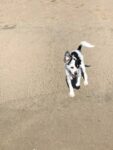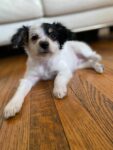 One day in early September a set of puppies rescued from a nearby city were posted on Instagram and I instantly fell in love with a chubby dog with oddly placed black spots all over named Whipped Cream. Three weeks later I was able to pick up Duke (formerly known as Whipped Cream) and have been running around like a new parent ever since. We have gone to the beach in Malibu, on walks to the park and have begun socializing with other dogs in my circle. He is already 14 weeks, has thinned out, became more curious and is a joy to watch.
As travel begins to resume more robustly in 2021, we may need to lean on family and friends to help with dog sitting, but our lives are fuller with him in it!
Do you know someone that adopted a dog during quarantine? How do you juggle travel and owning a pet?
— Carly Allen, executive vice president, associate publisher
FX Excursions
FX Excursions offers the chance for once-in-a-lifetime experiences in destinations around the world.
I imagine that when writer Hans Christian Andersen mused, "Life itself is the most wonderful fairy tale," he was standing at the edge of Copenhagen's historic Tivoli Gardens, one of his favorite haunts, enlivened by the swirl of human happiness that surrounded him: children laughing; carousels spinning; games of chance played for prizes; lovers holding hands; hungry people whispering over sweets, hot drinks, beer and towering, open-faced smørrebrød, Denmark's quintessential sandwich. That fairy tale lives on today at the second-oldest amusement park in the world, a spectacle of folly architecture, bakeries, gardens, rides, restaurants, puppet shows and joy ... and which also happens to be one of the city's most storied places to convene for business.
Sponsored Content
Since its prestige for attracting the world elite grew in the 1960s, Greece remains the go-to destination for glittering holidays. Each step of the journey is enrobed in luxury, from culinary traditions with the highest standard of execution and name-brand, high-end shopping to first-rate wellness locales and elite accommodations, like 5-star hotels, private villas and yachts.
The restored Park Hyatt Toronto reopened its doors, bringing luxury, sophistication and glamour alongside a nod to the hotel's Canadian heritage. Alessandro Munge of Studio Munge collaborated on the hotel's refresh, drawing inspiration from Canada's seasons and natural landscapes.