As my travel schedule slowed to a crawl in 2020, I did what millions of Americans did during quarantine, searching for love and distraction — I adopted a puppy! I personally believe adopting or rescuing a dog/cat/animal is the best and most responsible way to find a new furry friend. I was lucky enough to have a robust adoption non-profit close by, The Wagmor.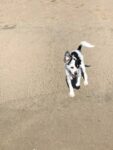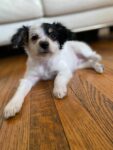 One day in early September a set of puppies rescued from a nearby city were posted on Instagram and I instantly fell in love with a chubby dog with oddly placed black spots all over named Whipped Cream. Three weeks later I was able to pick up Duke (formerly known as Whipped Cream) and have been running around like a new parent ever since. We have gone to the beach in Malibu, on walks to the park and have begun socializing with other dogs in my circle. He is already 14 weeks, has thinned out, became more curious and is a joy to watch.
As travel begins to resume more robustly in 2021, we may need to lean on family and friends to help with dog sitting, but our lives are fuller with him in it!
Do you know someone that adopted a dog during quarantine? How do you juggle travel and owning a pet?
— Carly Allen, executive vice president, associate publisher
FX Excursions
FX Excursions offers the chance for once-in-a-lifetime experiences in destinations around the world.
West Palm Beach, Florida, recently welcomed AKA West Palm, a hotel residence offering long-stay accommodations. As AKA's second South Florida property, AKA West Palm features 215 hotel residences comprised of studios, one- and two-bedroom spaces, and Penthouse suites. The five-story hotel blends modern luxuries with comfort and simplicity, with sleek kitchens, washers and dryers, and private terraces. Room furnishings contrast with a backdrop of stone, metal and wood to create simple, clean lines with minimal contrast.
Sponsored Content
Start planning that long-awaited trip to the island of Ireland. With all travel restrictions now lifted, there has never been a better time to visit.
Birmingham, Alabama, was named for the city in the English Midlands that kept the fires burning, warmed the homes and made much of the steel for the United Kingdom's industrial revolution. Decades later, the American city also made steel, so much of it, in fact, it became known as the "Magic City" for steel production, and the moniker stuck. But today's Magic City makes more than steel, taking the raw product a few more steps to become a major center for automobile parts manufacturing and more, including Honda, Mercedes-Benz and U.S. Steel. Thanks to local leadership and long-term planning, the magic still works for Birmingham, as evidenced by its role hosting The World Games 2022 last summer.