As my travel schedule slowed to a crawl in 2020, I did what millions of Americans did during quarantine, searching for love and distraction — I adopted a puppy! I personally believe adopting or rescuing a dog/cat/animal is the best and most responsible way to find a new furry friend. I was lucky enough to have a robust adoption non-profit close by, The Wagmor.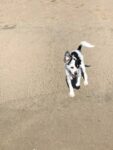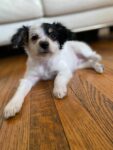 One day in early September a set of puppies rescued from a nearby city were posted on Instagram and I instantly fell in love with a chubby dog with oddly placed black spots all over named Whipped Cream. Three weeks later I was able to pick up Duke (formerly known as Whipped Cream) and have been running around like a new parent ever since. We have gone to the beach in Malibu, on walks to the park and have begun socializing with other dogs in my circle. He is already 14 weeks, has thinned out, became more curious and is a joy to watch.
As travel begins to resume more robustly in 2021, we may need to lean on family and friends to help with dog sitting, but our lives are fuller with him in it!
Do you know someone that adopted a dog during quarantine? How do you juggle travel and owning a pet?
— Carly Allen, executive vice president, associate publisher
FX Excursions
FX Excursions offers the chance for once-in-a-lifetime experiences in destinations around the world.
Manchester, a city already buzzing with energy, welcomes some exciting new additions, from boutique hotels to highly anticipated culinary destinations to historic venues. Plan a trip to Manchester to not only indulge in your favorite soccer team but also to enjoy delicious food, both charming and luxury accommodations, and lively events and venues.
Sponsored Content
Global business travel is making its way back, even as the pandemic and other world events continue to challenge its return. In a recent poll from the Global Business Travel Association, more than four in five respondents (86 percent) from across the industry said they feel more optimistic than they did at the beginning of the year. Business travel bookings, the need to travel to do business and employee willingness to travel are all on the rise.
Porvoo, Finland, only an hour from Helsinki, is a medieval coastal town and a cultural haven, well known for its exciting culinary scene, colorful wooden houses and cafés. Here, you will discover the new Runo Porvoo Hotel, a family-owned landmark building and business blending Finnish traditions with contemporary Nordic design, world-class artwork and the rustic-meets-modern allure of American Shaker-style furnishings.