Even though it's officially fall, I'm still trying to enjoy the last little bit of warm summer weather, so I'll tell you about some summer fun I had when my parents came for a visit from Pennsylvania.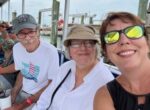 I wanted to show them a North Carolina beach, but it was quite hot, so I didn't want to just pick a beach and roast in the hot sun all day. I opted for a three-hour tour via boat. (No — this was not a three-hour tour like Gilligan's Island, for those of you old enough to know that reference.)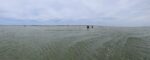 Off we went to Moorehead City to hop on one of the Sand Dollar Island tours. We enjoyed a narrated boat ride out to a sandbar that reveals itself during low tide. This sandbar is known to have many sand dollars and sea shells for collectors. We were given a quick lesson on checking shells to make sure we didn't take any home with inhabitants still inside and only taking dead sand dollars, not live specimens. Apparently, live sand dollars are dark gray and have little hairs on the underside, while dead ones are white and smooth with no hairs.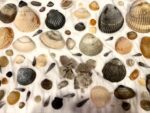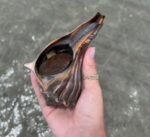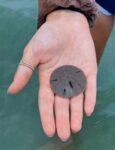 Once we got there, we waded in the shallow water looking all around for bright white sand dollars, only to find a lot of shells. Some were inhabited and were returned to their home, others were collected to bring home. At first, we were a bit discouraged at the lack of sand dollars, but after trying a few different spots, we did succeed in finding some live sand dollars. This proved to be much more exciting than just collecting dead specimens. We found one after another, and we marveled at how easily they were able to move across our hands using tiny little hairs (cilia) on the bottoms of their shells. By the end of our trip, I had a nice collection of shells, and I was happy to experience interacting with live sand dollars and returning them to their little sandbar home.
— Tracey Cullen, art director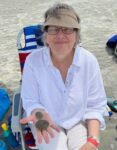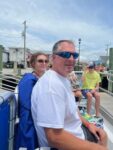 FX Excursions
FX Excursions offers the chance for once-in-a-lifetime experiences in destinations around the world.
Recaro's new CL6720 business-class seat with doors took off recently on Iberia's Airbus A350 cabin, flying Madrid (MAD) to Buenos Aires (EZE), with a total of 31 of the seats in the aircraft's business-class cabin. The premium-economy and economy cabins also feature Recaro seats.
Sponsored Content
Now through May 8, sign up for a free six-month trial of the Global Traveler app and be automatically entered for a chance to win a $500 gift card of your choice for Amazon, Apple or American Express.
In a city where new hotels, restaurants and experiences emerge seemingly every day, it's expected to feel overwhelmed when deciding where to dine. London consistently sees delicious and top-notch restaurants appear, but how can one possibly keep track of all the new and updated restaurants?