Recently, my friends and I had the pleasure of getting a tour of the WCIU studios at Weigel Broadcasting in Chicago courtesy of Rich Koz. The legendary Koz is celebrating 40 years as horror host Svengoolie.
A Chicago area native, Koz was studying broadcasting at Northwestern University when he sent in material to Jerry G. Bishop, the original Svengoolie. After Bishop invited Koz on his show, they worked together for several years. When Bishop moved to San Diego, he suggested Koz take over as "Son of Svengoolie." Little did Koz realize, this would be a lifetime role.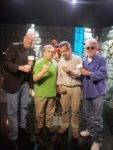 The Son of Svengoolie officially debuted June 1979. It had a few homes and was shortened to Svengoolie before finding its current home at WCIU in 1995. In 2011 the Chicago icon was launched onto the national scene when the show joined the Saturday night lineup on the MeTV classic TV network.
When they are not in studio, Koz and his executive producer, Jim Roche, can often be found at area charity events and other appearances. At a time when most people are looking at retirement, Koz is at the peak of his popularity and plans on keeping it going.
During the afternoon, we talked a little travel. To no surprise, he listed Chicago as his favorite city. Koz went on to say he loves to travel, though, especially to the lakefront area of Michigan's lower peninsula. He enjoys searching the clear skies for stars and constellations.
Koz would definitely be on the Mt. Rushmore of Chicago television. Despite his popularity, Koz remains humble and is truly one of the nicest, most genuine, giving people I have ever met. I have worked many events with Koz, and I have seen how hard and tirelessly he works.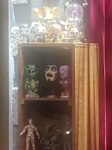 Being with Koz on the Svengoolie set was about as cool as it gets. Few things are as "Chicago" as Koz and Svengoolie. To a Chicago kid who grew up watching him, joining him on the actual set was surreal. We saw his coffin, the rubber chickens and the rest of the artifacts often seen in the background of the show.
I am extremely proud to have added Koz to the list of celebrities I interviewed. I am even more proud to count Koz among my friends.
— John Wroblewski, online writer
FX Excursions
FX Excursions offers the chance for once-in-a-lifetime experiences in destinations around the world.
Pantone recently unveiled its color of the year for 2023. The highly anticipated announcement has become a tradition, each year introducing a new color to represent the coming year. In 2021, Pantone declared 2022 to be the color of Very Peri 17-3938, a blend of purple and blue. For 2023, Pantone's Color of the Year is Viva magenta 18-1750. A shade from the red family, this color represents a new signal of strength. Brave and fearless, Viva Magenta is rooted in nature and embraces joy and celebration.
Sponsored Content
Awareness about fair and sustainable travel continues to grow around the globe, with travelers everywhere considering a destination's eco-friendly options before visiting. As public consciousness for this important aspect of tourism strengthens, tourists also look beyond just ecotourism and delve deeper into types of travel that allow them to respect the local culture, interact with locals and distribute benefits fairly.
The UNESCO World Heritage neighborhood of Balat rivals İstanbul's Old City for its historic significance, with an added splash of color. Its cobbled hilly streets boast a full rainbow of houses, cafés, restaurants and churches painted in pinks, reds, oranges, yellows, greens and blues — parts even surpassing my native San Francisco's steep, colorful corridors. The most vibrant stretch of homes, dating anywhere from 50 to 200 years old, runs along Kiremit Caddesi.