On our recent trip to the wine country of Walla Walla, Washington, we had three fabulous dinners at restaurants which each represented a different culinary tradition while making use of regional products. For a small town of a population of about 33,000, Walla Walla provides visitors with an amazing range of great dining experiences, whether from a food truck at a local winery to casual local hangouts to fine dining. No doubt the presence of 120 wineries and the patrons they draw has a lot to do with such a wealth of good eats.
Thursday night found us at Passatempo Taverna, featuring a comfortable, neighborhood vibe; impressive bar; and several dining spaces, including a very nice patio. Its rustic Italian fare focuses on handmade pasta, but you can't go wrong with anything on the menu. We started with a shared pizza topped with shaved prosciutto, goat cheese, roasted garlic and asparagus.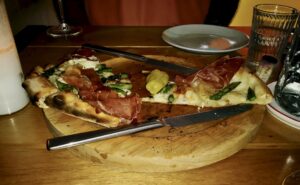 Then we each chose an entrée on a bed of creamy risotto: I had four-cheese ravioli served with kale pesto, pine nuts and Parm,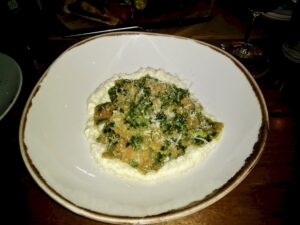 while Harry had a hearty rigatoni Bolognese with a rich beef and pork ragu sauce and Parm.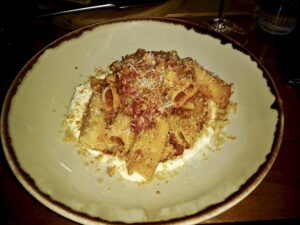 Believe it or not, we actually figured we had room for a serving of tiramisu (perfect) for dessert — our judgment must have been impaired by all the wine we'd had earlier, but it really wasn't a bad call.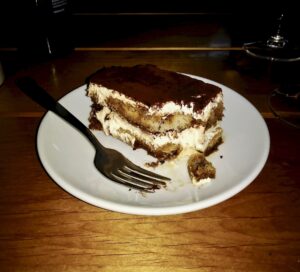 The next night we returned to an old favorite, Hattaway's on Alder, bringing "the cooking traditions of the Southeast and rural America" to town, inspired by local ingredients. Our server brought us a complimentary amuse bouche of house-made pickles after we'd ordered. I'm not a pickle fan, but these were crisp and mild with just a slight bite; a nice start to the meal.
  We shared a very refreshing celery-Parmesan salad boasting a lemon vinaigrette, hazelnuts, wine-poached Mission figs, arugula, shaved celery and lots of Parm.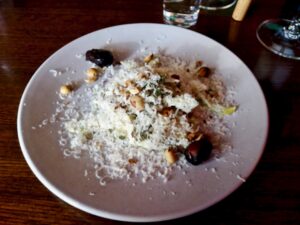 I loved the balancing contrasts of textures and flavors. We also shared a plate of Dungeness crab fritters served alongside a neon-pink daikon pickled chow chow, lemon zest and an amazing cayenne-spiced honey drizzle.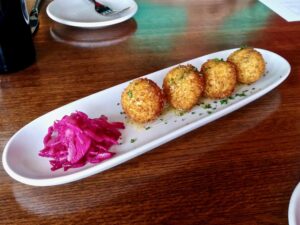 The fritters were perfect: a light, crispy exterior and creamy and lemony inside. I was back to pasta for my entrée: braised beef cheeks and gnocchi.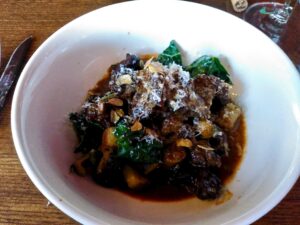 The rich, meaty broth, made with Burwood black beer, guajillo chiles and horseradish cream, had just the right amount of kick. Harry said he could eat his choice every day, alder-smoked duck breast on a bed of dirty rice.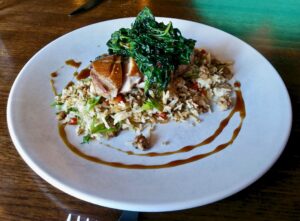 It was served with a little of the house sausage and a spring greens and scallion "kimchi" and kalbi sauce. The richness of the duck was offset by the spiciness of the other ingredients. There was no way we could turn down a serving of the Deschutes Butte black porter bread pudding with a whiskey butterscotch sauce (could you?!).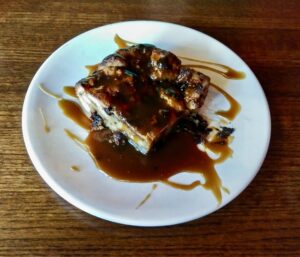 Simply fabulous — surprisingly not too heavy . . . and that sauce!!
Dinner on Saturday was with our friends, and we had a nice outside table at Brasserie Four, an unpretentious French restaurant with a nice wine list and amazing food. We started off sharing a cheese board, some grilled asparagus (a local product and precisely in season in May) and perfectly cooked escargot, broiled with parsley and garlic butter.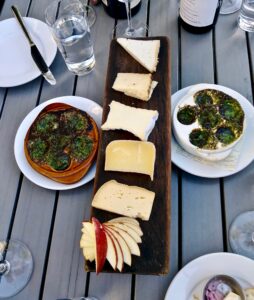 The menu is full of enticing bistro-style dishes, but the six of us ended up choosing just two different entrées, the Coquilles St. Jacques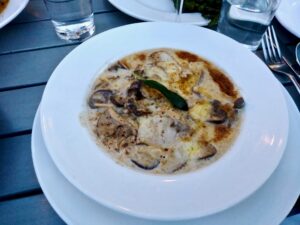 and the bouillabaisse, and not a one of us was disappointed. The coquilles offered up large, perfectly tender sea scallops in a flavorful, rich, creamy broth (and included Emmental cheese, which I think is what really made this a stand-out dish). The bouillabaisse was loaded with halibut, clams, mussels and scallops swimming in a tomato fennel broth and served with an enormous "crouton," a large toasted baguette slice.
Harry said he could eat a quart of that broth alone with some nice bread. We concluded the meal with a few servings of crème brûlée and crème glacée (ice cream) for a nice, cool, light finish to an amazing meal.
You can be sure that we'll be returning to these restaurants on future visits to Walla Walla, for they serve up wonderful food in a welcoming atmosphere with great service.
— Patty Vanikiotis, associate editor/copy editor
FX Excursions
FX Excursions offers the chance for once-in-a-lifetime experiences in destinations around the world.
With the autumn in full spring, now is time to start planning your fall weekend getaway.  Whether a relaxing weekend on the lake, leaf-peeping or hiking, check out these fall travel trends from vacation rental management company Vacasa.
Sponsored Content
Without a doubt, the pandemic changed the role of airports in the travel industry. Hamad International Airport's role evolved in many ways since the pandemic hit. Now, more than ever, airports are responsible for creating a secure passenger experience. As the gateway to Qatar and the world, the safety and wellbeing of staff and passengers has always been at the core of Hamad International Airport's strategy.
I imagine that when writer Hans Christian Andersen mused, "Life itself is the most wonderful fairy tale," he was standing at the edge of Copenhagen's historic Tivoli Gardens, one of his favorite haunts, enlivened by the swirl of human happiness that surrounded him: children laughing; carousels spinning; games of chance played for prizes; lovers holding hands; hungry people whispering over sweets, hot drinks, beer and towering, open-faced smørrebrød, Denmark's quintessential sandwich. That fairy tale lives on today at the second-oldest amusement park in the world, a spectacle of folly architecture, bakeries, gardens, rides, restaurants, puppet shows and joy ... and which also happens to be one of the city's most storied places to convene for business.