A couple months ago, I had no idea I would close out 2022 having gone to the Middle East, but here we are, days left in 2022, and I get to share with you the incredible experience I had while attending the World Travel & Tourism Council in Riyadh, Saudi Arabia, this November/December.
The conference arranged accommodations at Jareed Hotel in Riyadh, Saudi Arabia, and assisted with flights and a visa. This journey began with my flight out of Philadelphia International Airport. This was my first experience flying Lufthansa, with a layover in Frankfurt, before connecting to my final destination in Riyadh.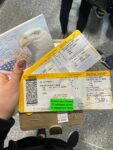 Prior to my trip, I upgraded to business class, and I was able to check in and move through security swiftly in Philadelphia. Once I found my seat, 3L, I got comfortable, arranging the amenity kit, full-sized pillow and blanket. A lovely flight attendant greeted me, instructing me on the seat, television and control center. She offered me a beverage and dish of nuts before take-off. I ordered a Diet Coke.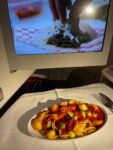 Once we reached cruising altitude, my dinner order was taken. I ordered the smoked salmon appetizer and the pasta dish for dinner, followed by a cheese tray to snack on during the flight. The fish was my favorite part. The pasta could have been warmer and with a touch more flavor. I enjoyed the sharp cheddar and fruit during the movie I watched.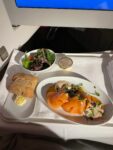 After my meal, I played around with the seat controls and finally settled, lying completely flat with my pillow and blanket, ready for a bit of rest before I landed in Frankfurt. I awoke feeling mostly rested after about four hours of shut-eye. The staff on Lufthansa were wonderful, and I look forward to my next flight, as well as sharing with you all the absolutely incredible experiences I had in Riyadh once arriving. More to come …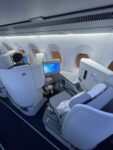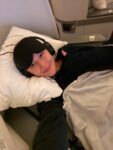 — Haley Fogarty, advertising manager
FX Excursions
FX Excursions offers the chance for once-in-a-lifetime experiences in destinations around the world.
ZEL, the new lifestyle hotel brand from tennis superstar Rafael Nadal and Meliá Hotels International, is set to open its first hotel. Located in Mallorca, Spain, the hometown of both Nadal and Meliá, ZEL Mallorca debuts July 1.
Sponsored Content
Europe is more fun with a Portugal Stopover.
Crystal Bridges Museum of American Art, located in Bentonville, Arkansas, presents Diego Rivera's America, the first major exhibition focused solely on the Mexican artist in more than 20 years, on view until July 31. Crystal Bridges is the second and final stop for the exhibition, the only remaining opportunity for visitors to experience Rivera's expansive vision of America.