I've always been more of a spectator than a participant. I'm not sporty or very coordinated, so I often bow out of activities that require any sort of athletic ability. I can't swim, so that rules out a slew of fun things to do in tropical locales. I often find myself sitting on the sidelines, just observing my husband and daughter while they enjoy thrilling adventures. And I have never minded before. I loved watching them snorkel from my beach lounge chair in Riviera Maya, Mexico. I laughed from the safety of our boat as they did flips off a water trampoline in the Finger Lakes. Over the years, I became the designated photographer, trying to get a good shot of them on a roller coaster, while I held drinks and bags firmly on the ground at HersheyPark in Pennsylvania. I dutifully took photos of my husband as he hung awkwardly upside down to kiss the Blarney Stone in Ireland. I have taken LOTS of photos on many trips!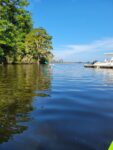 This year things changed. My daughter left for college, so my husband lost his fun-loving partner as she is now busy having her own adventures with new college friends. And my world got turned a bit upside down when I was diagnosed with breast cancer. The past year has been filled with doctor appointments, chemotherapy, scary tests and surgeries and, most recently, daily radiation. Sometimes it's been a struggle to juggle the ever-consuming cancer battle with work, family and just everyday life. But radiation will soon end, and I'm looking forward to life getting back to normal. However, I decided this will be a new normal. I'm vowing to be open to more. Experience more. Participate more.
This weekend, I started by tackling a fear — kayaks. Since I can't swim, I feel safer in big boats with a motor. The bigger, the better! But with my daughter away, I knew our two kayaks were never going to get any use unless I went with my husband. So I grabbed a lifejacket and hoped to not end up in the water!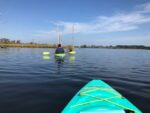 I was concerned I might not have the strength to paddle as far as my husband can, so he grabbed a rope in case he needed to tow me back. As funny as that was, I was relieved he thought of it!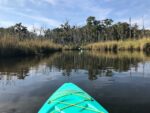 I hesitantly climbed into the kayak, which sat firmly on a little sandy beach. My husband asked if I was ready for launch, to which I replied "NO!" But he just smiled and gave me a big shove-off anyway. He showed me how to use the paddle, and off we went. The river was calm that morning, and we went early enough that there were few boats. I was worried about being able to handle the kayak when a passing boat's wake created waves. But after the first boat went by, the waves were barely a ripple by the time they reached us, and I aimed my kayak into the small wave with ease.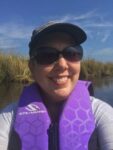 As we paddled near the shore, we saw birds and a turtle and enjoyed the peaceful calm of the river. It was interesting to see the tall grasses and marshland that we can't get close to on our big boat with a motor. It was relaxing and not nearly as physically taxing as I had anticipated. My husband didn't even have to tow me in! And I only almost tipped once — when I attempted to take a selfie with my husband and leaned in to get closer. I won't do that again, but I definitely will kayak again!
I can't wait to travel more in the coming year and participate in many more adventures!
— Tracey Cullen, art director
FX Excursions
FX Excursions offers the chance for once-in-a-lifetime experiences in destinations around the world.
Galataport Istanbul, a new cruise and lifestyle destination on the Bosphorus in Istanbul, welcomed its first ship, SeaDream II, on Oct. 1. Approximately 150 passengers and crew from Bulgaria Varna arrived at 10 a.m. for a two-day homeport operation before continuing to Bulgaria Burgaz.
Sponsored Content
This holiday season, escape to the Caribbean with Celebrity Cruises and reconnect with family and friends in luxurious accommodations that make you feel right at home. Savor globally inspired cuisine designed by our Michelin-starred chef, paired with the most awarded wine collection at sea. Elevate "me time" with a soothing spa treatment sure to renew. With both long and short cruises to celebrate in December, and even three special Ultimate Holiday Cruises that sail over Christmas and into the New Year, the time to gift an experience and create unforgettable memories is now. Celebrity Cruises' Always IncludedSM pricing — drinks, WiFi and tips — ensures a seamless, carefree vacation with the ones you love.
The countdown to Halloween weekend is on! Are you are still unsure about plans? Do you go to a house party? Stay in to hand out candy? Try something different this year and join Philadelphia's  The Mütter Museum at its 6th annual Mischief at The Mütter.