A few weeks ago I wrote about visiting San José del Cabo on a Princess Cruises shore excursion during our first port of call visit on our seven-day Mexican Riviera cruise aboard the brand-new Discovery Princess. I really only covered half of our experiences there, for after our wanderings and beer tasting in the historic town center, we bumped our way over dirt roads and along a dry riverbed to an organic oasis just a few miles from town but seemingly a world away.
Our destination? Los Tamarindos, 16 acres of fruit trees, vines and fields surrounding an 1880s farmhouse that now houses chef/restaurateur/organic farmer Enrique Silva's Los Tamarindos restaurant. Silva started the farm in 1996 to provide the freshest ingredients for his restaurant (he now has three, in San José del Cabo and Tulum), and we arrived shortly after noon to take part in a hands-on cooking lesson on the grounds, after which we would enjoy the fruits of our labors on a long table set on the grass beneath the shade of tall trees.
The restaurant and its terraces sit on a low hill overlooking the grounds which, aside from plots of herb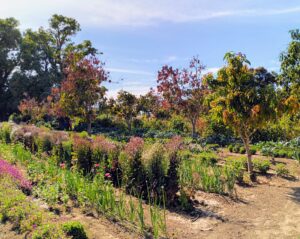 and vegetable gardens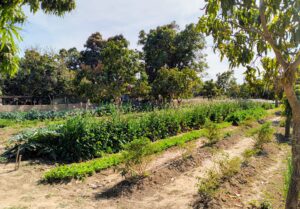 and rows of fruit trees, include a large labyrinth,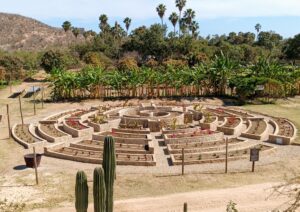 bungalow accommodations and event spaces. After grabbing tall glasses of refreshing lemonade, we made our way downhill to our cooking station. A long table held wooden cutting boards and large knives for each of the dozen or so members of our tour,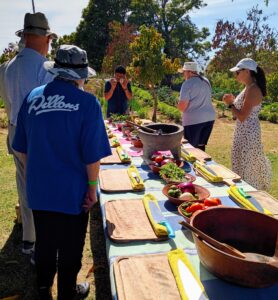 along with bowls of tomatoes, chilis, limes, onions and herbs. Our chef/instructor informed us we'd be preparing pico de gallo, marinated and grilled chicken, guacamole and a grilled vegetable salsa. He quickly had us chopping vegetables,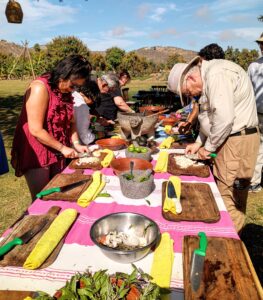 scooping perfectly ripe avocado flesh from its skin, mincing cilantro and garlic,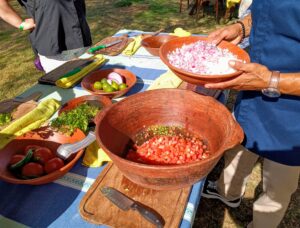 and preparing the marinade for the chicken.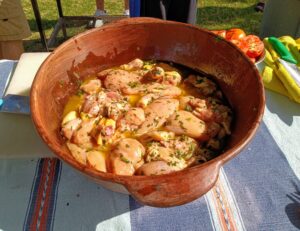 Next, my husband and another gentleman manned the wood-fired grill, first grilling chilis and wedges of onions and tomatoes for the salsa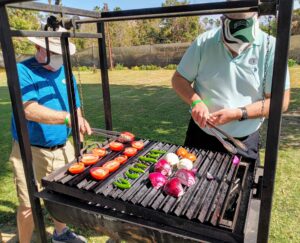 before cooking the chicken. The rest of us took turns using the massive molcajete and tejolote (basalt mortar and pestle) to pulverize the herbs and the salsa ingredients as well as the guacamole.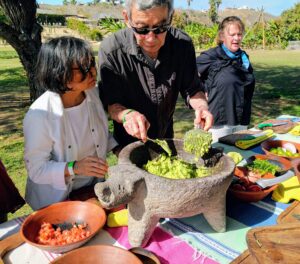 Believe me, it required a good amount of upper-body strength to wield the tejolote for long, especially in the bright spring sunshine. We all certainly had worked up an appetite (and thirst) by the time the chicken came off the grill.
We gathered around the lunch table laden with the platters and bowls of farm-fresh food we'd prepared,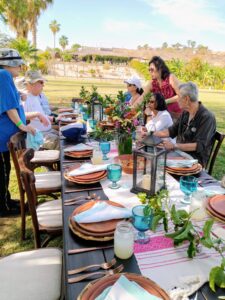 along with a lovely fresh green salad and large, icy margaritas.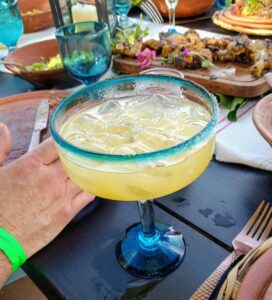 Our group had bonded over the preparation of the meal, and we chatted and laughed, enjoying the setting, the company and the food . . . and was that food delicious!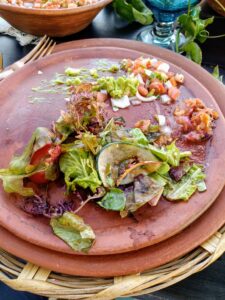 The meal, though fairly simple, showcased how fresh, organic ingredients make for intoxicating fare.
— Patty Vanikiotis, associate editor/copy editor
FX Excursions
FX Excursions offers the chance for once-in-a-lifetime experiences in destinations around the world.
Mövenpick, Accor's premium Swiss-born hospitality brand, officially launched its first property in New Zealand. Situated in Auckland, Mövenpick Hotel Auckland sets a new standard in the world of hospitality with unique and exciting amenities and a warm, contemporary design found throughout the property.
Sponsored Content
ISN'T IT TIME? It's time to treat yourself to the vacation you deserve, and Celebrity Cruises® offers the perfect escapes. With an award-winning fleet of ships that sail to more than 300 destinations around the world, Celebrity will take you almost anywhere you want to go in style. Enjoy stunning staterooms and suites, culinary experiences imagined by Michelin-starred chefs and intuitive service. Celebrity makes sure your vacation is effortless from the start, which is why drinks, WiFi and tips are Always IncludedSM on every sailing.
Turkish Airlines offers premium travelers something new. After signing an agreement with fashion brands Coccinelle and Hackett, the carrier introduced redesigned premium amenity kits for its business-class passengers flying eight hours or more on long-distance flights. The new kits were introduced April 29.