On Wednesday night I was finally able to give my boyfriend his birthday gift. This was originally planned in June to coincide with his 30th birthday, but because of reasons I am still unsure of, the event was canceled and rescheduled three times. I had planned a Dining in the Dark experience for us, but all he knew was we were going to some kind of event. If you have read my previous blogs or follow my social media, you may notice I love surprises.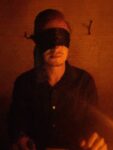 Jason, still not knowing what we were doing, told me to go get ready about an hour before we were supposed to arrive at the restaurant. I went upstairs, changed my shirt and came right back down. He was confused why I didn't fix my hair or put on any makeup as I usually do. We walked to the location at The Twisted Tail, only a little less than a mile from our apartment. We walked inside, and the entire place was dimly lit, but we were instructed to go to the second floor for check-in. Our host for the evening sat us at our spot and gave a brief overview of how the evening was going to go. The room was only lit by battery-operated candles and twinkle lights to make sure everything was kept dark. Our table settings had a napkin, fork, knife and blindfold. Jason was so thrown off but put two and two together as to why I didn't fuss with my hair or makeup.
When I purchased the tickets through the Fever website in June, I had to choose what meals we would try. For Jason, I checked the seafood option and for me, the meat. The other option was vegan. I disclosed I had a shellfish allergy on the order, and the day of the event the chef texted me to confirm and to ensure my dishes would be prepared on a separate grill to avoid any cross-contamination, which I appreciated.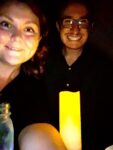 Our host instructed us to put on our masks, and the first courses arrived. Our waiter suggested we use our hands for all of the courses, as using a fork and knife is very difficult. We both sampled my plate, which was delicious: smoky, salty, with hints of rosemary and a charred edge. It was some kind of meat I have had before. We took turns guessing, and our neighboring table jumped in with their guesses, too. We thought maybe brisket or some kind of pork.
Since I could not sample Jason's dish, he had to describe it to me. He began to panic just a bit because his dish had to be peeled before consuming. Doing that in the dark was a bit challenging, but he did just fine. He took his first bite and knew it had to be jumbo shrimp. The feeling in his hands, the texture of the bite and the salty flavor rang a bell. Our hostess revealed our dishes, and he was correct, while I was a bit off with my pork belly.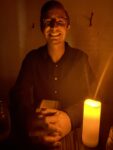 Our second course arrived, and we went through the same motions. This time I tried using my knife and fork, but it was challenging. I miscalculated where my mouth was and stabbed myself on the cheek. I continued eating using my hands. This dish was messier, though I did not care. The flavors tasted so familiar, like something my mother used to make while I was growing up — maybe pot roast? Jason knew immediately his dish was a buttery salmon with Brussels sprouts, one of his favorite meals. We could hear all of the tables around us taking guesses as to what the meat dish was. It was short rib in a sweet potato gravy.
Our final course was dessert, and everyone in the room had the same thing, besides those who ordered the vegan dishes; it was fried dough with a sweet sauce. The room smelled like a carnival. The actual dish was three beignets with caramel.
This experience really showed us how much we eat with our eyes; and when sight is taken away, our dishes tasted much more flavorful and intense. I recommend booking a Dining in the Dark experience for a great night out with your partner or a group of friends. I look forward to attending another one in the future or giving this experience as a gift for the holidays.
— Audrey Lee, assistant editor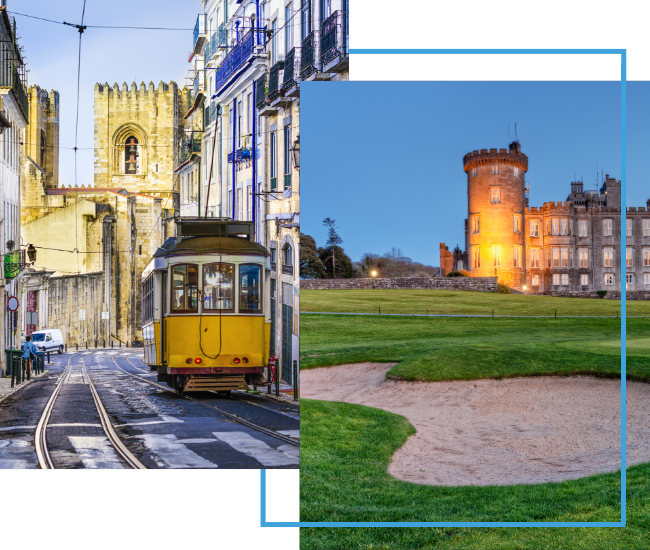 FX Excursions
FX Excursions offers the chance for once-in-a-lifetime experiences in destinations around the world.
Explore Excursions
Did the new film Oppenheimer rouse your interest in the nefarious world of international espionage? You can go straight to the real-life setting for covert actions this November (Nov. 10–12), when La Fonda on the Plaza in Santa Fe hosts a specially themed "Spies, Lies and Nukes" weekend. The hotel actually served as the retreat location for Manhattan Project scientists, who stayed at La Fonda on the Plaza to take a break from the stress of their work. During the weekend, the property's La Fiesta Lounge will make a tasty nod to those days by serving up a special Atomic Martini.
Sponsored Content
The Islands of Tahiti are among the most beautiful and sought-after vacation destinations in the world. The endless images of overwater bungalows with Bora Bora's majestic peak towering over waters of every shade of blue have an intrinsic pull. But with 118 islands and atolls to explore, there is so much more to this spectacular region of the Pacific.
Ever want handcrafted martinis and freshly shucked oysters delivered straight to your room? The Read House's New Martinis & Pearls service has you covered. Shining in 1920s-themed decor, the historic hotel in the heart of Chattanooga offers a true Gatsby-esque experience, now further elevated with this upscale amenity. Guests can now indulge in their perfectly chilled martini, made to order, and "pearls" (oysters) in the comfort of their room.