My husband and I recently traveled to London on vacation. It was the longest trip we've taken together since our honeymoon six years ago. There is so much to see in the city, and even though we were busy the entire trip, we didn't get to everything on our list.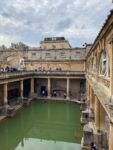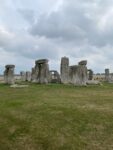 One of my favorite days of our trip didn't even take place in London. Since our visit was more than a week, we decided to spend the majority of the time in London, with one day trip to Bath and Stonehenge. We booked a full-day excursion through Viator. We left Victoria Station via bus early in the morning and drove straight to Stonehenge. We both heard mixed reviews of Stonehenge, with some saying it's disappointing in person. However, we both enjoyed our visit and thought it was worth the trip. It was a cool morning, and we spent most of the allotted time strolling around the site and reading about the various theories at the visitors' center.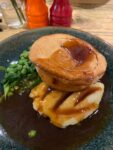 Our group then traveled to Bath for free time and to visit the Roman Baths. We were starving and went to lunch as soon as we arrived. We stopped at the charming pub, The Crystal Palace. We decided to split two entrées of English classics: fish and chips and the pie of the day (spiced chickpea) with mashed potatoes, greens and gravy. Both were delicious and fulfilled our craving for classic British fare. After lunch we met our group at the Roman Baths to tour the museum. We then spent some time wandering the many shops before stopping for tea at Hands Georgian Tearoom. We each had tea and traditional sweet buns with clotted cream and jam. After a little more exploring, we met the bus for the trip back to London.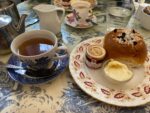 Keep an eye out for more London details in my future blogs!
— Katie Skrzek, vice president/digital director
FX Excursions
FX Excursions offers the chance for once-in-a-lifetime experiences in destinations around the world.
Crystal Bridges Museum of American Art, located in Bentonville, Arkansas, presents Diego Rivera's America, the first major exhibition focused solely on the Mexican artist in more than 20 years, on view until July 31. Crystal Bridges is the second and final stop for the exhibition, the only remaining opportunity for visitors to experience Rivera's expansive vision of America.
Sponsored Content
Are you looking to enhance your business trip with a little leisure? Look no further than Portugal, a country renowned for its captivating blend of history, culture and natural beauty. And with TAP Air Portugal, you can effortlessly transform your business trip into an unforgettable bleisure adventure. Discover why Portugal and TAP Air Portugal are the perfect combination for an enriching and rejuvenating experience.
In San Antonio, Texas, old buildings are seldom destroyed. When they fall into disrepair, they are instead repurposed and restored to maintain the city's history and traditions for future generations to appreciate. Whether it's a former brewery or bank transforming into a chic hotel or a candy factory evolving into stylish lofts, this Texas city embraces both history and sustainability.