Thirty years ago, I ran my first marathon. Today, I am running my 25th, and last, Bank of America Chicago Marathon.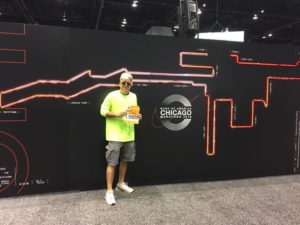 In 1988 I was one of about 4,500 entrants. The weekend marathon expo was held in a downtown Chicago hotel and featured a small merchandise table. On race day, I arrived about 15 minutes prior to the official start. Along the course, there were many pockets of cheering spectators, but there were also plenty of desolate areas. The finish line area had a few sponsor booths. You finished and you went home.
A lot has changed over the years. This year, there are 45,000 runners. The weekend expo is held at McCormick Place, with dozens of vendor booths. The official marathon merchandise area is huge and offers everything possible adorned with the marathon logo.
On race day, we are required to arrive two hours prior to the start and are shuttled into corrals based on previous years' times. The course has spectators pretty much along the entire 26.2 miles, with a few booths featuring sponsors, media or other live entertainment. The city really comes alive, and the support really helps runners. There is also an app that allows anyone to follow a runner's progress.
The finish line area is another big celebration, featuring more entertainment, food and vendors. No matter how sore and tired you are, crossing the finish line and enjoying the festivities always gives you a second (or third) wind.
There is a huge business impact on marathon weekend. Hotels, restaurants and bars, especially downtown, see a big boost in revenue.
I have trained harder than ever, but I am also older. It's going to be a slow run and probably a wet one, which makes it exponentially worse. Although I am determined to finish, there are many things that can affect a runner's success.
No matter what happens, I will have fun. I plan on taking selfies with friends along the course. Of course, I will also report right back here in two weeks.
— John Wroblewski, online writer
FX Excursions
FX Excursions offers the chance for once-in-a-lifetime experiences in destinations around the world.
Since Cheval Blanc, an extraordinary, newly designed and refurbished 72-room hotel owned by Louis Vuitton Moet Hennessey, launched in September 2021, it has been the talk of the town. Le Tout-Paris remarks about its WOW factor … and the hard-to-get reservations for the 30 seats at Plenitude, the intimate, first-floor gastronomic outlet headed by chef Arnaud Donckele, who earned three Michelin stars at Cheval Blanc Saint Tropez. Reservations are also recommended for Limbar, the ground-floor bakery/café/tea shop/bar where we watched Pastry Chef Maxime Frédéric preparing desserts and an absolute must-have for dinner at Le Tout-Paris, the 7th-floor, all-day brasserie. This brightly colored space, with its raised seating and Fauve-like floor tiles and the adjacent Milanese restaurant, Langosteria, both have access to terraces facing the Seine River, with amazing views encompassing Notre Dame to the Eiffel Tower.
Sponsored Content
IHG® Business Edge: Working Together with SMEs for a smarter way to manage travel