Thirty years ago, I ran my first marathon. Today, I am running my 25th, and last, Bank of America Chicago Marathon.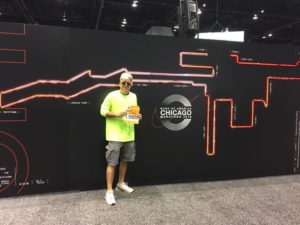 In 1988 I was one of about 4,500 entrants. The weekend marathon expo was held in a downtown Chicago hotel and featured a small merchandise table. On race day, I arrived about 15 minutes prior to the official start. Along the course, there were many pockets of cheering spectators, but there were also plenty of desolate areas. The finish line area had a few sponsor booths. You finished and you went home.
A lot has changed over the years. This year, there are 45,000 runners. The weekend expo is held at McCormick Place, with dozens of vendor booths. The official marathon merchandise area is huge and offers everything possible adorned with the marathon logo.
On race day, we are required to arrive two hours prior to the start and are shuttled into corrals based on previous years' times. The course has spectators pretty much along the entire 26.2 miles, with a few booths featuring sponsors, media or other live entertainment. The city really comes alive, and the support really helps runners. There is also an app that allows anyone to follow a runner's progress.
The finish line area is another big celebration, featuring more entertainment, food and vendors. No matter how sore and tired you are, crossing the finish line and enjoying the festivities always gives you a second (or third) wind.
There is a huge business impact on marathon weekend. Hotels, restaurants and bars, especially downtown, see a big boost in revenue.
I have trained harder than ever, but I am also older. It's going to be a slow run and probably a wet one, which makes it exponentially worse. Although I am determined to finish, there are many things that can affect a runner's success.
No matter what happens, I will have fun. I plan on taking selfies with friends along the course. Of course, I will also report right back here in two weeks.
— John Wroblewski, online writer
FX Excursions
FX Excursions offers the chance for once-in-a-lifetime experiences in destinations around the world.
American Airlines Mobile ID creates a more seamless, touchless travel experience for American Airlines customers with TSA PreCheck. Recently started at Dallas Fort Worth International Airport, AAdvantage members with PreCheck can use Mobile ID at selected checkpoints to verify their identity. AA plans to deploy the technology at Miami (MIA), Phoenix (PHX), Washington, D.C. (DCA) and more later this year.
Sponsored Content
Much of the global business travel industry has already made sustainable business travel a priority with a focus on reducing emissions and their environmental footprint. But the industry, as well as external stakeholders, such as policymakers, recognize more needs to be done.
First opened in 1742 by George William Wilton, a seller of oysters, shrimp and cockles near Haymarket in London, Wiltons continued drawing diners with its delicious food for more than two centuries. This summer, Wiltons celebrates its 280th birthday and its place as one of London's most beloved fine-dining establishments with a unique dining experience.