Sunday was a day of celebration at Northwestern University. I joined two separate groups of friends to watch a graduation ceremony followed by a thrilling softball game.
My day started at Welsh Ryan Arena. A couple friends had sons graduating, and I watched as they received their diplomas. Since I was already in the building doing pre-game work, I was able to attend the ceremony despite usual ticket limitations. I joined a group of other writers, getting a great overall view from the third level.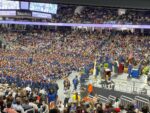 Upon the conclusion of the ceremony, I made a quick detour to nearby Mustard's Last Stand for one of its outstanding turkey burgers. On the surface, it is a typical burger joint, but one taste of anything immediately tells you it is well above typical.
Next, I made the short walk to adjacent Sharon J. Drysdale Field for the playoff game between Northwestern and Miami (OH) University. The winner of this game would go to the Super Regionals for a chance to play in the Women's College World Series. I knew I was early, but I love the serenity of an empty ballpark.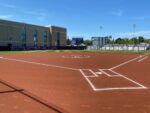 The seesaw battle started with the home team Wildcats quickly behind 2–0 to the visiting RedHawks. NU took a 3–2 lead, but fell behind again 4–3. The Wildcats took the lead for good in the last inning, but Miami kept it exciting, loading the bases with no outs, before NU's ace pitcher ended the rally, getting the win and advancing in the playoffs.
Much like the end of the earlier graduation ceremony, this standing-room-only crowd erupted and tears flowed as the game ended. After a short meeting on the field, the team mingled with friends and fans. Nobody wanted the day to end.
It was a long but fantastic day. It started with several hundred winners graduating and ended with a team of winners moving to the next round of playoffs.
— John Wroblewski, online writer
FX Excursions
FX Excursions offers the chance for once-in-a-lifetime experiences in destinations around the world.
Sponsored Content
Exclusive Sailing with Global Traveler
Contemporary lifestyle hotel brand art'otel expands throughout Europe with the launch of three new properties in Zagreb, London's Hoxton and Rome, all slated to open between fall 2023 and early 2024. These three hotels join the brand's existing boutique hotels in Berlin, Amsterdam, Cologne and another London property.