I enjoyed another classic production at Skokie Theatre. This time it was Cat on a Hot Tin Roof by Tennessee Williams, the third of five productions in the MadKap Productions 2022–23 play series.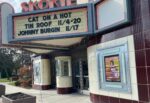 An American classic, it is centered on aging football hero Brick and his wife, Maggie, as they deal with their complicated marriage at a family gathering for family patriarch Big Daddy's birthday. Secrets are revealed, feelings are exposed, and emotions are raw.
It explores themes including lies, greed, repression and death. At various times it is intense, humorous and thought-provoking as it delves into personal and societal issues.
Produced by Wendy Kaplan and directed by Steve Scott, Cat on a Hot Tin Roof stars Caleb Gibson (Brick) and Sarah Sapperstein (Maggie). Jeff Broitman, Ross Childs, Ann James, Reid O'Connell, Emilie Yount and Kent Joseph round out the cast.
Kaplan and director Wayne Mell started MadKap Productions in 2010 to provide quality regional theatre. In 2014 MadKap Productions became the resident production company and management company for the Skokie Theatre. Since then it has served as an area favorite.
I really enjoyed this performance. The actors were excellent, especially Sapperstein, who delivered often rapid-fire lines with such passion and emotion. Her many uses of "no-neck monsters" kept me laughing. I must use that line sometime. I had never seen any form of Cat on a Hot Tin Roof prior to Friday, but now I want to see the movie starring Paul Newman and Elizabeth Taylor.
Next up is The Book of Merman, Feb. 3–26. In this musical comedy, two Mormon missionaries arrive at Ethel Merman's home, resulting in hilarity. The last in the MadKap play series is Neil Simon's Rumors, March 31–April 23. In addition to the MadKap play series, Skokie Theatre offers entertainment all year including concerts, plays and other productions.
— John Wroblewski, online writer
FX Excursions
FX Excursions offers the chance for once-in-a-lifetime experiences in destinations around the world.
One of Ibiza's hottest restaurant destinations since its opening five years ago, Bottega il Buco, draws legions of fans with the addition of new head chef Max Rivera Papic, whose kitchen credits include skills honed under the tutelage of Alain Ducasse at The Dorchester, London.
Sponsored Content
THE MOST EXCLUSIVE TOURS OF EGYPT EVER OFFERED
Ski season is around the corner. Now is the perfect time to plan your winter ski getaway. These Colorado resorts offer deals designed for skiers.