One of my favorite trips I took was a couple summers ago with my children — not sure why my wife wasn't with us, but off we went. We drove about two hours toward the Poconos to Lake Harmony, Pennsylvania, to a place called Boulder Field, in Hickory Run State Park. The park has some great hiking trails throughout; however, we always spend most of our time climbing on the rocks at Boulder Field. Once you get to the park area, follow the brown-and-yellow signs for Boulder Field. As you get deeper into the woods of the 16,000-acre park, the paved roads turn into gravel roads, and then the gravel roads turn into dirt roads. The last turn on the right has convenient restrooms, very much appreciated after the long ride. Once we were ready to go, we went about 20 yards or so from there and parked our car.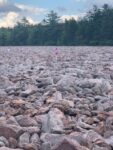 The day we went was a great day to be outside. We got out to the huge field of large rocks, all packed together as far as the eye could see. According to the Pennsylvania Department of Conservation & Natural Resources' website, Boulder Field was covered by a glacier about 20,000 years ago. The glacier scraped the land and sand, rocks and other debris got pushed along by the glacier. Once the glacier melted, the debris fell to the land, which formed a 400-foot-wide-by-1,800-foot-long field of red sandstone and quartz conglomerate. It was designated a National Natural Landmark in 1967. In 1993 it was declared a State Park Natural Area.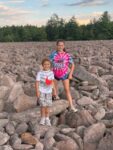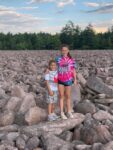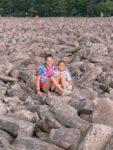 The rocks are rather large, some smaller but most huge. Supposedly the field is, on average, 10–12 feet deep. You will see in the pictures my son decided he wanted to try and dig down; however, he didn't get far. My daughter, on the other hand, was challenged to go as far as she could into the distance. Off she went, while I managed to stay after with my son on the wobbly rocks. After quite a while, she returned. She said she was able to get to the end of the field, where the rocks just tapered off. There were children of all ages and other families, as well. After my daughter came back, the two of them hopped from rock to rock. It seemed like fun, so, of course, I had to do it, too. Off to the far right, past the rocks, there were some yellow flowers. It was great to see some color other than brown.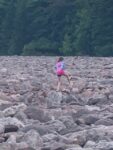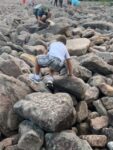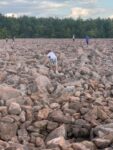 After an hour or so, a little tired and hot, we found a hiking trail, which we took for a nice, cooler hike. All in all, it was a great time to spend together. On our drive back, we, of course, stopped for some ice cream. It was fun spending the day with them, outside in an amazing field of . . . rocks!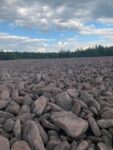 — Eli R. Shapiro, director of sales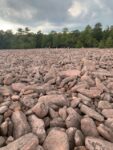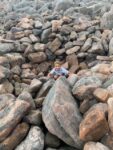 FX Excursions
FX Excursions offers the chance for once-in-a-lifetime experiences in destinations around the world.
Turkish Airlines recently opened a new lounge in Terminal 1 of New York's John F. Kennedy International Airport. The airline operates three flights per day from the airport and now premium passengers have luxurious, comfortable and hospitable lounge amenities to enjoy in a renovated, rebranded space.
Sponsored Content
Now through May 8, sign up for a free six-month trial of the Global Traveler app and be automatically entered for a chance to win a $500 gift card of your choice for Amazon, Apple or American Express.
It's time to start dreaming of your next trip. Here's some destination inspiration for you. Take a visual journey through these unique museums in Europe with us.