Last March I saw DePaul defeat Marquette to win the Big East Conference women's basketball title. Last weekend I watched both of those teams host conference rival Seton Hall.
My basketball weekend started on Friday at Al McGuire Center in Milwaukee. Opened in 2004, the state-of-the-art, 3,700-seat arena has a lively vibe and fantastic sightlines.
As the Big East runner-up last season, big things are expected of the Golden Eagles, and they are living up to expectations. At 14–3, including 5–0 in conference, they stood in first place in the conference.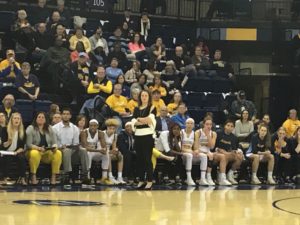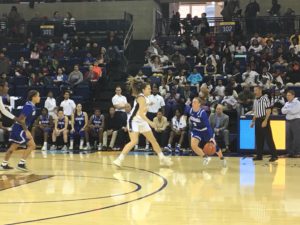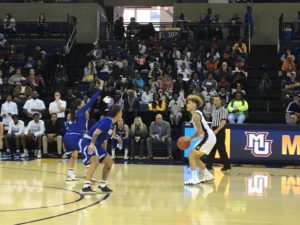 The Golden Eagles jumped out 8–0 to start the game and cruised to a 96–60 victory. Last season's Big East Player of the Year, Allazia Blockton, remained out with an injury, but Marquette kept rolling. Player of the Week senior Natisha Hiedeman led all scorers with 28 points.
Because it was Milwaukee Public School Day, the capacity crowd was filled with energetic youngsters who rocked the arena. Marquette's Golden Eagle mascot and in-game host Stephaine Crosley helped the energy level. The students wanted to see Marquette break 100, but coach Carolyn Kieger was looking to play her reserves more than further the onslaught.
It was an awesome time. Marquette seems improved over last year. They are definitely on a mission.
On Sunday I braved the Chicago cold and headed to McGrath-Phillips Arena to watch my alma mater, DePaul. The arena seats 3,000, but the bleacher seating makes it feel much more intimate, almost like a high school, in a good way.
DePaul looked to duplicate Marquette's success against Seton Hall with a quick 11–2 lead. Unfortunately, things went sour from that point, and DePaul ultimately lost 84–73. Too many missed three-pointers and not enough rebounding sealed DePaul's fate.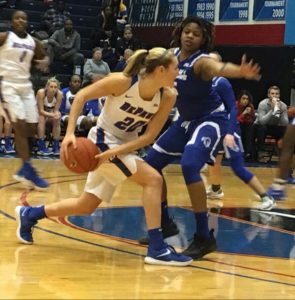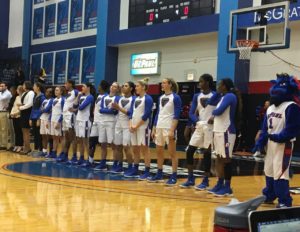 In the post-game media session, DePaul coach Doug Bruno was obviously frustrated with the effort, but he also credited Seton Hall with a great game. He stated DePaul would have to dig deep within themselves to keep pace with Marquette and match the success of last season.
These were my first two women's collegiate basketball games this season, but they will not be my last. The Big East championship will once again be played in Chicago. Marquette seems on pace to return to the finals, but only time will tell if DePaul can regain its championship form. Either way, I'm set for a lot of great basketball along the way.
— John Wroblewski, online writer
FX Excursions
FX Excursions offers the chance for once-in-a-lifetime experiences in destinations around the world.
Sponsored Content
Welcome to The Islands of Tahiti, where every moment is a treasure waiting to be discovered. From the moment you arrive, you will be greeted with warm hospitality, time-honored traditions and an awe-inspiring landscape that will take your breath away.
Contemporary lifestyle hotel brand art'otel expands throughout Europe with the launch of three new properties in Zagreb, London's Hoxton and Rome, all slated to open between fall 2023 and early 2024. These three hotels join the brand's existing boutique hotels in Berlin, Amsterdam, Cologne and another London property.