Read my blog for any length of time and you can see I'm a sucker for history tourism. If there's something with a few decades of development behind it (be it a restaurant, destination or sports team), I can usually be found fawning over the backstory involved.
Hence my excitement when I stumbled on The Arabia Steamboat Museum in Kansas City over Labor Day weekend.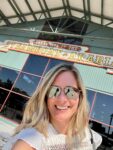 Earlier in the day, my BFF from college and I enjoyed a fabulous frozen rose, arugula salad and the pepperoni pizza at Il Lazzarone Pizza while entertaining my bestie's daughter. After our lunch and conversation, we walked to City Market, and my friend casually mentioned the story of Steamboat Arabia. I was immediately intrigued, stating, "One day, you're going to have to bring me back here to see the museum." That's when my pragmatic and efficient friend mentioned, "We could go today."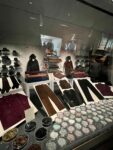 And so we did.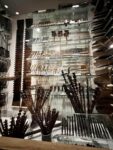 Spoiler Alert: I was utterly captivated by this museum and took more than 40 pictures. However, for the sake of your sanity and to keep from alienating too many readers, I'll do my best to summarize the story of Steamboat Arabia in condensed form.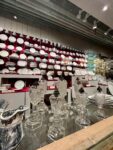 As one of hundreds of steamboats to sink in the 1800s, Steamboat Arabia carried 200 tons of cargo down the Missouri River in 1856. Think of her as a floating Walmart with everything from shoes to weaponry to ketchup on board. She hit a snag in the river and sank just outside Kansas City, where 150 passengers survived and only a mule died. However, the vast majority of her precious cargo was lost to the river.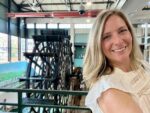 Over the years, many adventure seekers tried to find the Arabia, believing a wealth of treasures would be on board. But it wasn't until five men began digging in 1988 that Arabia would be unearthed.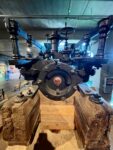 There's a video documentary in the museum of those involved from the mid-to-late 1980s. My favorite parts involved comments from the wives who were interviewed, discussing how they didn't realize they'd married treasure hunters and how crazy they often thought their husbands were for searching for something so improbable. When the men did find something truly significant, one of the women recalls cooking in the kitchen, being somewhat annoyed that dinner would be interrupted by whatever the group had discovered.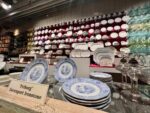 And to be honest, "discovered" is an understatement.
The collection of excavated articles is on display within the museum, and it's the largest of its kind in the world.
Perfectly preserved perfume, pickles and writing pens; hundreds of buttons from France and beads from Italy; dozens of fully intact Davenport ironstone dishes; drills and bits; barrels of nails, cast iron hooks and handles; and countless tools, glasses, hats, and clothing are all on display. The sheer number of items uncovered is truly a sight to behold, let alone the variety represented.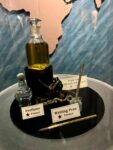 The Arabia Steamboat Museum is still working to clean and preserve more than 60 tons of additional treasures found 45 feet beneath the surface. It also boasts Arabia's original boilers, engines and water pump, along with a re-created wheel and full-scale replica of her main deck.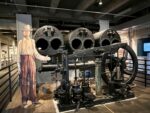 We finished our self-guided tour, and the three of us marveled at what we'd seen. I've often remarked how I don't think I would've been a very good "woman of the plains" in our country's earlier times. The idea of waiting on a random steamboat to bring sewing needles, a ceramic jewelry box or a syrup jug seems unfathomable to me. Those pioneer women would probably see me the way I see my son's generation, where patience isn't highly regarded, thanks to the instant rewards of two-day shipping.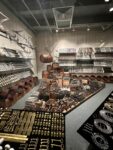 In the end, we walked through City Market as it was about to close, choosing three bouquets of flowers to remind us of our time together.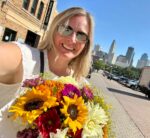 The flowers will fade, but my opinion of the Arabia Steamboat Museum will long be remembered as a treasure in and of itself.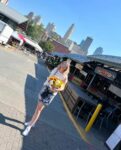 — Carrie Cox, account executive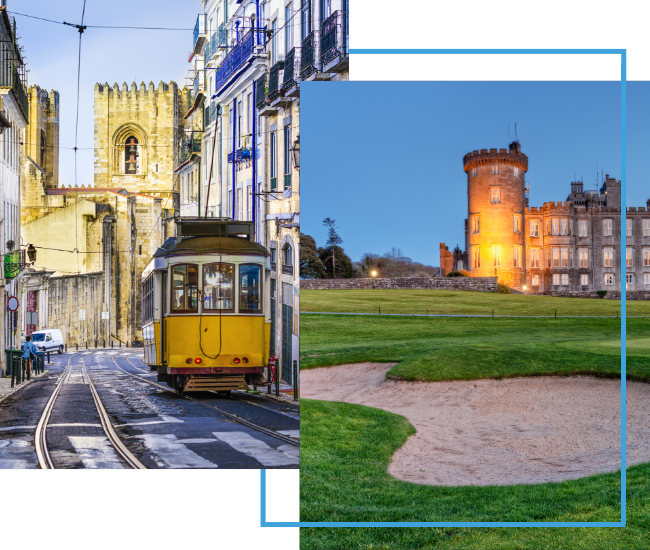 FX Excursions
FX Excursions offers the chance for once-in-a-lifetime experiences in destinations around the world.
Explore Excursions
The Perelman Performing Arts Center (PAC NYC), the cultural cornerstone and final public element of the World Trade Center site, opened this September.  The new performing arts center in Lower Manhattan provides a dynamic home for the arts, serving audiences and creators through flexible venues enabling the facility to embrace wide-ranging artistic programs.
Sponsored Content
Many small- and medium-sized businesses face time and budget constraints when organizing corporate hotel travel for employees. To address this problem, IHG® Business Edge emerged as a cost-free business travel solution for small- to medium-sized enterprises, offering travel managers exclusive access to enticing perks, handpicked educational resources and comprehensive company travel metrics. IHG Business Edge connects our loyal customers to our portfolio of 5,800 hotels and resorts across 18 brands in more than 100 countries.
Whether you call secondhand fashion treasure troves "thrift stores," "fripperies," "charity shops," "vintage boutiques" or something else, shifting the paradigm from "old clothes" to "new finds," you may find the best, most conversation-starting souvenirs inside these shops and neighborhoods located in the world's most fashionable cities and a few unexpected places.