Two weeks ago my family and I took a little daytrip to St. Augustine to enjoy the nice weather. While it's yet to feel like fall here in Florida, we couldn't pass on the weather being this good (a.k.a., not sweating the moment you step outside).
For lunch we popped into a little Italian roadside restaurant just on the outskirts of historic St. Augustine called Borrillo's Pizza St. Augustine. In an area where some pop-up restaurants come and go, struggling to have consistent customers, this isn't one of them. Borrillo's has been a staple for affordable comfort Italian food since 1998. My dad and I split a barbecue chicken pizza while my mom and sister got some pasta dishes and calzones.
Full from lunch, we walked toward the busier part of St. Augustine. We ventured over to the fort but didn't go inside. I had been in before when I was younger on more than one occasion, and I was perfectly happy walking along the water with the fort in the background. For those coming to St. Augustine for the first time, I highly recommend a visit within the fort. It takes you back to the 16th century, when the Spanish occupied the city, and features people in period costume as well as period pieces showing what life was like living within the fort.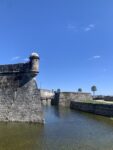 Of course, we couldn't not walk down iconic St. George Street. Lined with quirky shops, lively restaurants and bars, and a few museums and tourist attractions, it's always entertaining seeing what's going on there. It's also a great spot to see how buildings would have looked in the 17th and 18th centuries along this street, as each building is designed to replicate how structures once stood.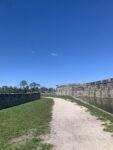 St. Augustine is also home to some beautiful churches, from a Catholic church at the end of St. George Street overlooking the square where trees light up come the holidays to a Greek Orthodox shrine in the heart of St. George Street. You'll also find some good coffee places like the Australian Kookaburra coffee shop, a great place for coffee and Australian meat pies.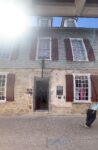 If you're planning a trip to North Florida, time it around St. Augustine's highly acclaimed Night of Lights, a spectacle of thousands of twinkling lights adorning trees, the Lightner Museum, Flagler College, the Bridge of Lions and countless other sites.
— Aoife O'Riordan, associate editor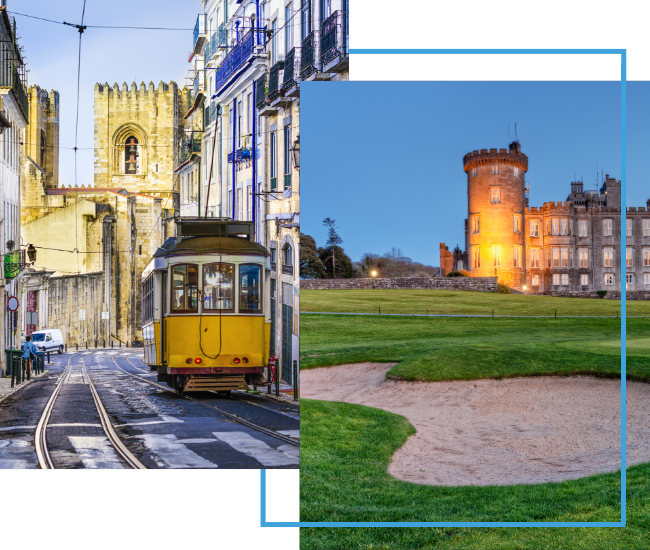 FX Excursions
FX Excursions offers the chance for once-in-a-lifetime experiences in destinations around the world.
Explore Excursions
It's time to start dreaming of your next trip. Here's some destination inspiration for you. Take a visual journey through these U.S. Christmas markets with us.
Sponsored Content
Exclusive Sailing with Global Traveler
Everyone loves a good Christmas tree, but these iconic hotels around the world take it one step further with designer-styled trees illuminating lobbies and public spaces, wowing all who enter. From Lela Rose to Louis Vuitton, don't miss these ultra-luxury trees redefining tree decorating as we know it.