Notes from Marvin Singer, a volunteer with Travelers Aid and member of GT's Globility Board:
Since retiring in 2012, I have volunteered at Washington Dulles International Airport with Travelers Aid. An international organization whose motto is "a helping hand along the way," Travelers Aid "seeks to provide assistance to people in transit, especially at transit hubs such as airports and train stations." I have met counterparts at airports throughout the United States and overseas.
At Dulles, there are Traveler Aid information desks on the ticketing level, on the baggage claim level and out at the departure and arrivals gates in concourses A, B and C. Dulles is a major port of entry to the United States. We, therefore, have many arriving passengers who don't speak English or have never traveled before and are completely unfamiliar with what happens when you have to change planes from an international flight to a domestic flight.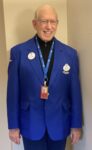 We answer all kinds of passenger questions: the easy ones, such as "Where do I go for my next flight?", "How do I get there?", "I've lost my boarding pass," I've lost my passport," "Do I have enough time to see the White House?" "Where can I get a COVID test?" "Where can I print out the results of my COVID test?" "Do I have to recheck my luggage?" — to the harder ones, such as "I am returning to my home in Dublin, and my car is parked at the airport there. But I left the keys to my car in my boyfriend's car. He dropped me off and he's already on the way back to his house in Virginia."
Often the language difference makes for quizzical looks from the passengers. I explained to one family from Germany, transferring from their international flight to a flight to Newark (EWR), that to get their next flight, they had to take the train. Dulles has a small subway that goes between the main terminal and the three concourses. They seemed confused when I told them the they had to take a train to get to their next flight. It was only after they left for the gate that I realized their frame of reference was completely different. In Germany, many of the major airports are on intercity rail lines. So if you land at Frankfurt Airport bound for Cologne, you might go to the intercity train station in the airport and take the train to Cologne. I'm sure these passengers thought I was telling them they had to take the train all the way to Newark rather than fly!
Our information desks are equipped with computers and telephones as well as a comprehensive reference book filled with information about the airport and its airlines. I was able to use all this information recently to help a young woman whose flight from London to Nashville was diverted to Dulles because of weather. She elected to stay overnight at an airport hotel. The airline had arranged for a bus to take her back to Nashville in the morning. But she said the bus never showed up. She was having trouble reaching the airline on the phone, and she came to the airport to try to find out how to get home. Unfortunately, the airline's ticket counter did not open until later in the afternoon. With that news she burst into tears. I tried to calm her and began to try all the phone numbers in my reference manual to reach the airline. None worked. I finally called the airline's senior manager, who did answer. He was gracious and spoke to the distraught woman. He calmed her down and assured her she would get home that same day. She left the TA desk in a much happier frame of mind.
So the next time you're at an airport and have a question of any sort, seek out a Traveler's Aid volunteer for the answer. In the United States, we wear blue vests or jackets with the Travelers Aid logo. Volunteers in other countries have different colored jackets — red in Singapore, for example.
By the way, I was able to retrieve the keys to the car parked at Dublin Airport. I called the boyfriend on his cell phone and told him to turn around and come back to Dulles Airport. I also told him where to go to meet me. Since I have an airport ID, I am able to go through security quickly. I met him at the agreed spot, got the keys and got them back to the passenger in time for her to make the flight to Dublin.
I hope to help you at Dulles sometime soon.
— Marvin Singer, Globility Board member/guest blogger
FX Excursions
FX Excursions offers the chance for once-in-a-lifetime experiences in destinations around the world.
Since Cheval Blanc, an extraordinary, newly designed and refurbished 72-room hotel owned by Louis Vuitton Moet Hennessey, launched in September 2021, it has been the talk of the town. Le Tout-Paris remarks about its WOW factor … and the hard-to-get reservations for the 30 seats at Plenitude, the intimate, first-floor gastronomic outlet headed by chef Arnaud Donckele, who earned three Michelin stars at Cheval Blanc Saint Tropez. Reservations are also recommended for Limbar, the ground-floor bakery/café/tea shop/bar where we watched Pastry Chef Maxime Frédéric preparing desserts and an absolute must-have for dinner at Le Tout-Paris, the 7th-floor, all-day brasserie. This brightly colored space, with its raised seating and Fauve-like floor tiles and the adjacent Milanese restaurant, Langosteria, both have access to terraces facing the Seine River, with amazing views encompassing Notre Dame to the Eiffel Tower.
Sponsored Content
Located in the South Pacific, The Islands of Tahiti are just eight hours by air from California. Surrounded by pristine, crystal-clear blue waters, the 118 islands and atolls offer natural beauty, authentic island culture and unique French Polynesian style. The Islands of Tahiti are world-renowned for white-sand beaches, stunning turquoise lagoons and varied landscapes ranging from coral atolls to volcanic mountain peaks. Privacy comes naturally in The Islands of Tahiti and offers visitors the space to relax and reconnect and to be Embraced By Mana. Mana is the life force and spirit that connects all things in The Islands of Tahiti.