Earlier this week, the majority of the FXExpress Publications, Inc. staff gathered in Los Angeles to fete the winners of the 2022 GT Tested Reader Survey awards, honoring the best providers in the travel industry as voted by our readers. Many of us were meeting each other face to face for the first time, although we felt we knew each other well through our weekly Zoom staff meetings and exchanges over the past few years.
My husband, Harry, and I flew in to LAX on Monday afternoon, taking a shuttle from Delta's beautiful new Terminal 3 to the LAX-it lot for taxi and ride share riders. I was impressed with how quickly we caught an Uber in spite of the number of folks doing the same. Our driver told us this set-up was a vast improvement on the former system, which saw cars backed up to the freeway and pick-ups taking more than 45 minutes to connect. A quick mid-day, 30-minute drive to downtown L.A. brought us to the gleaming InterContinental Los Angeles Downtown hotel,
dominating the downtown landscape with its 73 floors (not counting the spire topping it out)
and incredible architecture.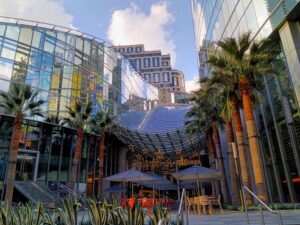 The doorman directed us to the elevator to the 70th-floor lobby, where a lovely Christmas tree decorated the bright, modern space.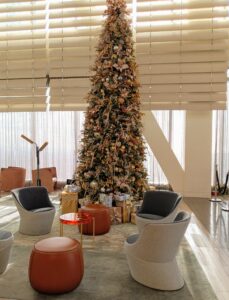 We swiftly checked in and made our way to our room on the 53rd floor, where the floor-to-ceiling windows afforded eye-popping views south over the city and all the way to the Pacific. A short while later, an incredibly generous welcome tray of snacks and beverages was delivered to our room.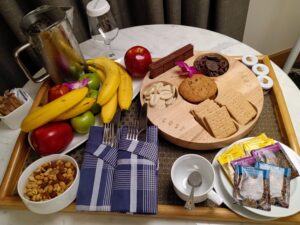 (Our likes and preferences had been solicited from us the week before.) I'll be telling you more about this lovely hotel in future blogs and in a review in a future issue of Global Traveler.
That evening, CEO Francis Gallagher hosted the staff at a celebratory dinner at The Capital Grille, where we shared succulent seafood appetizers, a great meal and much laughter and camaraderie. The next morning we all gathered again, this time in a board room at the Ritz-Carlton, Los Angeles at LA Live, to review details for that evening's event and look ahead to the coming year. Afterward, editor in chief Kim Krol Inlander gathered the editorial team (minus senior editor Jan Hecht, who was unable to attend and whom we sorely missed this year) for lunch at the Yard House, a sports bar and restaurant, where we talked a little shop but mostly caught up with each other. Some of us have worked together (if remotely) for more than a decade, and we are friends as well as co-workers.
The awards event that evening was truly special, and I am confident in saying that our guests and honorees had a wonderful evening. A live band provided music before the presentations began, and all were entertained by Liz Watts & Company dancers,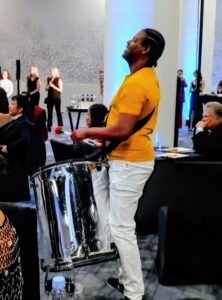 who performed energetic Brazilian- and tango-inspired numbers in the midst of our guests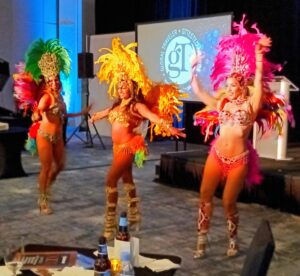 … and concluded the evening leading everyone in a joyous conga line around the ballroom!
It truly was a special evening, and it is always a pleasure to spend time with our Globility Board members and so many inspiring leaders in the travel industry. Everyone is looking forward to the ongoing rebound in travel and opportunities like this event to gather and celebrate each other and the world. Flying home the next day, as we passed over the snowy Cascade Mountains at sunset,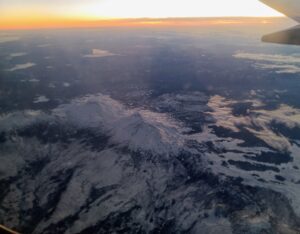 I reflected on how fortunate I am to work with such talented, interesting, generous individuals in such a life-enhancing industry.
— Patty Vanikiotis, associate editor/copy editor
FX Excursions
FX Excursions offers the chance for once-in-a-lifetime experiences in destinations around the world.
Recaro's new CL6720 business-class seat with doors took off recently on Iberia's Airbus A350 cabin, flying Madrid (MAD) to Buenos Aires (EZE), with a total of 31 of the seats in the aircraft's business-class cabin. The premium-economy and economy cabins also feature Recaro seats.
Sponsored Content
Exclusive Sailing with Global Traveler
In a city where new hotels, restaurants and experiences emerge seemingly every day, it's expected to feel overwhelmed when deciding where to dine. London consistently sees delicious and top-notch restaurants appear, but how can one possibly keep track of all the new and updated restaurants?