Name: Beverly Nicholson-Doty
Title: Commissioner
Company, city: Department of Tourism; U.S. Virgin Islands
Number of employees: 24, with contractors and representatives across the United States and Denmark
Recent project: We commemorate our centennial in 2017, so we've planned a combination of events, festivities and celebrations to surround the anniversary.
First job: In ninth grade I joined a program to help students learn pottery in an effort to enhance their productivity.
Little-known fact about you: My love of the water; the Caribbean Sea can cure everything!
YOUR BUSINESS
What innovations/initiatives do you foresee in the industry over the next years?
This idea of think globally but act locally, which is not about collecting things but about collecting memories and developing experiences, will lead well-informed planners to ask: How do we deliver experiences to connect people and leave them feeling enriched?
Best career advice you've received: A former boss told me, check what you expect. A village makes things happen, so leave your team empowered, but be an avid checker.
What advice would you give someone starting out in the field? Have patience. Life is a journey, so appreciate the moment. At the stage in life when you don't have as many responsibilities, take advantage of every opportunity. And be passionate.
BEVERLY NICHOLSON-DOTY AS A TRAVELER
Favorite travel memory or story: On a tour of another Caribbean island, a man without shoes was lecturing at an iconic spot. A world-renowned Ph.D. of history and culture, he was also down-to-earth and passionate. The memory stuck as an example of interacting with people and making meaningful personal connections.
One travel tip you cannot live without: Pack as little as you can; you won't need it all. And to buy something while traveling, you need to love it.
Best advice for business travelers: Don't underestimate anything. Do your homework and take the time to understand the culture you are visiting. Your hosts will respect you more.
ABOUT DEPARTMENT OF TOURISM, U.S. VIRGIN ISLANDS
What can premium travelers expect from a visit to the U.S.V.I.?
Experiences in the U.S.V.I. (St. Croix, St. John and St. Thomas ) range from sublime relaxation to extreme adventure and everything in between. We have great culinary offerings, excellent shopping and accommodation options and beautiful beaches. As a U.S. territory, passports aren't required for U.S. citizens, and non-stop flights arrive from major U.S. cities, making the U.S.V.I. the ideal hassle-free Caribbean vacation.
Tell our readers about events in the U.S.V.I. to look forward to in 2017.
The Agriculture and Food Fair, Agrifest, takes place on St. Croix Feb. 18–20. The St. Thomas Regatta, known as the "Crown Jewel" of the Caribbean, is a top event for the sailing and yachting community, March 24–26. This March 31 marks the 100th anniversary of Transfer Day, when the Danish West Indies officially transferred to the United States as the U.S. Virgin Islands. St. Croix Food and Wine Experience and A Taste of St. Croix bring together local, regional and stateside chefs and epicureans to showcase the island's fare, farmers, fishermen and first-class restaurants, April 6–10. This April marks the 65th anniversary of the St. Thomas Carnival, which comes alive every night with music, food and festivities galore, as well as the children and adult parade with colorful costumes and pageantry. The month-long St. John Carnival celebrates the destination's history and cultural heritage with beauty pageants, concerts, sporting events and food fairs; an Emancipation Day Program July 3; a colorful costume parade; and a spectacular fireworks display July 4. In October and November, the Third Annual Restaurant Week – Dine VI (all three islands) celebrates the cuisine, culture and community of the U.S.V.I. In December/January, the Crucian Christmas Festival on St. Croix features pageantry, music, food and dancing.
What are the can't-miss activities and sights in the U.S.V.I.?
The "living museum" at Estate Whim Museum on St. Croix gives visitors an insider's view into Crucian culture and experiences including crafts, music and traditions handed down over many generations. The underwater snorkel trail in Trunk Bay, St. John, is a must-see attraction; signs make it easy to navigate and explore the bay's colorful marine life. The Synagogue of St. Thomas, the second-oldest synagogue in the Western Hemisphere, features sand-covered floors.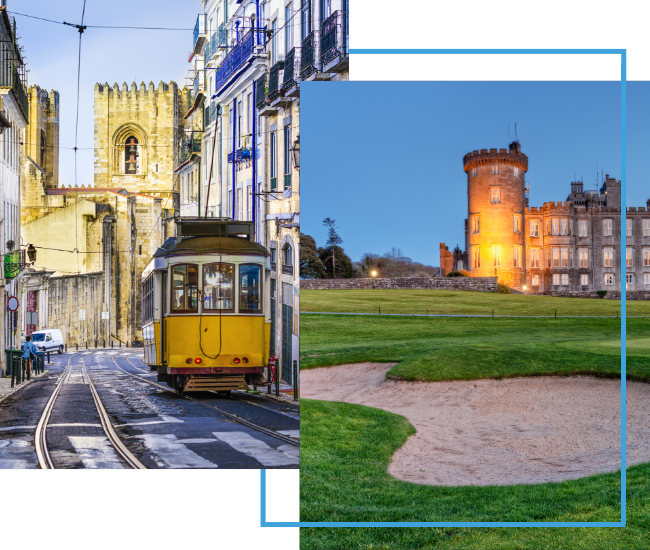 FX Excursions
FX Excursions offers the chance for once-in-a-lifetime experiences in destinations around the world.
Explore Excursions
Less than five years ago the world's first hybrid cruise ship, Hurtigruten Expeditions' MS Roald Amundsen, set sail for Antarctica in November 2019 with 450 passengers. The battery-hybrid-powered ship, named for the first man to cross the continent and reach the South Pole, was built specifically for voyages in polar waters. Its battery-hybrid power reduces the ship's consumption and CO2 emissions by 20 percent compared to equally sized ships.
Sponsored Content
Learning more about our readers' travel habits and preferences ensures Global Traveler delivers the content you desire. As the travel industry has adapted and changed over the last few years, it's more important than ever to connect. To best meet your short- and long-term travel content needs, please help us!
A few months ago, I flew Polaris business class on a United flight from Dulles (IAD) to Paris (CDG). It was only when I got to my hotel in Paris I realized that I didn't have my iPad or its bag or accessories. Since I had been working on it in the restaurant in the Polaris lounge and then went directly to the gate, I knew I either left it propped up on my table when I packed up or in my business-class seat. But what was the best method to alert the airline about my careless mishap and (hopefully) retrieve it? With spotty data and WiFi, searching for information on my phone was frustrating and slow. Here's what I learned from the anxiety-inducing experience (and unexpected ending) about what to do if you leave something behind on your flight: