At Avianca, we've been at your side since 1919 — the second-longest-running airline in the world! Over the years, we've provided you with an unforgettable flying experience tailored to keep you coming back time and time again, because we believe great service really goes a long way.
You will receive many benefits when choosing Avianca, like an all-inclusive fare (food, drinks and luggage), great onboard entertainment, world-class service, mobile pre-check and more. We also offer you extra benefits for an additional cost, like flying with your pet, bringing your sports gear, choosing a preferred seat, access to VIP lounges and upgrading to business class, just to name a few.
Traveling to Latin America? We got you covered with the largest selection of destinations to Central and South America through our main connection hubs: El Salvador, Bogota and Lima; and from there, you can visit Costa Rica, Guatemala, Colombia, Ecuador and more. And the more you travel, the more LifeMiles you earn!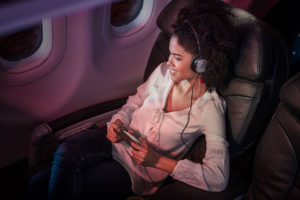 We want you to experience our onboard service, widely considered one of the best in the business. Every one of our employees will greet you with a smile and make you feel right at home. Many clients consider flying with us "an experience" — and it's a great one, we might add!
In short, here's why you should travel with us: amazing service, great flying experience, lots of customization for your trip, the best connections to Central and South America, and — most importantly — because we do everything for your love.
FX Excursions
FX Excursions offers the chance for once-in-a-lifetime experiences in destinations around the world.
The world's first and highest 360-degree infinity pool will open in Dubai's Palm Jumeirah. One of the region's most anticipated attractions, AURA SKYPOOL will begin welcoming guests in mid-November.
Sponsored Content
GBTA's Convention 2021 will bring the business travel industry together for the first time in a long time. Once again, you'll learn and connect with experts and each other, along with discussions with leading thinkers, entrepreneurs and change makers addressing the issues that matter most.
Airplane travel evokes a lot of emotions these days: excitement, anticipation, uncertainty and nervousness, just to name a few. But when you do take to the skies again, the giddiness of getting pampered at 35,000 feet can most certainly wash away the surrealness of the past year and a half — at least for the duration of a long- haul flight — as you sip Champagne and slip your feet into plush slippers. While some global airlines have paused or pushed back plans for upgrades and refreshes to their premium cabins, others have introduced exciting changes that await in your pod or lie-flat bed in first and business classes. What's more, amenities like privacy screens, sliding suite doors and space to spread out all serve a dual purpose as methods to luxuriate in the air while keeping social distance. Here are some nice- ties to expect now and in the near future, from retrofitted seat configurations to updated décor to Michelin-starred meals: