United Airlines' environmentally friendly efforts lessen the impact on local U.S. communities.
United Airlines is lightening its footprint at airports across the United States. The airline takes you places in comfort and style, while also maintaining a clear vision toward sustainability. United is committed to reducing greenhouse gas emissions by 50 percent by 2050, and the airline works toward its goal in a number of different ways at several U.S. gateways.
Los Angeles International Airport
A biofuels program at LAX is at the heart of United's sustainability pledge. The airline invested heavily in biofuels, made from renewable resources like agricultural waste or trash, and they lead the pack, operating the first U.S. commercial flight powered by renewable biofuel in 2011. It's also the first airline to continuously use biofuel for regularly scheduled flights from Los Angeles, since 2016.
San Francisco International Airport
Fly from one of the nation's greenest airports with United Airlines, operating from Terminal 3 at SFO, a LEED Gold-certified terminal with solar panels and terrazzo tile made from recycled glass. Designed with sustainability in mind, the natural light and sweeping views add an open, airy and light feel to the airport experience.
Chicago O'Hare International Airport
United's biofuel partner, Fulcrum BioEnergy, announced plans to begin construction on a Chicago-area biofuels plant in 2020. Nearly 33 million gallons, about half of which is jet fuel, will be produced annually, allowing United to not only reduce its carbon footprint, but also divert waste from landfills and create 160 full-time and 900 construction jobs in the Chicago region.
Denver International Airport
United Airlines and Certifiably Green Denver teamed to improve both DEN United Club locations, and each earned the Certificate of Environmental Excellence. The comfort and amenities travelers have come to expect from United Clubs remains the same, but with the added bonus of energy efficiency, composting and recycled products.
Houston George Bush Intercontinental Airport
Across United's network, 39 percent of ground equipment is electric. IAH stands out from the crowd with its number 74 percent. This lowers emissions and reduces the carbon footprint, while using less fuel keeps the air around the airport cleaner for employees and guests.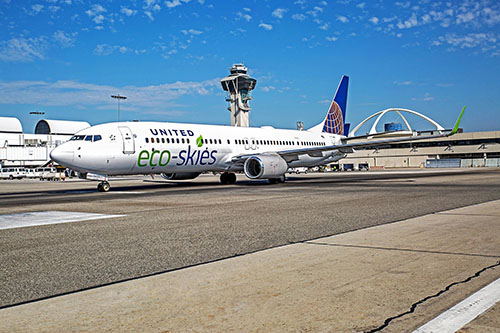 These are just a few ways United Airlines keeps the skies both friendly and environmentally conscious. Learn more at united.com.
FX Excursions
FX Excursions offers the chance for once-in-a-lifetime experiences in destinations around the world.
Bahia Principe Hotels & Resorts invites travelers to celebrate the holidays at any of its properties in Riviera Maya, Mexico. There is no time like the present for you to experience a stay at one of these luxury resorts.
Sponsored Content
Set on a seaside bluff overlooking Land's End in Cabo San Lucas, Vista Encantada Spa Resort & Residences is a Baja paradise specializing in serene vistas and impeccable hospitality, offering a Pacific coast lifestyle with authentic Mexican touches. Guests can now earn a fourth night free at the stunning resort, plus a $100 resort credit, when booking through March 20, for travel through June 15.
After a two-year hiatus from in-person sporting and outdoor recreation events, the seaside, car-free town of Las Catalinas in Guanacaste, Costa Rica, recently announced the return of the annual Tri Las Catalinas, an off-road, multisport triathlon, Feb. 15–18.