Switzerland's long-standing reputation in the world — solid, clean, outdoorsy and maybe even a little predictable — does not apply when talk turns to skiing. Even devotees of the champagne powder snow of the American Rockies have to admit that the ambience, scenery and variety of the Swiss ski experience elevate the sport from staid to spectacular.
One advantage is sheer size: Switzerland offers more high-altitude winter sports resorts than any of its neighboring Alpine countries. Nor is downhill skiing the only game in town, thanks to a wealth of cross-country runs, winter hiking trails and snowshoe paths. Unlike some ski areas in Europe, Switzerland also offers such up-to-the-minute snow sports as snowboarding, freeriding and halfpipe.
Most Swiss ski areas are located above the tree line, which means that skiers enjoy some of the most scenic unobstructed views of the countryside. Interlocking ski areas are another Swiss hallmark, offering not only hundreds of acres of terrain — sometimes accessible via reciprocal lift ticket — but also an opportunity to ski across borders into neighboring countries.
But because winter sports enthusiasts increasingly don't live — or vacation — by ski alone, the number of offslope activities also is an important draw for visitors looking for a good time. Instead of the prefabricated base villages that have sprung up in the United States in recent years, Swiss resorts have grown and evolved organically over the last century and include all manner of shopping, cultural and entertainment venues, many within walking distance of the slopes.
The gastronomy at Swiss ski areas is another important attraction, offering a stark contrast to many U.S. resorts, where a typical scenario is a single base lodge restaurant offering a limited — and expensive — menu. Interesting dining options in Switzerland, by contrast, can range from charming brasseries serving fondue or regional dishes beside a roaring fire to wine bars and toney restaurants with Michelin stars. Restaurants can be located in pedestrian villages or onmountain, the latter often accessible even to non-skiers via cable car.
First-time visitors may be surprised to discover that there are more than 300 different Swiss wines, for example, as well as more than 450 types of cheese and all manner of world-class chocolate.
Would-be visitors daunted by the unfavorable exchange rate between the U.S. dollar and the euro may find that skiing in Switzerland is less expensive than they think. A lift ticket at St. Moritz, for example, one of the most upscale ski areas in the world, is priced at about $40 a day versus about $85 for a one-day pass in Vail, Colo. Weeklong tickets are even less expensive, costing only about $75 to $100, and state-of-the-art ski equipment rentals are a relative bargain at about $200 per week per person.
No discussion of Swiss skiing is complete without noting the country's location more or less in the center of Europe. As such, Switzerland boasts a mélange of cultural influences from its neighbors, predominantly Italy, France and Germany. Not only do the cuisine and ambience reflect these contributions, but, depending on where you are staying, the principal language spoken on the streets will change accordingly.
This diversity also manifests itself in the countryside, which can range from meadows and cowbells a la Heidi to the mellow, sophisticated sounds of the Montreux Jazz Festival. Transatlantic visitors can — and often do — combine a sightseeing stay with a day or two in London or Paris or, even closer, Geneva or Zurich.
For skiers, choosing to vacation in Switzerland is a relatively easy decision; the bigger challenge will be settling on just one ski area. Each has its own personality and terrain, which means that with a little research, visitors can find a mountain to suit a range of skill levels and tastes. Davos, for example, known for hosting the World Economic Forum, has the distinction of bei ng the highest city in Europe — an important consideration for mountain sports. Also known as a health resort, Davos tempts travelers with its nearly 200 miles of ski runs, multiple ice rinks and bustling nightlife. Extreme skiers in search of a challenge might prefer to test their skills on the advanced terrain in Verbier, a ski area situated in the canton of Valais that is famous for its ungroomed and off-piste terrain.
Nor are the slopes of Switzerland for experts only; many ski areas have extensive terrain designed for novices and intermediates. And raw beginners should note that nearly all Swiss ski resorts offer group and private instruction with multi-lingual teachers, as well as the services of mountain guides who will pick up visitors at their hotels for an unforgettable day on the slopes.
---
LODGING
GRAND HOTEL PARK
This 5-star property in Gstaad makes the most of its central location with private balconies that overlook the Bernese Alps. The hotel features 88 guestrooms, 11 suites and two apartments, all equipped with Chopard toiletries, WiFi and 42-inch plasma TVs with satellite connections and 200 channels. Guests can unwind after a day on the slopes at the Guerlain-Spa Chakra, complete with 10 treatment rooms and an indoor pool. The hotel offers so many restaurants — Le Greenhouse, Terrasse Panoramique, Le Grand Restaurant, Le Marco Polo and Le Chalet Waldhuus — that it would take a whole week to try them all. Wispilestrasse, Gstaad, tel 41 33 748 9800, http://www.grandhotelpark.ch $$$$
THE OMNIA
For a taste of urban sophistication in Zermatt skiers can reserve one of 30 guestrooms — none of which are numbered — in this 5-star hotel overlooking the Matterhorn. The property is perched on a rock above the town, and guests access the lobby through an elevator cut into the rock. Public rooms include a cozy library, a wellness center with a Finnish sauna and Turkish hammam, an indoor/outdoor swimming pool and a sun terrace. The décor is contemporary and sleek, and the restaurant boasts a roaring fireplace. Auf dem Fels, Zermatt, tel 41 27 966 7171, http://www.the-omnia.com $$$$
THE STEIGENBERGER BELVÉDÈRE
This historic hotel in Davos, built in the late 19th century, has 105 guestrooms and 26 suites, all decked out with WLAN and cable TV. Balconies overlook the Davoser mountains, accessible via public transportation (free to Steigenberger guests). Just over a half-mile from the Davos-Platz train station, the hotel is linked to the slopes via ski shuttle. To unwind at day's end, the Belvédère Vital spa offers a heated outdoor pool with water features, steam rooms and saunas. Guests can dine at the Belvédère restaurant for regional dishes and continental cuisine. Other dining options include Romeo und Julia, a trattoria specializing in Italian fare, and Bistro Voilà, which serves Mediterranean food on the terrace. Promenade 89, Davos-Platz, tel 41 81 415 6000, http://www.davos.steigenberger.ch $$$$
DINING JÖHRI'S TALVO
Tucked in a 350-year-old Engadine home in Champfèr on the edge of St. Moritz, this posh restaurant mixes traditional dishes with cutting-edge French cuisine. Lamb and hearty soups sit side by side on the inventive menu with fresh shellfish, served with delicate sauces. The décor — complete with pine paneling, chandeliers and crisp white linens — lends a mountain retreat ambience to the dining experience. Options include a la carte and multi-course prix fixe lunches and dinners. Via Gunels 15, Champfèr, tel 41 81 833 4455, http://www.talvo.ch $$$
ZUM SEE
Tuna carpaccio, homemade tortelloni with ricotta filling and lamb filet with fresh herbs are among the highlights on the menu at this Zermatt institution, accessible from the resort by cable car and a short walk along a groomed trail. An extensive wine list adds to the experience, as do fresh, local ingredients that make up the ever-changing menu. The overall inspiration is a blend of French and Swiss influences but diners also stay for the picture postcard views of the lake beyond. Zermatt, tel 41 27 967 2045, http://www.zumsee.ch $$$$
PEPPINO
Peppino in the upscale resort of Villars offers a special menu based on edible Alpine flowers and herbs, created by Chef Joel Quentin. The a la carte menu is designed to satisfy, however — even after a day of hard skiing — with regional dishes that showcase Italian and French influences. Foie gras, salmon and lamb dishes are among the house specialties — paired with select wines — followed by crème brulee or fresh sorbets. The Eurotel Victoria, Routes des Layeux, Villars- sur-Ollon, tel 41 24 495 3131, http://www.eurotel-victoria.ch $$$
---
INFO TO GO
International visitors can fly into Geneva International Airport (GVA) or Zurich International Airport (ZRH), both of which are less than two hours away from top resorts by car. Sion Airport (SIR) (tel 41 27 329 0600, http://www.sionairport.ch) and St. Moritz/Samedan Airport (SMV) (tel 41 81 851 0851, http://www.engadinairport.ch) serve Zermatt and St. Moritz, respectively.
Transfers to the slopes are available by shared van, private limousine and, in some cases, by helicopter, such as via Air Zermatt (tel 41 27 966 8686, http://www.air-zermatt.ch). A shared van from Zurich to Davos costs about $600 for 10 people or about $60 per person. (tel 44 121 771 5054, http://www.resorthoppa.com). Geneva and Zurich airports also have railway stations for ski transfers, and thanks to the new $3.59-billion, 21-plus-mile Lötschberg Base Tunnel (http://www.blsalptransit.ch) through the Alps, set to open in December, rail travel to the mountains will be trimmed by several hours.
Many resort guests prefer not to rent cars during their stay, instead choosing to walk or rely on private taxis arranged through their hotels.
---
DIVERSIONS
Explore the Lake Geneva region — accessible via cable car from Verbier — and take in the Chateau de Chillon (Avenue de Chillon 21, Veytaux, tel 41 21 966 8910, http://www.chillon.ch/en) in Montreux. The restored lakefront castle, which dates from the 13th century, features an especially spooky dungeon, where an early inhabitant was imprisoned in chains in the 1500s. Also noteworthy are the Christmas markets in Montreux (tourism office, Rue du Théâtre 5, tel 41 848 868 484, http://www.montreux-vevey.com) in December.
When just skiing down the mountain isn't adventure enough, try zorbing, which, for the uninitiated, entails rolling down a hill in a clear ball constructed of PVC (Alpin Center Interlaken, 3812 Wilderswil, tel 41 33 823 5523, http://www.alpincenter.ch). Or walk on the wild side with a guided ice climbing trek or heliskiing excursion at a number of resorts with Swiss Alpine Guides (Interlaken, tel 41 33 822 6000, http://www.swissalpineguides.ch).
Enjoy the cosmopolitan atmosphere of Villars (http://www.villars.ch) near Lake Geneva, where English is widely spoken and frequent visitors include British entrepreneur Richard Branson. A posh atmosphere also reigns at Klosters (http://www.klosters.ch), a favorite destination of England's princes Charles, William and Harry that boasts 194 miles of skiable terrain, nearly half of which is designated for intermediate skiers. Best of all, a lift ticket gives you complimentary travel between Klosters and Davos on the Rhaetian Railway (Bahnhofstrasse 25, tel 41 81 288 6104, http://www.rhb.ch) for those who can't decide between the two.
Save your energy for moonlight skiing — and some judicious bar hopping — from 6 p.m. to 2 a.m. in St. Moritz (http://www.stmoritz.ch) every Friday night. Or don a helmet and brave the famous Cresta Run, a steep and speedy tobogganing run in St. Moritz that is not for the timid. Prefer spectator sports? You won't find a more quirky experience than the annual Polo Tournament on Snow, which, as its name implies, takes place on the frozen lake of St. Moritz during the last week of January.
Country hoppers can traverse back and forth between France and Switzerland at the Portes du Soleil ski area (http://www.portesdusoleil.com), which has the added advantage of being within daytrip distance of the charming town & mdash; complete with healing waters and a casino — of Evian, France. Or enjoy a day of glacier skiing — consider going with a guide to avoid white outs and sink holes — in Zermatt (http://www.zermatt.ch), where the adventurous can ski from the Matterhorn into Cervinia, Italy. Be prepared to spend the night if conditions — or a late hour — make it hard to get back the same day.
Try a Husky Funride — otherwise known as dog-sledding — in Saas-Fee (tel 41 27 958 1858, http://www.saasfee.ch/en), where participants can do their own steering after a 20-minute mini-training course. Or visit the Saas- Fee Ice Pavilion (Saas-Fee, tel 41 27 957 3560, http://www.eispavillon.ch), the world's largest ice grotto, which approximates being inside a glacier.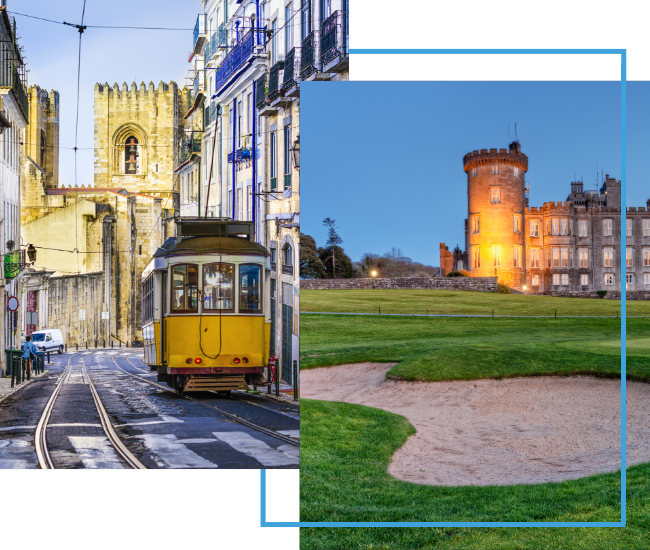 FX Excursions
FX Excursions offers the chance for once-in-a-lifetime experiences in destinations around the world.
Explore Excursions
Corsica with steep, gray cliffs overlooking the Mediterranean and sandy beaches attracting summer visitors, is a French-governed island sometimes confused with Sardinia and Sicily, Italian islands to the south. Fortunately, all three islands share the same love for good wine, food and sun-splashed beaches.
Sponsored Content
The Islands of Tahiti are among the most beautiful and sought-after vacation destinations in the world. The endless images of overwater bungalows with Bora Bora's majestic peak towering over waters of every shade of blue have an intrinsic pull. But with 118 islands and atolls to explore, there is so much more to this spectacular region of the Pacific.
If you're ready to do a little holiday catch-up with your besties, make a beeline for Conrad New York Downtown. The lobby metamorphosed into a holiday forest of heavenly scented, decorated Virginia Spruce trees. Make your first stop ATRIO Barista Station in the lobby for a complimentary hot spiced apple cider (until Dec. 3) or hot chocolate (Dec. 22­–24).