Nestled between New York City and Washington, D.C., Philadelphia is a city that caters to both CEOs and artists. It's a metropolis revered by history buffs and progressives alike.
The city has mastered the fine art of balancing the best of worlds both past and present. Showcases of architectural prowess, such as the 2001 opening of the grand Kimmel Center, home of the world-renowned Philadelphia Orchestra and other arts groups, illustrate its progressive attitude. Yet the winding streets and narrow alleys of Philadelphia's historic and Society Hill neighborhoods — including Elfreth's Alley, the oldest continuously inhabited street in the country — echo its old-world charm.
As a center of commerce for the colonial era's Middle Colonies — New York, New Jersey, Pennsylvania and Delaware — Philadelphia's location along the trade route between England and the Caribbean drew settlers eager to make names for themselves in the New World. Its riverfront position also poised Philadelphia to emerge as a prominent figure of the American Industrial Revolution.
Manufacturing companies cropped up by the dozens, attracting throngs of skilled workers. In fact, the city's vast array of production and distribution companies earned it the nickname "Workshop of the World." While Philadelphia has maintained its title as the world's largest freshwater port, it is no longer considered America's industry capital. These days, biotechnology is the draw.
Headquartered in Philadelphia, Cephalon, one of the world's fastest-growing biopharmaceutical companies, reached the billion-dollar profit mark last year. It's interesting to note that Pennsylvania serves as a base of operations for 80 percent of the world's largest pharmaceutical companies, including GlaxoSmithKline and Merck.
Next month, 20,000 biotechnology executives will convene in Philadelphia for an industry-wide annual conference. The Pennsylvania Convention Center (www.paconvention.com), the second largest convention center in the northeastern United States, will host the event. (Plans are under way to expand the 1.3-million-square-foot facility, after which it will rank as the eighth largest convention center nationwide.)
But big business in Philadelphia is not limited to pharmaceutical and biotechnology companies. Insurance agencies, health-care institutions, education providers, telecommunication companies and the tourism industry also thrive here.
In fact, the tourism industry experienced a unusual boom in the months following the 9/11 terrorist attacks. While international travel slowed to a mere crawl in most U.S. cities during those dark days, Philadelphia rolled out a marketing campaign highlighting the ease of getting to and around this city. The campaign, designed to appeal to travelers from western Europe, tied into the fact that Philadelphia International Airport (PHL) had recently opened a new international terminal. At the same time, US Airways added more direct flights to and from the city. Though launched at a risky time, the marketing maneuver was a success, boosting Philadelphia from No. 21 to No. 10 on the list of most preferred U.S. destinations for travelers from western Europe.
"We had the wheels in motion for this campaign and decided to go through with it even after 9/11," said Sarah Hines, spokeswoman for the Philadelphia Convention and Visitors Bureau. "It ended up being a big draw for international travel and conventions."
Certainly, there is a market for conventions in Philadelphia. About 20 Fortune 500 companies, including Campbell Soup, DuPont and Cigna, have their headquarters in the "City of Brotherly Love." Its location continues to play a vital role in drawing those companies. And, according to business developers, the opportunity to nurture those businesses has delighted Philadelphia.
"What makes Philadelphia ideal for business is its affordability," said John Miller, spokesman for Select Greater Philadelphia, a new-business marketing organization whose territory stretches from Princeton, N.J., to Wilmington, Del., covering 11 counties. "It's affordable live here, to work here and do business here."
Miller said many business executives who plan to set up shop in New York City or Washington, D.C., are attracted to Philadelphia because of its proximity to both locales: New York is 100 miles north and Washington is 133 miles south.
"We're right in the middle of those must-be places, and much more affordable," Miller said.
The influx of big business has had a domino effect on the service industry throughout the city. Marketing, accounting and law firms are thriving. And the talent pool is strong: with 81 colleges and universities, Philadelphia has the highest per capita concentration of higher education institutions in the nation, according to Randall Giancaterino, Office of the City Representative in the Commerce Department. Colleges and universities throughout Philadelphia and its environs award more than 50,000 degrees annually and the city makes an effort to woo graduating students to begin their careers — and ultimately settle down and start families — in the city where they obtained their degrees.
Each year, Philadelphia hosts a fair geared specifically toward college students. The city also has begun initiatives to link students with internship opportunities and inform them about job fairs. Giancaterino said Philadelphia takes its student population seriously because its economy is affected by whether students decide to stay on after graduation.
The nation's birthplace is undergoing a renaissance of sorts. City planners have bold plans aimed at reenergizing Philadelphia's Center City, with new art galleries, boutiques, restaurants and festivals popping up in some of its older neighborhoods.
Philadelphia's founding father, William Penn, seems to have designed the city with neighborhoods in mind when he engineered a rectangular grid of streets anchored by five public squares, or parks. Philadelphia continues to build upon that historic infrastructure as it plans for its future.
"Philadelphia is called the 'City of Neighborhoods,' and South Philly is a lot like Brooklyn when it comes to ethnic variations," said Giancaterino, who lives in a traditionally Italian neighborhood and joins the throngs of Philadelphians who walk to work every day.
Just 20 minutes from Philadelphia International Airport, Center City bustles with restaurants and bistros offering a wide array of ethnic and fusion cuisine, swank hotels, worldclass museums and cozy parks and squares. Of course, Center City's proximity to the airport makes it a huge draw for conventions, but it's also home to some 80,000 Philadelphians. With that in mind, you can bet retailers have not turned a blind eye to the thousands of residents who live so close to the office that they walk to work.
Shops at Liberty Place is home to more than 60 upscale shops and restaurants. Gallery at Market East offers an eclectic mix of regional and national retailers. Franklin Mills is an outlet shopper's dream come true. Jewelers Row, home to the nation's oldest diamond district, is a neighborhood of more than 150 jewelry stores and related businesses. Chestnut Hill offers a selection of more than 120 shops, and Philadelphia's Manayunk neighborhood, named a National Historic District in 1983, boasts more than 70 chic boutiques, bistros and galleries.
The city that celebrates its history with grandeur also embraces today's technology, as it undertakes a massive effort dubbed "Wireless Philadelphia." The citywide, 1,350-square-mile digital infrastructure project will eventually provide citizens and businesses a ready link to wireless technology.
"This is very exciting stuff," said Giancaterino. "You can be enjoying lunch in one of our many parks and be plugged in to technology — without the use of any wires at all."
Dianah Neff, the city's chief information officer, is spearheading the project. In an article published on SearchCIO.com, Neff estimated the wireless project will generate 3,000 jobs over five years. She said taxable bonds and bank loans will fund the project, which will cost about $15 million to launch and $2 million to operate each year.
The city is also knee-deep in preparations to celebrate a historic event in millennium fashion. The Benjamin Franklin Tercentenary is a private nonprofit alliance established to mark the 300-year anniversary of Franklin's birth. Presi dent George W. Bush serves as honorary chairman and has made six appointments to the commission. The celebration will run from this fall through 2006, and focus on the world premiere of the international traveling exhibition "Benjamin Franklin: In Search of a Better World" at the National Constitution Center. It will also include an array of concerts, lectures and other special events.
"That's just Philadelphia," said Giancaterino. "There's always something happening here."
---
LODGING
THE RITTENHOUSE HOTEL
Overlooking Philadelphia's historic Rittenhouse Square, this downtown hotel provides guests with the quintessential urban experience while adding a touch of definitive luxury. Sunlit stone pathways and abundant greenery welcome guests, capturing the spirit of the elegant park. As a standard courtesy, town cars are on call to transport guests to local appointments,museums, shops and restaurants. The hotel's full-service heath club is appointed with state-of-the-art equipment. Its signature dining venue, Lacroix at The Rittenhouse, operates under the direction of internationally acclaimed chef Jean-Marie Lacroix. A member of the Leading Small Hotels of the World, the nine-story hotel offers 98 elegantly furnished guestrooms (including 11 suites, some with washers, dryers and whirlpool tubs) wired for complimentary high-speed Internet access. $$$$
THE RITTENHOUSE HOTEL
210 W. Rittenhouse Square
tel 215 546 9000 or 800 635 1042
fax 215 732 3364
www.rittenhousehotel.com
FOUR SEASONS HOTEL PHILADELPHIA
Located just steps away from the city's financial, retail and cultural centers, the Four Seasons Hotel Philadelphia features Federalperiod reproductions and is a favorite for many business travelers. The eight-story hotel offers 364 elegant guestrooms, including 103 suites. Rooms range in size from 390 square feet (moderate guestroom) to 700 square feet premier executive suite) and offer high-speed Internet access. $$$$
FOUR SEASONS HOTEL PHILADELPHIA
1 Logan Square
tel 215 963 1500, fax 215 963 9506
www.fourseasons.com/philadelphia
PARK HYATT PHILADELPHIA AT THE BELLEVUE
Located in the heart of the downtown historic theater district, the Park Hyatt Philadelphia at the Bellevue is just a short walk from the Pennsylvania Convention Center, the Liberty Bell, Independence Hall and other local attractions. The hotel bills itself as a "soothing, home-like" place where guests can conduct business during the day and relax at night. The Philadelphia Library Lounge on the hotel's 19th floor offers elegant light cuisine with an extensive beverage selection. A collection of vintage books about Philadelphia earns the lounge its name. The dark wood cabinetry, 20-foot-high ceiling, soft leather chairs and fireplace set the mood for unwinding after a long day of business. $$$$
PARK HYATT PHILADELPHIA AT THE BELLEVUE
Broad and Walnut streets
tel 215 893 1234, fax 215 732 8518
parkphiladelphia.hyatt.com
RITZ-CARLTON PHILADELPHIA
Located in a historic landmark building in Center City, the Ritz-Carlton Philadelphia is just a short stroll from the city's cultural venues, shopping and other tourist attractions. Guestrooms at this luxurious hotel number 300, including 36 suites. The Richel D'Ambra Spa and Salon delivers guests exceptional service and promises to take guests "on a journey of the senses in our caring environment with spa rituals from around the world." $$$$
RITZ-CARLTON PHILADELPHIA
10 Avenue of the Arts
tel 215 523 8000, fax 215 568 6445
www.ritzcarlton.com/hotels/philadelphia
PHILADELPHIA MARRIOTT WEST
This suburban hotel is situated in Philadelphia's affluent Main Line and offers four concierge-level floors equipped with upgraded amenities, including high-speed Internet access, and newly decorated guestrooms. The hotel's Regatta Bar and Grille Restaurant is considered an city favorite for power breakfasts and business lunches. $$$$
PHILADELPHIA MARRIOTT WEST
111 Crawford Ave.
West Conshohocken, PA 19428
tel 610 941 5600, fax 610 941 4425
www.marriott.com
---
DINING
STRIPED BASS
The enormous, extravagantly draped windows are just the begi nning as patrons enter Striped Bass looking forward to a memorable evening. Yellowfin tuna tartare with Japanese cucumber, miso and ginger dressing; hamachi sashimi with papaya and orange-wasabi dressing; and grilled Gotham steak with potato and flan are among the signature dishes. $$$
STRIPED BASS
1500 Walnut St.
tel 215 732 4444
www.stripedbassrestaurant.com
BUDDAKAN
Patrons of this restaurant have said it's difficult deciding which is more satiating: this Pan-Asian restaurant's ambience or its cuisine. But the walls of cascading water and lit-from-within central dining tables quickly take a back seat once entrees arrive. Specialties here include pad Thai, broiled Japanese black cod, Singapore noodles and "Angry Lobster," a wok-seared three-pounder served with lobster mashed potatoes. Dessert menus feature the chocolate bento box, which incorporates warm chocolate cake with dark chocolate panna cotta, cocoa-ginger biscotti, white chocolate-espresso pot de crème and milk chocolate mousse cubes. $$$$
BUDDAKAN
325 Chestnut St.
tel 215 574 9440
www.buddakan.com
BARCLAY PRIME
This is a boutique steak house serving a traditional but modern menu in a contemporary setting, but it is better known as the home of the $100 Philly cheesesteak. The dining room carries the motif of a library: guests are seated at marble tables on comfortably cushioned chairs and couches next to walls lined with walnut bookcases and a ceiling garnished with crystal chandeliers. Favorite menu entrees include a foie gras peanut butter and jelly, kobe sliders, and tuna and beef tartare. The $100 cheesesteak is made with shaved kobe beef and sautéed foie gras, and garnished with shaved truffles and melted Taleggio cheese. $$$$
BARCLAY PRIME
237 S. 18th St.
tel 215 732 7560
www.starr-restaurant.com
---
INFO TO GO
As in many historic U.S. cities, the best way to get around Philadelphia is by foot or by public transportation. PHLASH (www.gophila.com/phlash), the city's signature hop-on-hop-off purple trolley, operates early spring through late fall, offering a quick and easy connection between the Center City attractions and most downtown hotels at a cost of just $1 each time you board. Philadelphia's subway system services the four ends of the city, but the routes do not operate through Center City. Taxis are also plentiful around tourist destinations. SEPTA trains (www.septa.org) service most attractions in the Philadelphia suburbs. Philadelphia International Airport (PHL) is located eight miles from downtown in the southwest part of the city. Expect to pay about $20 for the 20-minute taxi ride from the airport to Center City. For more information, visit www.gophila.com.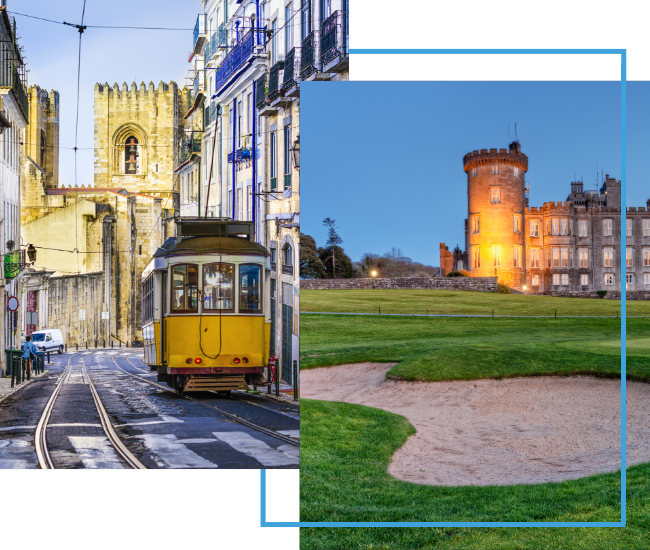 FX Excursions
FX Excursions offers the chance for once-in-a-lifetime experiences in destinations around the world.
Explore Excursions
Red Savannah launched a new series called In the Footsteps of…, which debuts itineraries of well-known figures, the first being Coco Chanel. As Chanel No. 5 celebrates its 102nd anniversary this year, the travel company invites fashion lovers, history enthusiasts and admirers of Coco Chanel to experience the new itinerary, In the Footsteps of Coco Chanel. The experience allows travelers to step into the remarkable life of one of most iconic figures in the fashion world.
Sponsored Content
Embracing a life well lived often means embracing a life well-traveled. Every journey becomes a canvas for experiences that shape our lives and at the heart of every adventure lies the indispensable companion: quality luggage.
Mazatlán, Mexico, has long been an attractive home destination for Canadian and American retirees, but, in recent years, young, digital nomads have also discovered the charms of this coastal city, finding inexpensive accommodations, beautiful weather and plenty of bandwidth for working remotely. The laid-back beach scene definitely eases the transition of relocating to Mexico's West Coast.