PANAMA IS A MOUSE that roars on the international business scene. The isthmus that connects North and South America, though only about the size of Ireland or South Carolina, nevertheless proves a powerhouse economically thanks to the importance of the Panama Canal for shipping.
Visitors are often surprised by what they see in the country's capital before their plane even touches down. Looking more like Miami than a sleepy Central American capital, densely packed skyscrapers adorn this gleaming metropolis. Every time I visit, I see another array of construction cranes erecting high-rise condo towers and office buildings. In the historic section of the city, more hip bars and boutique hotels pop up each year.
This site actually hosted one of the first settlements in the New World, with the Spanish forming a base here in 1519. When pirate Henry Morgan's crew sacked the original city a century and a half later, though, the Spanish abandoned the settlement, moving five miles down the coast to establish the current Casco Viejo area. The city became synonymous with gold and silver, first when the precious metals moved from South America to Spain, then later during the 1800s gold rush in California, when a railroad across the isthmus made the crossing much easier. Panama City really started to take off in the modern age, however, when the world's Atlantic-to-Pacific canal system opened.
Many scoffed at the Panama Canal as impossible, and it wasn't until the second try that it finally became reality. In 1914 the first ship transited the 50-mile system. Thousands died in the construction process, mostly from tropical diseases. The recent widening of the Canal, finished in mid-2016, though a much less lethal affair, carried a price tag that put the original one to shame: somewhere north of $5 billion. Now the largest container ships can move between the oceans.
The Canal has been under full Panamanian control since 1999 and lies at the heart of the nation's economy. But because the U.S. military ran it for nearly a century, the Americans have had a strong impact on law, finance and infrastructure in the Canal Zone and beyond. This is most evident in the currency, as Panama uses the U.S. dollar. This keeps the wheels of business turning smoothly, and the country's inflation rate historically has been one of the lowest in Latin America. Bilingual education runs throughout the school system, so many Panamanians entering the workforce are functionally fluent in English.
Despite the urban skyline and a population of 1.5 million, Panama City harbors a lot of green space and stands alone in the world in encompassing a rain forest within its city limits. Since this jungle watershed abuts the Canal Zone, there's built-in protection from city encroachment. Fronting the Pacific and just 30 miles from the Atlantic, the capital also proves a dream for those who want to get out on the water. Prime spots for snorkeling, diving, fishing and island-hopping lie within easy reach.
When I first visited Panama City 12 years ago, though, it was a very different place for tourists. Most of the scant 1,400 hotel rooms were not up to the standards high-end travelers sought. The number increased 10-fold in the following decade, and each time I returned I saw a new opening from international brands like Le Méridien, Waldorf Astoria, Hard Rock, Marriott or Riu. Now most of the major chains boast a presence, and a Ritz-Carlton Reserve is in development on a nearby island. The local government has plowed plenty of resources into infrastructure as well. Now you can walk or bike on a 2.5-mile-long paved path between the Central Business District and the historic area, past marinas and a harbor.
The local restaurant scene has come a long way in the past decade, too, now making the most of its mix of cultures. Blessed with a vast supply of fresh seafood, fertile volcanic soil and a cosmopolitan mix of residents immigrating here, this "crossroads of the Americas" covers the world map of food quite well.
With Star Alliance member Copa Airlines based here, flying to 33 countries, Panama City is well-connected to the rest of the world. It's a dynamic destination to visit and in which to do business (with very few tariffs) and enjoy the nightlife.
CHECKING IN WITH DEMETRIO MADURO
General Manager, JW Marriott Panama
Demetrio has a long history in hospitality, earning a degree in hotel management in Barcelona and starting out at a Marriott in Panama City 35 years ago. He worked his way up the management ladder in Venezuela, Costa Rica, Mexico City and Puerto Vallarta before taking over as GM at one of the premier luxury hotels and business centers in his native city.
Panama City doesn't bring immediate images to mind the way some capital cities do, but it has a lot going for it. What should people know about your city?
We are home to the vital Panama Canal connecting the Atlantic and the Pacific oceans. This is the only place in the world where you can easily have lunch on the Pacific Ocean and dessert on the Atlantic! In this city you have easy access to Panama's award-winning fishing spots, beautiful islands, native indigenous communities, mountains and rain forests.
The skyline seems to change every year with new high-rise buildings, but the city has seen a lot of infrastructure changes this past decade. Which has had the most impact?
The Metro lines that started to carry passengers in 2014 have impacted transportation in the city in a big way, making it more accessible to move from one point to the other. Line 2 of an eventual four opened this year. Plus, the expansion of the Panama Canal to accommodate larger cargo ships has become a new and exciting tourist attraction.
The important role the Panama Canal plays in shipping is well-known. What other industries are active, and what is one advantage of doing business here?
Banking and logistics offer many opportunities now. Panama City offers two big advantages for international business: The U.S. dollar is the official currency, and English is a very common second language.
For those checking into your hotel for the first time who have never been to Panama, where should they go for fun when work obligations are done?
Panama offers a variety of restaurants for an enjoyable gastronomic tour, with flavors from different cultures. Casco Viejo, the Old Town area, is where they can walk through the history of Panama and enjoy nice spots for a drink. Not so far from there, the Biomuseo biodiversity museum focuses on our natural history. See the Miraflores Locks of the Panama Canal in action at the visitors' center, or take a boat trip that offers a partial crossing of the Canal.
Things to Do in Panama City
See big ships and pleasure yachts passing through the Canal at the Miraflores Locks visitors' center. There's a museum providing historic context and a guide on the observation platform to answer questions. Book a day cruise on a tourist boat to see the locks from the water.
The two oldest sections of Panama City are UNESCO World Heritage sites. The original Spanish settlement is now a collection of ruins apart from a gold altar from the 1600s that survived. The Casco Viejo area houses the president's office and the restored national theater. This lively area features stores, coffee shops, boutique hotels and places to eat.
The Biomuseo opened in 2014 and gives a fascinating glimpse into the forming of this isthmus and its impact on the world's ecology. Housed in a striking Frank Gehry building, it makes a good choice for visiting families.
Panama City Info to Go
Tocumen International Airport lies 13 miles from the Central Business District. The hub of Copa Airlines serves 16 million passengers annually. A taxi to central hotels usually costs about $30 from the official stand right outside baggage claim — ignore the aggressive touts. A car service will run $40–60. Uber or Cabify will cost $14–25.
Panama City: Just the Facts
Time zone: GMT -5
Phone code: Country code: 507
Currency: U.S. dollar (local Balboa coins are equivalent to U.S. coins)
Key industries: Shipping, finance, tourism, health care and transportation
COMING AND GOING
U.S. citizens must have a passport valid three months past departure date. No visa is required for visits of less than 180 days. No vaccinations are necessary.
OFFICIAL LANGUAGE
Spanish
Where to Stay in Panama City
AMERICAN TRADE HOTEL Housed in a historic building facing a plaza, this four-story property evokes the 1920s and offers an array of restaurants, bars and a brewpub within a few blocks' walk. Av. Central, Plaza Herrara, Casco Viejo $$$$
THE BRISTOL PANAMA Long before the likes of Waldorf Astoria and JW Marriott arrived, this was the prestige address in the capital. The classic luxury hotel remains the first choice of many CEOs and visiting VIPs. Calle 49 Este $$$$
JW MARRIOTT PANAMA Opened originally as a Trump Tower before that name got complicated, the tallest building in the city boasts superlative facilities and spacious suites. Calle Punta Colón, Punta Pacifica, Corregimiento de San Francisco $$$$
Restaurants in Panama City
DONDE JOSÉ This 16-seat modern take on Panamanian flavors is the toughest reservation to get in the city, so go all out with the tasting menu. (If you can't get a table, try Chef José Carles' more casual spot, Lo Que Hay in Casco Viejo.) Av. Central 1100, Casco Viejo $$$$
LABORATORIO MADRIGAL Run by Michelin-starred chef Andrés Madrigal, this delight for all senses changes its menu regularly depending on what's fresh. Famous for ceviche, seafood and inventive dishes catering to those with dietary restrictions. Avenida A, Casco Viejo $$$
MAITO RESTAURANTE Named one of the top 50 restaurants in Latin America, this suburban hideaway fuses Panamanian tradition with modern techniques and sources many of its ingredients direct from farmers. Calle 50 $$$$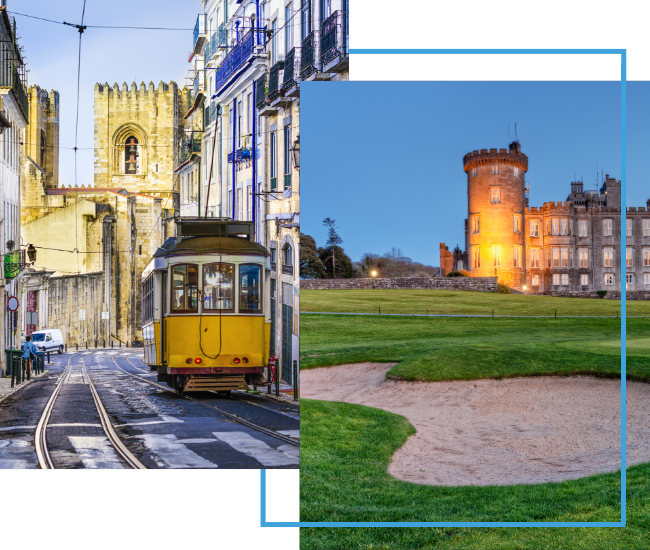 FX Excursions
FX Excursions offers the chance for once-in-a-lifetime experiences in destinations around the world.
Explore Excursions
Looking for fun things to stuff into the toe of a few holiday stockings? Here are some great choices:
Sponsored Content
The Islands of Tahiti offer a range of captivating activities for travelers with diverse interests, from hiking to breathtaking waterfalls, riding horses on secluded beaches; swimming with sharks; or immersing in Polynesian culture through traditional dance, music and art. For watersports enthusiasts, the crystal-clear lagoons offer exhilarating experiences like surfing, kiteboarding and paddleboarding. And if you're looking to relax, the pristine beaches, overwater bungalows and tropical sun offer the perfect setting. With 118 islands and atolls to explore, island hopping is an excellent way to experience the full diversity of The Islands of Tahiti. With its blend of adventure, culture and relaxation, The Islands of Tahiti offer a truly unique travel experience.
Everyone loves a good Christmas tree, but these iconic hotels around the world take it one step further with designer-styled trees illuminating lobbies and public spaces, wowing all who enter. From Lela Rose to Louis Vuitton, don't miss these ultra-luxury trees redefining tree decorating as we know it.