Paola Zamudio of npz studio+ wanted to elevate the arts to new heights in celebration of the iconic Bell Works and to honor the building's rich history of innovation.  As the lead designer and creative director of Bell Works, she brought on friend and New York-based artist Sebastien Courty for the project.
Bell Works is the reimagination of the historic former Bell Labs building in Holmdel, New Jersey. Considered an "innovation headquarters," Bell Labs employed 6,000 workers from 1962 to 2007. Today the building known as Bell Works is a one-of-a-kind destination for business and culture, complete with a blossoming ecosystem of technology, traditional offices, retail, dining, hospitality, art collections and much more.
Zamudio and Courty were soon commissioned by Ralph Zucker, the developer who transformed the former Bell Labs into the 2-million-square-foot Bell Works, to create The Fabric of Bell, a subcollection of the in-house Totem, A Wall's Jewelry collection.
Inspired and commemorating the historic original Bell Lab, previously a research facility and awarded eight Nobel prizes during its tenure, the Bell Works project is an innate expression and tribute to Eero Saarinen, the noted Finnish-American architect who designed the lavish Bell Works building in 1958.
"From the moment I stepped into Bell Works, I knew I had to find a way to celebrate the history of it," said Paola Zamudio.  "Using my collaboration with Sebastien Courty on The Fabric of Bell, I have found a way to express my vision for Bell Works. Together, we pay homage to Bell Laboratories' past with our eyes on its future, and a realization of my retro-futuristic design philosophy. Inspired by the Bauhaus art movement and Saarinen's architectural form, Sebastien uses the very fibers, cables, and artifacts found at Bell Labs to create The Fabric of Bell artwork."
The collection is centrally located in the building's atrium, a popular gathering space for tenants and free to the public. The art is composed of 95-percent recycled cables (a valuable homage to Bell Works' commitment to sustainability and environmental responsibility) from the actual original Bell Labs.
From thick copper cables to thicker aluminum cables, varying in widths and bursts of bright colors of yellow, red, orange, blue, green, purple and brown, these cables were used to create a dynamic visual effect. The cables were cut, repurposed and split into smaller yarns, then handwoven inter alia on separate panels using a 36-inch floor loom before being stretched onto eight wooden boards.
To permanently protect the pieces, a clear, crystal resin layer coats each panel surface. The design of the artwork evokes the complex and interconnected systems of technology and communication housed and pillared within the building. The inspiration for the artwork came from the site's history as a center for innovation and experimentation in science and technology, the Saarinen architecture and the Bauhaus Movement.
Bell Works is open to the public at no cost, seven days a week, from 6:00 a.m. to midnight at 101 Crawfords Corner Road, Holmdel, New Jersey.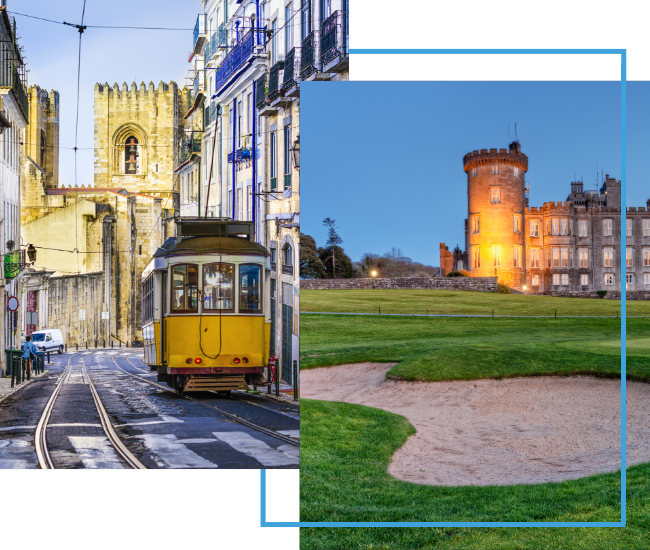 FX Excursions
FX Excursions offers the chance for once-in-a-lifetime experiences in destinations around the world.
Explore Excursions
There is something magical about sipping a glass of local wine while watching the sun slip into the Aegean Sea as the afterglow tinges traditional, white-washed Cycladic houses with glorious shades of rose, purple and gold. Ancient Greeks believed Helios, the Sun God, caused sunsets by driving his fiery chariot into the sea. Standing at water's edge in Mykonos, watching the sky slowly turn from purple to inky black, you almost believe it.
Sponsored Content
IHG Hotels & Resorts is thrilled to announce the launch of a new mobile product feature for members: IHG Wi-Fi Auto Connect. This feature is now available exclusively in the IHG One Rewards mobile app for both iOS and Android users and will automatically connect IHG One Rewards members to WiFi upon arrival at more than 5,000 IHG hotels worldwide — no separate passwords or log-ins needed. This is in addition to the exciting benefits of being an IHG Business Edge member. IHG Business Edge provides small- and medium-sized businesses access to a user-friendly portal that displays comprehensive spending and savings data while providing the convenience of direct booking with a guaranteed discount.
I hadn't even made it to my first cup of coffee when I got an early phone call from my sister, who lives two time zones away. "OMG, Kristy, Patsy Cline came on twice while I was driving the kids to school today," she laughed. "You know what that means, right?" We both gasped and then instantly began singing the lyrics to "La Bamba," an inside joke we'd shared since our family's Alaskan cruise decades ago when we, unintentionally, won the ship's karaoke contest among a sea of Patsy Cline tributes.