The best food tours go beyond reliving a newly arrived traveler of having to figure out which restaurant or bar to hit first. They also provide context in explaining how a destination's crops and cuisine tie in with a place's historical events and different populations. During a vacation in Iceland, 20-year veteran tour guide and proud Madeira native Jaqueline Freitas was reminded of this when she put herself in the hands of a savvy Reykjavik guide leading a street food tour.
Upon returning home from Iceland, Freitas knew organizing full-on food tours as well as providing updated spins on winery tours would bring something new to the Portuguese island outpost. Better still, she said the experience enabled her to do something more meaningful than just pointing out monuments and rattling off dates. She loved the idea of supporting local businesses and producers who could add sensory dimension to the story of Madeira's cultural, economic and agricultural origins.
Today, Freitas leads a team of equally proud Madeira resident tour guides who not only speak from the heart about their home but also are passionate about steering travelers toward the best examples of street food, fine dining, specialty food shops and must-visit vendors at Funchal's main farmer's market. The not-so-basic introductory food tour usually originates in front of the João Gonçalves Zarco statue on Zarco Avenue, where the downtown area essentially "begins."
The guide not only goes through Funchal's timeline, but also reviews interesting facts about why Madeira's soils were conducive to viticulture and sugar plantations and why the soil shares similarities with the Hawai'ian islands. Although tours will vary by guide, the agenda includes samplings at local institutions (such as Fabrica San Antonio for honey cake and pastries, Uao Cacao, Bar Number 2 É Prá Poncha and Loja do Chá), a demo of how the local cocktail (poncha) is made and an overview of local produce at the farmer's market.
While the tour concludes with a lunch built of simple, regional dishes at a traditional Madeiran-Portuguese restaurant, it also presents an opportunity to pick the guide's brain on other restaurants to try out in Funchal's bustling restaurant row and elsewhere. Freitas, for example, recommended Lá Ao Fundo, created by friend and chef Jaime Cruz, as it brings extra spice to the Funchal dining scene with a menu blending the flavors of his childhood in Goa, India, and Mozambique. She added some of the best mixology bars in the city were hidden in plain sight on Rùa Imperatriz D Amelia, between our Savoy Palace digs and the new Savoy NEXT property. Looking ahead to our visit in quiet beach town Calheta, she said Manifattura Di Gelato was can't miss for its letter-perfect gelato, pasta dishes and pizzas.
Speaking of menus, the tour menu of Madeira Exquisite Food on Foot expanded to other parts of the island (and beyond the fortified wine that made it world famous) with a variety of full-day visits and lunches at higher-end wineries (such as Câmara de Lobos), as well as home dining experiences and cooking classes. There are also family-friendly variations of some of the tours for those traveling with children.
Active travelers looking to pair an outdoorsy adventure with their food and wine, meanwhile, may want to look into Madeira Mountain Expeditions. One of the more relaxed 4 x 4 adventure tours includes stops in numerous villages, breathtaking nature-carved selfie spots such as Ilheus da Ribeira da Janela, Porto Moniz Natural Pools, and Cabo Girao's glass-bottomed overhang.
Lunch at a boutique winery like Quinta do Barbusano reveals Madeira's volcanic soil vineyards have more to offer than fortified dessert wine. A tasting of red and white table wines harmonizes beautifully with a simple but satisfying "traditional" meal that includes buttery and garlic-y bolo de caco bread and Espetadas Madeira (a.k.a. steak on a skewer).
tel 351 965 078 003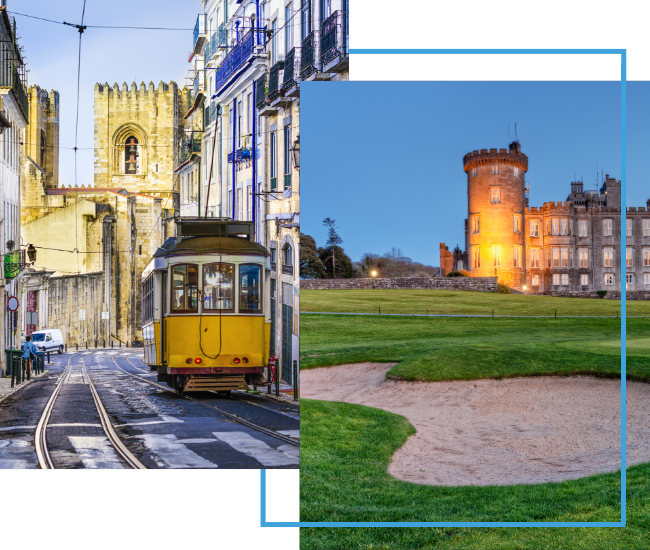 FX Excursions
FX Excursions offers the chance for once-in-a-lifetime experiences in destinations around the world.
Explore Excursions
Think of Tokyo and your mind may wander to the neon signs and bustling crowds of Shibuya and Shinjuku, or the tranquility of the Meiji Jingu shrine, but this huge city offers much to those who explore away from the main tourist areas.
Sponsored Content
The Islands of Tahiti are among the most beautiful and sought-after vacation destinations in the world. The endless images of overwater bungalows with Bora Bora's majestic peak towering over waters of every shade of blue have an intrinsic pull. But with 118 islands and atolls to explore, there is so much more to this spectacular region of the Pacific.
Automotive museums of all sizes will always capture the imaginations of car and racing aficionados. However, the best deliver a lot of substance beyond the machine itself. Some place an emphasis on science and technology or history, while others display iconic cars from film and television. Museums established and operated by the world's top automakers (think Mercedes, BMW, Audi and Porsche in Germany, and Toyota, Honda and Nissan in Japan) have built-in followings.