You can expect quality service, custom entertainment, versatility and a massive route network when you fly LATAM to Brazil. As the leading carrier in South America, there's no better choice for your trip to Brazil's top cities. Let LATAM show you the way.
Start in São Paulo, one of the world's largest cities, abuzz with culture, nightlife and diversity. Stroll down Avenida Paulista or drink in the view from atop Banespa Tower. Enjoy a night on the town at the city's range of clubs, from samba-rock to electro-pop, or savor the cuisine in uniquely Brazilian churrascarias.
Rio de Janeiro offers something to suit any traveler's tastes. Of course, no trip would be complete without a visit to one of the city's sunny beaches, like those found in Barra and Recreio. For the "Cristo Redentor" landmark, take the train to Corcovado before or after sampling the culture at several museums, including Museu Histórico Nacional and Museu Nacional de Belas Artes.
Next stop is Belo Horizonte, one of Brazil's largest cities and a perfect spot to immerse oneself in local culture and history. You may recognize São Francisco de Assis Church in Pampulha Park or Sete Setembro Square from pictures, but now experience it firsthand. Taste Mineiro food, a blend of Portuguese, African and native Indian cooking before visiting many bars and lounges in "the bar capital of Brazil."
Vacation as the Brazilians do in Fortaleza, where urban beaches and a boisterous party scene delight. Find live music nearly anywhere you go, including the traditional fórro dance. With a strong local textile industry, this city is the place to shop. When you check your luggage on your return LATAM flight, make sure it includes Brazilian clothing, handicrafts and hammocks from Fortaleza.
A strong Afro-Brazilian population sets the stage for Salvador as a cultural hub. Taste the essence of the city — literally — by enjoying its cuisine. In Terreiro de Jesus, find street food favorites like acarajé, small fritters made from black-eyed peas and onions. Take Lacerda Elevator, four elevators traveling 236 feet in 30 seconds.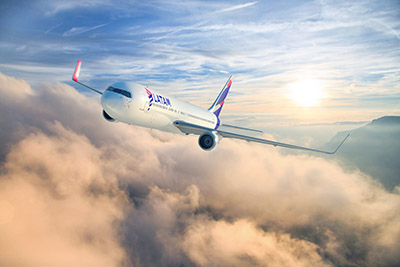 Wherever you visit in Brazil, let LATAM take you there. Learn more.
FX Excursions
FX Excursions offers the chance for once-in-a-lifetime experiences in destinations around the world.
The idea of a boutique hotel in the center of Rome's busiest crossroads may seem counterintuitive, but Singer Palace Hotel pulls off the impossible thanks to its minimalist exteriors, 30 gorgeous one-of-a-kind rooms and suites, smart-but-whimsical décor, simple-yet-elegant Roman cuisine and a stellar mixology-driven rooftop bar. It's a delightful study in contrasts — a quiet, intimate and plush setting nestled within a maze containing many of Rome's most noteworthy sites.
Sponsored Content
Pack your bags, traveling for business is making a comeback — and the role of the corporate travel manager is more important than ever.
Uber app users can now book an Uber Boat in Mykonos this summer to enjoy even more of the Greek island's beauty. Uber announced the new addition allows up to eight guests to cruise to popular destinations and sites around Mykonos.