You can expect quality service, custom entertainment, versatility and a massive route network when you fly LATAM to Brazil. As the leading carrier in South America, there's no better choice for your trip to Brazil's top cities. Let LATAM show you the way.
Start in São Paulo, one of the world's largest cities, abuzz with culture, nightlife and diversity. Stroll down Avenida Paulista or drink in the view from atop Banespa Tower. Enjoy a night on the town at the city's range of clubs, from samba-rock to electro-pop, or savor the cuisine in uniquely Brazilian churrascarias.
Rio de Janeiro offers something to suit any traveler's tastes. Of course, no trip would be complete without a visit to one of the city's sunny beaches, like those found in Barra and Recreio. For the "Cristo Redentor" landmark, take the train to Corcovado before or after sampling the culture at several museums, including Museu Histórico Nacional and Museu Nacional de Belas Artes.
Next stop is Belo Horizonte, one of Brazil's largest cities and a perfect spot to immerse oneself in local culture and history. You may recognize São Francisco de Assis Church in Pampulha Park or Sete Setembro Square from pictures, but now experience it firsthand. Taste Mineiro food, a blend of Portuguese, African and native Indian cooking before visiting many bars and lounges in "the bar capital of Brazil."
Vacation as the Brazilians do in Fortaleza, where urban beaches and a boisterous party scene delight. Find live music nearly anywhere you go, including the traditional fórro dance. With a strong local textile industry, this city is the place to shop. When you check your luggage on your return LATAM flight, make sure it includes Brazilian clothing, handicrafts and hammocks from Fortaleza.
A strong Afro-Brazilian population sets the stage for Salvador as a cultural hub. Taste the essence of the city — literally — by enjoying its cuisine. In Terreiro de Jesus, find street food favorites like acarajé, small fritters made from black-eyed peas and onions. Take Lacerda Elevator, four elevators traveling 236 feet in 30 seconds.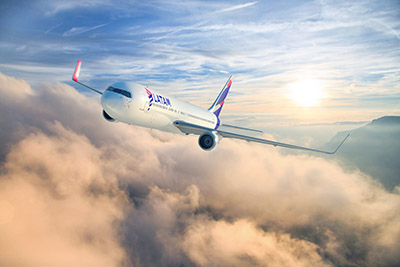 Wherever you visit in Brazil, let LATAM take you there. Learn more.
FX Excursions
FX Excursions offers the chance for once-in-a-lifetime experiences in destinations around the world.
Airplane travel evokes a lot of emotions these days: excitement, anticipation, uncertainty and nervousness, just to name a few. But when you do take to the skies again, the giddiness of getting pampered at 35,000 feet can most certainly wash away the surrealness of the past year and a half — at least for the duration of a long- haul flight — as you sip Champagne and slip your feet into plush slippers. While some global airlines have paused or pushed back plans for upgrades and refreshes to their premium cabins, others have introduced exciting changes that await in your pod or lie-flat bed in first and business classes. What's more, amenities like privacy screens, sliding suite doors and space to spread out all serve a dual purpose as methods to luxuriate in the air while keeping social distance. Here are some nice- ties to expect now and in the near future, from retrofitted seat configurations to updated décor to Michelin-starred meals:
Sponsored Content
History and culture are etched into every corner of Greece. Beginning with its language, the oldest written language still in existence, and moving from the traces of passing civilizations and religions to pre-historic findings and works from many movements, there's a wealth of culture to discover on your next trip to Greece.
United Airlines is making international travel more accessible. United announced the largest trans-Atlantic expansion in its history, including 10 new flights and five new destinations including Amman (AMM), Jordan; Bergen (BGO), Norway; Azores (PDL), Portugal; Palma de Mallorca (PMI), Spain; and Tenerife (TFS) in the Spanish Canary Islands. All new routes, set to begin in spring 2022, are not served by any other North American carrier.