THE BASICS
Name: Kristin Karst
Title: Owner and executive vice president
Company, city: AmaWaterways; Calabasas, California
First job: After earning a degree in Tourism and Hospitality Management, I started, in 1990, as a travel agent with American Express in Dresden, just before German reunification. Without reunification, I wouldn't be here today.
Where to next: To Europe for a meeting with our partners, then I will host guests on our Europe's Rivers & Castles Cruise, sailing on the romantic Moselle, Rhine and Main rivers from Luxembourg to Nuremberg.
A LITTLE BIT MORE
What actor or actress would play you in a movie of your life?
It would be fun to have Diane Kruger play me, as we were both born in Germany. She's multilingual and multicultural, and her experience would bring openness, as mine has.
What would you be doing professionally if you weren't in your current industry?
My passions include food, wine and excellent customer service, so I'd open a winery or restaurant. That's the career passion my daughter is now pursuing.
What is your favorite book, movie or television show?
I'm currently reading Love in the Time of Cholera. Gabriel García Márquez, born in Colombia, crafted a beautiful love story. I'm drawn into the Colombia of a century ago. We're launching a new cruise itinerary on the Magdalena River in Colombia, and the book allows me to immerse myself in and learn about the country.
What historical figure, dead or alive, would you love to have dinner with?
I love almost every single thing written by Maya Angelou.
THE BUSINESS
What is your most recent project, and what was the inspiration behind it?
I'm passionate about innovation, and I love listening to guest feedback. I have dinner with our guests and learn more when I'm on sailings. My ongoing project is working with our teams to constantly improve, especially in the areas of wellness, cuisine and sustainability, where we are already a trendsetter in our industry.
What is your favorite aspect of the job?
I love traveling, visiting new countries and cultures. I love interacting with our guests and crew. In a typical year, I spend more than 16 weeks on board our ships.
What's the biggest business risk you've ever taken?
In 2002, as a young mother, I quit my job to launch AmaWaterways. People thought I was taking a risk, but I knew we would succeed. In 2005 we shifted from chartering ships to building and owning our own vessels, which felt like a bigger risk to me. Today we own 25 beautiful, custom-built ships, with three more under construction.
Who is someone you admire professionally in the travel industry?
Rudi Schreiner, my business and life partner, known as the Godfather of River Cruising. He knows so much about the industry, surpassed only by his love of innovation. He has always trusted me and valued my opinion. I also have deep admiration for the travel industry leaders we've chosen as godmothers of our ships, women who made enormous contributions to the industry.
AS A TRAVELER
Tell us about a travel nightmare: I'm a positive person and always see the positive side of things. During a storm I was stranded overnight at the airport in Charlotte. All of the passengers stranded formed a little community — we all took care of each other that night. When we finally deplaned the next day, it felt like leaving friends and family.
Share a comical travel experience: Born in the former East Germany, before the wall came down, we could only travel to the eastern part of Europe, like the former Soviet Union. My first flight was from the Caucasian mountains to the Black Sea and was shared with lively locals and their chickens in cages. I will never forget the noise level or the scent.
What is your preferred method of travel — planes, trains, automobiles, cruise ships — and why? Ships, specifically river cruise ships, as they allow you to travel into the heart of countries, docking in the center of quaint, colorful villages, unpacking just once. There's no other experience like it.
What has been the best example of customer service you've experienced during your travels? Our cruise managers on our ships go above and beyond to surprise and delight. One time, after disembarkation, a family left behind their 5-year-old's teddy bear. The cruise manager took a cab to the airport to deliver the teddy bear to the little boy. Come on board to experience the magic for yourself!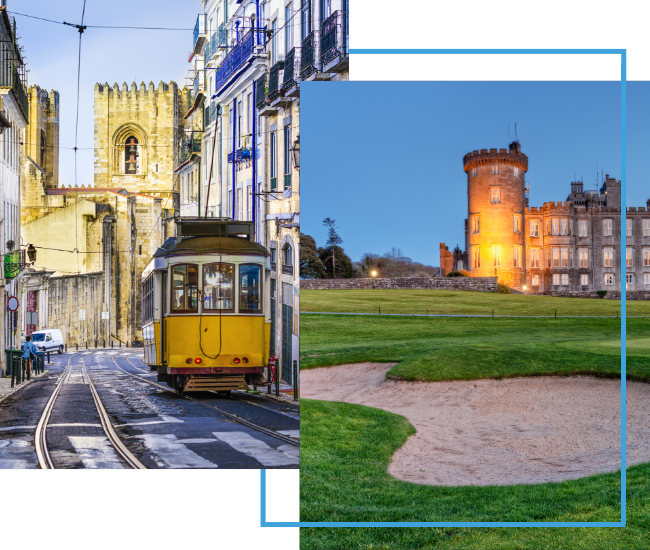 FX Excursions
FX Excursions offers the chance for once-in-a-lifetime experiences in destinations around the world.
Explore Excursions
If fabulous food and beverages are a must-have for any weekend getaway, then look no further than the City of Brotherly Love. Whether your palate has a penchant for vibrant Latin American fare or cozy French cuisine, whether you're an oenophile looking to swirl, sniff and sip your way around the globe or you'd rather sample farm-to-glass cocktails, Philly's got it all this fall. (With the exception of Bolo, which is a short taxi or Uber ride away and definitely worth the trip, the rest of these spots are all within walking distance of each other.)
Sponsored Content
One affordable plan can protect an entire year of trips: business or pleasure, short or long, domestic or international.
From Santoríni to Dubai to New York, some hotels just have that "it" factor that draws visitors far and wide. For some hotels it's their proximity to popular landmarks and attractions, for others it's their amenities. But these hotels have something few can claim: a true room with a view.