Peru's capital city sits at the heart of everything that happens in the country's political and business worlds, and it just so happens to make a great place to visit, too, famed for its food, history and buzzing atmosphere.
With a populace of just more than 10 million, Lima boasts more inhabitants than any city in the United States. In fact, locals call it El Pulpo (The Octopus) due to its huge size and concentration of so much of Peru's population, wealth and political influence.
This all makes getting around a challenge, with limeños suffering the fifth-worst traffic congestion of any city in the world. One way to beat the gridlock on some routes is to use public transport such as the Metropolitano bus service, running on its own protected lanes in some areas, and the Tren Eléctrico, connecting northern and southern areas in the east of the city. Otherwise, the buses and minibuses (known as "combis") you see on the roads are operated by a vast array of private companies, and navigating their routes can pose a challenge.
One exception, the Airport Express bus, provides easy transfers from Jorge Chávez International Airport to the Miraflores neighborhood, popular with visitors. In Miraflores the CityBike Lima public bike sharing service offers a good way to explore nearby areas. For longer journeys consider hiring a taxi; just make sure to leave plenty of time for each trip because of the terrible traffic. No one wants to arrive at an important meeting stressed and running late. As a general rule, favor companies with more modern cars over the independent yellow taxis, which tend to use older vehicles.
Business travelers in Lima will likely spend time in Miraflores, which offers many hotels and upscale businesses. Stay at the Pullman Lima Miraflores and you can take meetings on the rooftop looking over the Pacific, or choose the Hilton Lima Miraflores, feted as one of the best in town. Entertain clients at high-end restaurants such as Maido, a Japanese-Peruvian fusion spot, or Central, which sources ingredients from around Peru — both lauded as among the best in Latin America.
Nearby San Isidro, another upscale district, has become home to many corporate headquarters as businesses and banks moved out of the historical center of the city in recent decades. Impress your contacts by booking a room at the Country Club Lima Hotel, Swissôtel Lima or The Westin Lima Hotel & Convention Center, not only hosting events but also housing the renowned Maras Restaurante. Other great gastronomic experiences await in the neighborhood at Astrid y Gastón and sustainable restaurant Limaná.
If you do need to venture into the center of the city, with its colonial buildings and bustling streets, you will find culinary gems such as Chez Wong, serving Peru's national dish, ceviche, and other seafood delights for decades. Securing a table here is sure to impress clients, as the wait list can extend for weeks. Another spot steeped in history, the Antigua Taberna Queirolo features a dark wood décor that hasn't changed much since it opened in the 1880s. Organize some drinks here to show more traditionally minded Peruvian contacts you appreciate the country's history and its national spirit, pisco.
At the other end of the scale, those working with younger generations may want to target the trendy Barranco neighborhood, known for its bohemian bars and eateries. Book a table at the La 73 bistro or Isolina Taberna Peruana, then head to Picas or Casa Santos for cocktails and then some dancing at Café Victoria or La Noche. If you'd like to stay in Barranco, check out Hotel B or Casa República.
With so many people spread over a huge area, it's no surprise Lima has a lot to offer visitors. Most of the places of interest to business travelers are concentrated along the Metropolitano bus route, which runs north to south and connects the historical center and Barranco via San Isidro and Miraflores. However, if you get some downtime, try to make it to the fish market at Chorrillos, where you can eat fresh seafood while looking back to the city over the bay.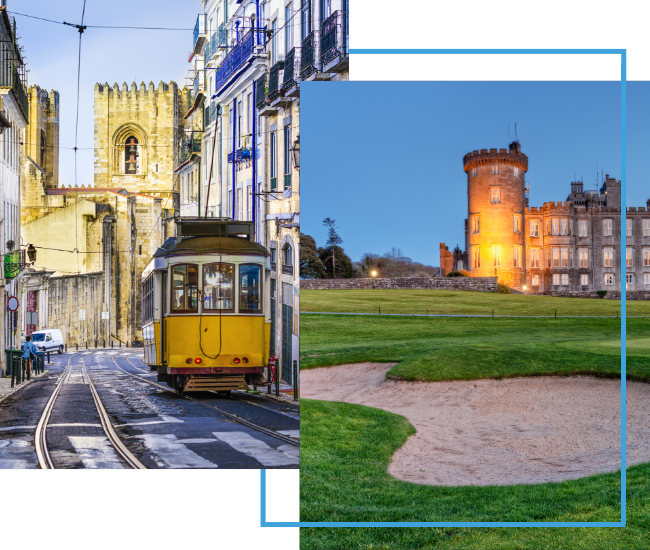 FX Excursions
FX Excursions offers the chance for once-in-a-lifetime experiences in destinations around the world.
Explore Excursions
As first-time restaurateurs, but with plenty of hospitality-related experience, Ria and Kevol (Kev) Graham were not entirely comfortable opening their first restaurant in the Brooklyn neighborhood of Williamsburg, where several upscale restaurants and 5-star hotel dining is just a block away. And to make matters worse, they opened in July 2020, when New York City was in the middle of the COVID-19 pandemic.
Sponsored Content
Learning more about our readers' travel habits and preferences ensures Global Traveler delivers the content you desire. As the travel industry has adapted and changed over the last few years, it's more important than ever to connect. To best meet your short- and long-term travel content needs, please help us!
In addition to intimate settings, smaller staff-to-passenger ratios, and personalized food and beverage options, river cruises have the advantage of providing a deeper dive into a region's culture, food and history. The Rhine, Rhône and Danube in Europe and the Mississippi River and St. Lawrence in North America have much to offer travelers with their itineraries, tying together beloved cities and lesser-known destinations along their routes.