Travel to Colombia surged since the signing of the historic Peace Agreement in November 2016, ending a half-century-long conflict. A record 4.4 million visitors came to the country in 2018, up a staggering 300 percent from a decade earlier, when reaching 1 million travelers was a lofty goal. This surge in demand led to better international flight options, which should continue to increase visitor numbers from abroad as long as the country remains stable. However, current COVID-19 travel advisories and restrictions greatly reduced the number of visitors, with fewer international flights to the country remaining in service.
While Bogotá remains the business and financial core of Colombia, more meetings now take place in far more picturesque Cartagena, a Spanish colonial city that seems to be built with the traveler in mind. Behind the fortress walls the city boasts narrow streets; large plazas; 17th-century churches; and row after row of charming restaurants, boutique shops and salsa dance clubs. Walking the pedestrian-only streets of the Old Walled City, a UNESCO World Heritage site, compares to strolling the French Quarter of New Orleans. Bougainvillea flows from the terraces of the colorful homes, and under a historic clock tower local merchants sell candy produced from tropical fruits such as guava, mango, papaya and coconut.
As an added bonus, Cartagena sits on the Caribbean coast and serves as a welcome mat to a long stretch of beach and warm waters for swimming. Within an hour by boat from the city lie the Rosario Islands, home to the country's only underwater national park. Snorkel or scuba dive and be treated to wonderful coral formations and large schools of neon-colored fish. You also have the option of sea kayaking in the mangroves, even spending a night on an island at the secluded Hotel San Pedro de Majagua. But first you have to get that deal done.
Many business meetings take place at Cartagena's finest hotels. Dress is Caribbean casual; usually men wear a nice short-sleeved collared shirt, slacks and shoes. For women, a colorful sundress is not uncommon.
It's hard to top the location and enviable space of Cartagena's first luxury resort, Sofitel Legend Santa Clara Cartagena, housed in a former convent that dates back to 1621. Enjoy a lunch of healthy and sustainable cuisine under the shade of palms at the outdoor Restaurant Jardín Santa Clara. In Colombia, the most popular nonalcoholic drink at lunch is coconut lemonade, especially thirst-quenching during the humid summer months.
If you're looking for something a little more intimate, head down the block to El Santísimo. Owner and chef Federico Vega honed his skills at Le Cordon Bleu in France, and the result is French/Colombian fusion fare that tantalizes the tastebuds. Start with crunchy triangles of Camembert cheese, breaded with toasted sesame seeds over a sauce of sautéed   (Colombian ground-cherries). Then move on to The Lord's Pardon, large prawns with a mango, ginger and cilantro sauce. For dessert, sample The Envy, a crunchy tulip filled with mango mousse.
For meetings later in the day, don't overlook the more contemporary Bocagrande section of the city right along the beach. Taxis and Ubers are easy to find in Cartagena, and a five-minute drive gets you from Old Town to InterContinental Cartagena de Indias, where you can have your drink poolside overlooking the expanse of beach and ocean. It's particularly enticing at sunset, when the orange/ reddish orb practically melts into the sea. Closer to town, the boutique Movich Cartagena offers glorious views of the city from its rooftop bar and pool.
Don't be surprised if your contact in Cartagena takes you to Club de Pesca for dinner, a local favorite. Dine alfresco near the illuminated walls of San Sebastian Fort overlooking the city's bayside. As the name suggests, the large restaurant is known for its local seafood, like fried red snapper or seafood stew doused in fresh coconut milk. Prefer entertainment with your meal? Then take a horse and buggy ride in the old walled city to El Burlador de Sevilla, known for its flamenco dance show and Spanish tapas.
Cartagena knows how to throw a party, so don't expect your day to end with dinner. The salsa dancing at Café Havana starts around 10 p.m. and doesn't stop until the wee hours of the morning. Couples dance around the bar and small dance floor to talented singers backed by a lively horn section. If you prefer to end the night in relative quietude at one of the majestic outdoor plazas, grab a nightcap at El Barón, a cocktail bar set under the towering San Pedro Claver church.
The options for upscale dining and lodging in Cartagena will only improve in coming years, as both Four Seasons and the Viceroy announced the planned debut of new properties. As long as Colombia holds to the tenets of its Peace Agreement, you can expect the number of top-shelf hoteliers and travelers visiting Cartagena to swell.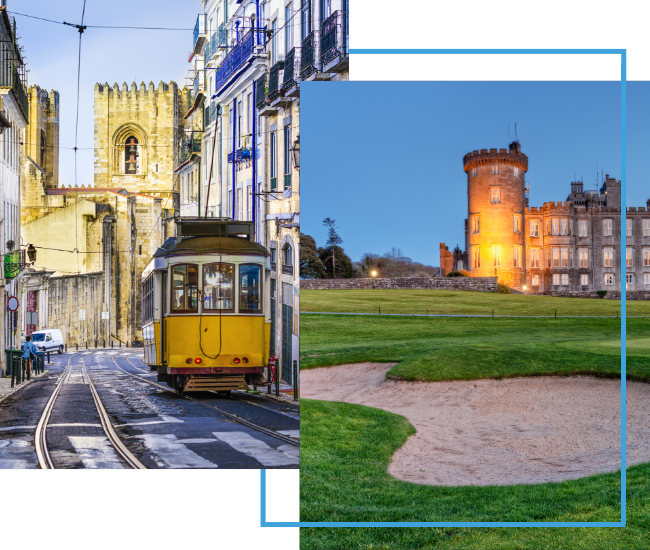 FX Excursions
FX Excursions offers the chance for once-in-a-lifetime experiences in destinations around the world.
Explore Excursions
Did the new film Oppenheimer rouse your interest in the nefarious world of international espionage? You can go straight to the real-life setting for covert actions this November (Nov. 10–12), when La Fonda on the Plaza in Santa Fe hosts a specially themed "Spies, Lies and Nukes" weekend. The hotel actually served as the retreat location for Manhattan Project scientists, who stayed at La Fonda on the Plaza to take a break from the stress of their work. During the weekend, the property's La Fiesta Lounge will make a tasty nod to those days by serving up a special Atomic Martini.
Sponsored Content
The Islands of Tahiti are among the most beautiful and sought-after vacation destinations in the world. The endless images of overwater bungalows with Bora Bora's majestic peak towering over waters of every shade of blue have an intrinsic pull. But with 118 islands and atolls to explore, there is so much more to this spectacular region of the Pacific.
Ever want handcrafted martinis and freshly shucked oysters delivered straight to your room? The Read House's New Martinis & Pearls service has you covered. Shining in 1920s-themed decor, the historic hotel in the heart of Chattanooga offers a true Gatsby-esque experience, now further elevated with this upscale amenity. Guests can now indulge in their perfectly chilled martini, made to order, and "pearls" (oysters) in the comfort of their room.