There's no denying that I am a Midwestern girl through and through, even though I've lived away from my hometown of Racine, Wis., for almost 10 years now.
I went back to W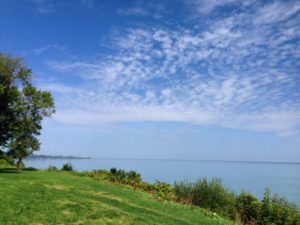 isconsin last week to visit my family. Summer was in full swing, and everyone was soaking up as much as they could before fall and winter present themselves right around the corner. My little hometown, which is centrally located about 45 minutes south of Milwaukee and about an hour north of Chicago, is situated on Lake Michigan and is famously known as the home of global powerhouses J.I. Case and S.C. Johnson & Son.
The industrial landscape has always fueled the economy in southeastern Wisconsin. In addition, it has several immigrant communities. Fun fact: Frank Lloyd Wright has several examples of his architecture throughout the city of Racine for any of you architecture buffs out there. Many are surprised to find out that Racine has a very large Italian community. My cousin's pizzeria, Wells Brothers Pizza, is an institution at this point and an absolute must-do while visiting Racine. The pizza is perfection! And if you're lucky, you might get to try some homemad
e wine. Delizioso! O & H Bakery is another national treasure,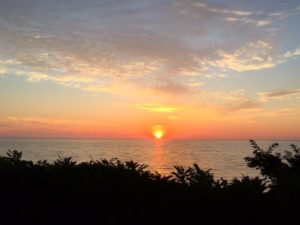 and you'll even see their kringles, a Danish pastry, in Trader Joe's stores from time to time.
Lake Michigan is such an asset for this town. The lake is calm, smooth as glass and clear in certain parts. Absolutely serene and zen. It's always a grounding experience for me when I'm home, back to my roots and spending time on Lake Michigan, which always reminds me of my childhood.
LA is crazy, and life here moves a million miles an hour. I feel refreshed after being surrounded by my loved ones and away from a life that doesn't always feel real. Family and good health really are the only things that truly matter in life.
— Rafie Iannello, account director, Pacific Rim
FX Excursions
FX Excursions offers the chance for once-in-a-lifetime experiences in destinations around the world.
Meeting planners looking for a more environmentally conscious destination for their next event need look no further: Barcelona is it. Fira de Barcelona, one of Europe's most important trade event organizations, commits to making events greener at facilities like CCIB, the Barcelona International Convention Center. By looking to local wind and solar sources, among other natural processes, Barcelona makes a significant impact by leaving smaller carbon footprints in the future by using zero-mile, or entirely local, energy.
Sponsored Content
Nashville's once-modest skyline continues to evolve as its luxury market grows. Lavish hotel properties are added to the landscape while acclaimed chefs stake claim in the robust culinary scene and premier cultural offerings round out the city's repertoire.
Villa specialist Maya Luxe offers guests curated and bespoke accommodations in Mexico's Riviera Maya. This local company works with companies in the region to provide unique itineraries for guests to enjoy, from tequila tastings to cooking classes to in-house spa services. Unlike other rental companies, Maya Luxe caters to a high-end market in which homeowners enjoy a concierge service to help them provide the best experience for guests.