When I was growing up, Arthur Fonzarelli was one of the most popular characters on television. A couple weeks ago, I had the chance to meet his alter ego, Henry Winkler, who was in town at Wizard World to promote his latest project.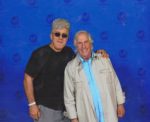 "The Fonz" was the coolest, but Winkler is one of the nicest people I have ever met (celebrity or not). At 74 Winkler is again starring on the small screen. He just finished his second season on Barry, HBO's dark comedy, a role for which he earned an Emmy.
While most of the press asked about Barry, I discussed travel with Winkler. Hesitant to name one destination, Winkler credited "The Fonz" with introducing him to the world and the world to him. Because of the Fonz, he was able to travel the world and he embraced every opportunity.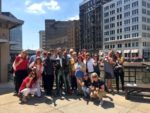 Of course, Winkler is forever connected to Milwaukee, the setting for Happy Days and the home of the Bronze Fonz statue. The life-size statue of Fonzie is located on Milwaukee's RiverWalk. Winkler proudly stated that he visits the statue every time he is in Milwaukee. "It is a great honor. You cannot be blasé about that, no matter how much time goes by," Winkler said.
Tourists don't take it lightly, either. The Bronze Fonz is one of the most popular attractions in Milwaukee. Since it was unveiled in 2008, Winkler said not a day goes by when he doesn't see fans posting pictures with the statue on social media. When I admitted I have done this, Winkler said, "Of course, because you are cool."
With that, the media session ended, but my day was made. It can't get better than being called cool by the coolest one ever.
— John Wroblewski, online writer
FX Excursions
FX Excursions offers the chance for once-in-a-lifetime experiences in destinations around the world.
Since Cheval Blanc, an extraordinary, newly designed and refurbished 72-room hotel owned by Louis Vuitton Moet Hennessey, launched in September 2021, it has been the talk of the town. Le Tout-Paris remarks about its WOW factor … and the hard-to-get reservations for the 30 seats at Plenitude, the intimate, first-floor gastronomic outlet headed by chef Arnaud Donckele, who earned three Michelin stars at Cheval Blanc Saint Tropez. Reservations are also recommended for Limbar, the ground-floor bakery/café/tea shop/bar where we watched Pastry Chef Maxime Frédéric preparing desserts and an absolute must-have for dinner at Le Tout-Paris, the 7th-floor, all-day brasserie. This brightly colored space, with its raised seating and Fauve-like floor tiles and the adjacent Milanese restaurant, Langosteria, both have access to terraces facing the Seine River, with amazing views encompassing Notre Dame to the Eiffel Tower.
Sponsored Content
Go ahead, take a nice, deep breath. Because a Seabourn voyage is all about this moment you've come so far in life to embrace. It's not an escape, it's an arrival.