When I was growing up, Arthur Fonzarelli was one of the most popular characters on television. A couple weeks ago, I had the chance to meet his alter ego, Henry Winkler, who was in town at Wizard World to promote his latest project.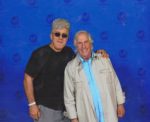 "The Fonz" was the coolest, but Winkler is one of the nicest people I have ever met (celebrity or not). At 74 Winkler is again starring on the small screen. He just finished his second season on Barry, HBO's dark comedy, a role for which he earned an Emmy.
While most of the press asked about Barry, I discussed travel with Winkler. Hesitant to name one destination, Winkler credited "The Fonz" with introducing him to the world and the world to him. Because of the Fonz, he was able to travel the world and he embraced every opportunity.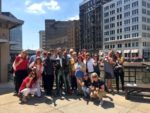 Of course, Winkler is forever connected to Milwaukee, the setting for Happy Days and the home of the Bronze Fonz statue. The life-size statue of Fonzie is located on Milwaukee's RiverWalk. Winkler proudly stated that he visits the statue every time he is in Milwaukee. "It is a great honor. You cannot be blasé about that, no matter how much time goes by," Winkler said.
Tourists don't take it lightly, either. The Bronze Fonz is one of the most popular attractions in Milwaukee. Since it was unveiled in 2008, Winkler said not a day goes by when he doesn't see fans posting pictures with the statue on social media. When I admitted I have done this, Winkler said, "Of course, because you are cool."
With that, the media session ended, but my day was made. It can't get better than being called cool by the coolest one ever.
— John Wroblewski, online writer
FX Excursions
FX Excursions offers the chance for once-in-a-lifetime experiences in destinations around the world.
With the start of spring, travelers have their choice of new design-centric boutique properties opening in the coming months. Check out these properties for travel inspiration.
Sponsored Content
Europe is more fun with a Portugal Stopover.
Mendocino County is a self-contained universe of effortless, California-centric joy enveloped within the Redwood Forest National and State Parks, the rocky Pacific Coast and several prime wine production areas like Anderson Valley. If Highway 1 and Route 128 are the ribbons holding this package together, Elk Cove Inn & Spa can be considered the bow. Mendocino Coast's first vacation destination, established in 1968, is an ideal 16-room gateway to the destination.