By now I am sure it is pretty evident I am a Philly girl through and through. With that comes the habitual need for a good cheesesteak running through my veins. I typically treat myself to a Jim's Steak or one from Ishkabibbles, but I really had to justify a trip to the famous Barclay Prime for the $140 Wagyu and truffle cheese cheesesteak that sits on the menu.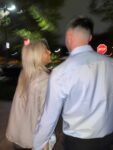 My boyfriend, Christian, and I decided our first anniversary was the perfect excuse to splurge on such a decadent Philly favorite. We ate lightly all day this past Sunday to save room for a rich and flavorful celebratory meal.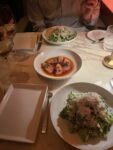 We thought we had a good game plan after looking over the menu initially, but our waiter, Derk, walked us through some of the specialty items and gave us better insight on how to best enjoy the restaurant's menu top to bottom. We even learned Barclay Prime is the only restaurant in Philadelphia to receive its Japanese Wagyu steak directly from Japan.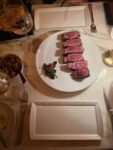 The cheesesteak came out first, plated beautifully with sesame seed bread cut into four pieces and oozing truffle cheese. The cheesesteak actually comes with a mini bottle of Champagne to enjoy with the delicacy. After we finished our first course and decided this was the best steak in the city, a Hamachi crudo and Caesar salad followed the dish, as well as a medium-rare ribeye coated with beautiful, flakey, kosher salt to share. We were completely stuffed when we requested the check, but Derk couldn't let us leave without a packaged dessert of chocolate truffles in our doggie bag, and a candle for our anniversary was set on the table. They really personalized our experience and made it the tastiest, most enjoyable and educational evening imaginable.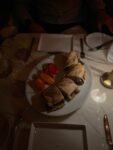 I am glad we saved Barclay Prime for a special occasion, making the evening that much more enjoyable; however, if you can't stand to wait for the best cheesesteak in the city after reading this, I don't blame you. Cheers!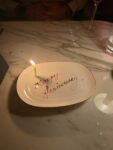 — Haley Fogarty, advertising manager
FX Excursions
FX Excursions offers the chance for once-in-a-lifetime experiences in destinations around the world.
ZEL, the new lifestyle hotel brand from tennis superstar Rafael Nadal and Meliá Hotels International, is set to open its first hotel. Located in Mallorca, Spain, the hometown of both Nadal and Meliá, ZEL Mallorca debuts July 1.
Sponsored Content
Putting yourself first has never been easier.
Crystal Bridges Museum of American Art, located in Bentonville, Arkansas, presents Diego Rivera's America, the first major exhibition focused solely on the Mexican artist in more than 20 years, on view until July 31. Crystal Bridges is the second and final stop for the exhibition, the only remaining opportunity for visitors to experience Rivera's expansive vision of America.