Last weekend my friends and I went on our 19th annual Boys of Summer trip. While the trips are always built around baseball, we include plenty of sightseeing. This year we took a Segway tour through the area.
Bike and Roll DC offers several guided Segway and bike tours. Our Segway tour covered the National Mall, including the Capitol Building, the White House, the Lincoln Memorial and other interesting spots.
The experience started with a short tutorial video about riding a Segway. Next, our tour guide, Emily, gave each of us a short, one-on-one practice session on the Segway. I was the only one from our group who had previously ridden a Segway, yet I was also the most nervous. Fortunately, this Segway was much easier to handle than the last one I rode, and I quickly felt comfortable.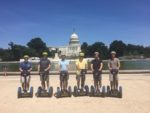 The tour lasted about 2.5 hours and covered five miles. The Segway speed topped out at 12 mph. There were a handful of stops along the way, with Emily discussing the history, facts and figures of the various points of interest.
The tour ended with a long, straight stretch that allowed us to have a little extra fun racing and freestyling. The refreshing freeze pops Emily provided at the end were a really nice touch.
The Segway tour was a great way to see a lot of sites. We saw and learned a lot more than we would have walking by ourselves. Plus, we had a lot of fun cruising through the area.
— John Wroblewski, online writer
FX Excursions
FX Excursions offers the chance for once-in-a-lifetime experiences in destinations around the world.
COMO Hotels and Resorts offers travelers new immersive luxury retreats for 2022. Perfect for couples, small groups or solo travelers, the new COMO Journeys are available to book in Australia, Bhutan, Indonesia and Thailand.
Sponsored Content
Set on a seaside bluff overlooking Land's End in Cabo San Lucas, Vista Encantada Spa Resort & Residences is a Baja paradise specializing in serene vistas and impeccable hospitality, offering a Pacific coast lifestyle with authentic Mexican touches. Guests can now earn a fourth night free at the stunning resort, plus a $100 resort credit, when booking through March 20, for travel through June 15.
Anantara Chiang Mai, the deluxe resort on the banks of Thailand's Mae Ping River, relaunched the city's most famous high tea experience, served on the terrace of the 100-year-old British Consulate that today houses the resort's Service 1921 Restaurant & Bar.