A year ago, I wrote "Podcast Pleasures" about podcasts I discovered while working from home. Since then, I added a few new ones to my list.
In Chicago you can't talk podcasts without mentioning radio veteran Dan Levy. A producer, announcer, teacher and podcaster himself, Levy's LevyCast covers topics as diverse as his résumé. Often joined by sports or radio personalities, LevyCast has delved into the world of game show hosts, voice-over work and more. Recently I talked to Levy about his career, and we shared locker room war stories, the focus of the latest LevyCast episode.
Last time, I mentioned On a Quest Paranormal, a podcast by Jill Urchak-Levy (Dan's wife). While On a Quest Paranormal is still exploring the paranormal world, Urchak-Levy started The Jill Urchak Show, on which she shares stores from her life and career. Only two episodes in, I am already hooked and looking forward to see where it goes. It's funny, serious and relatable.
While researching another blog, I came across What the Func?!, a podcast focused on functional medicine. What the Func?! hosts Laura Schein and Clayton Farris discussed fatigue, supplements and other mental and physical issues. The duo often welcomes experts to join the discussions which are always informational yet sprinkled with light-hearted humor.Yesterday, I talked with Schein about the podcast, her musical Emojiland, her career path, travel destinations and more.
Catchin' Up With Franco is the best place to peek into the artistic world of Franco (Aureliani). Comic illustrator Franco welcomes an all-star lineup of artists to discuss a myriad of topics while drawing. The artistic process always fascinates me, and this is a great chance to see Franco and his artist friends, like Sara Richard, displaying their talents while entertaining on a second level with fun conversations.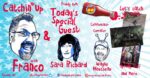 I grew up watching Jenniffer Weigel's late father, Tim, report sports news in Chicago. Jenniffer carved her own path as a broadcast journalist, author and more. Much like her books, which have made my Great Reads blogs, The Jenniffer Weigel Show podcast explores spirituality with humor and common sense. Spirituality takes many forms, and Jenniffer continues probing all spiritual roads. I'm happy taking those spiritual road trips with Jenniffer.
Working from home changed my routine in many ways. Discovering interesting podcasts is one of the better ways.
— John Wroblewski, online writer
FX Excursions
FX Excursions offers the chance for once-in-a-lifetime experiences in destinations around the world.
Sponsored Content
Global business travel is making its way back, even as the pandemic and other world events continue to challenge its return. In a recent poll from the Global Business Travel Association, more than four in five respondents (86 percent) from across the industry said they feel more optimistic than they did at the beginning of the year. Business travel bookings, the need to travel to do business and employee willingness to travel are all on the rise.