A year ago, I wrote "Podcast Pleasures" about podcasts I discovered while working from home. Since then, I added a few new ones to my list.
In Chicago you can't talk podcasts without mentioning radio veteran Dan Levy. A producer, announcer, teacher and podcaster himself, Levy's LevyCast covers topics as diverse as his résumé. Often joined by sports or radio personalities, LevyCast has delved into the world of game show hosts, voice-over work and more. Recently I talked to Levy about his career, and we shared locker room war stories, the focus of the latest LevyCast episode.
Last time, I mentioned On a Quest Paranormal, a podcast by Jill Urchak-Levy (Dan's wife). While On a Quest Paranormal is still exploring the paranormal world, Urchak-Levy started The Jill Urchak Show, on which she shares stores from her life and career. Only two episodes in, I am already hooked and looking forward to see where it goes. It's funny, serious and relatable.
While researching another blog, I came across What the Func?!, a podcast focused on functional medicine. What the Func?! hosts Laura Schein and Clayton Farris discussed fatigue, supplements and other mental and physical issues. The duo often welcomes experts to join the discussions which are always informational yet sprinkled with light-hearted humor.Yesterday, I talked with Schein about the podcast, her musical Emojiland, her career path, travel destinations and more.
Catchin' Up With Franco is the best place to peek into the artistic world of Franco (Aureliani). Comic illustrator Franco welcomes an all-star lineup of artists to discuss a myriad of topics while drawing. The artistic process always fascinates me, and this is a great chance to see Franco and his artist friends, like Sara Richard, displaying their talents while entertaining on a second level with fun conversations.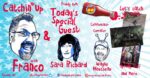 I grew up watching Jenniffer Weigel's late father, Tim, report sports news in Chicago. Jenniffer carved her own path as a broadcast journalist, author and more. Much like her books, which have made my Great Reads blogs, The Jenniffer Weigel Show podcast explores spirituality with humor and common sense. Spirituality takes many forms, and Jenniffer continues probing all spiritual roads. I'm happy taking those spiritual road trips with Jenniffer.
Working from home changed my routine in many ways. Discovering interesting podcasts is one of the better ways.
— John Wroblewski, online writer
FX Excursions
FX Excursions offers the chance for once-in-a-lifetime experiences in destinations around the world.
Grand Hyatt Vail offers travelers an exciting lineup of experiences for winter 2022/2023. The property celebrates its 40th anniversary in conjunction with Vail Mountain's 60th anniversary this December.
Sponsored Content
Experience the beauty of Alaska and save 60 percent off cruise fares on your second and fourth guests. Plus, drinks, WiFi and tips are all included.
From Costa Mesa and Newport Beach to Corona Del Mar, Dana Point and Laguna Beach, there are no shortages of lavish hotels and full-service day spas spanning Orange County. Spa enthusiasts are spoiled for choice, with so many different flavors of high-end interiors, signature treatments, elaborate services, retail areas and, often, swanky snacks served in cafés and solariums.