The last time I wrote to you I was en route to my home away from home in the Dominican Republic. Two celebrations of love brought my fiancé, Nathan, and me back to the island as two of my cousins got married a week apart. Talk about two birds, one stone, right?
We planned to arrive mid-week, giving ourselves some days before the first wedding to do some planning for our own. This also gave us the opportunity to catch up with family and sync into the excitement of all being together for these occasions. It truly felt like the holidays — people flying in from all over and families and cultures merging and blending with a common purpose: celebrating the people we love.
We wanted summer days, and, boy, did we get them! On average, it was 92 degrees almost every day, only partially cooling down in the evening to high 70s, low 80s. Not the kind of weather you want to sit in traffic in, but traffic was almost all we found. Judging from the hustle and bustle encountered all over, Santo Domingo is doing well. In the days leading up to the wedding we found ourselves contributing to the city's economy with stops all over and many errand runs — admittedly, they were almost all my errands. The preparation leading to each event was, well, busy! You see, in Dominican culture, there's no such thing as "simple" in a formal dress code. Think ballgown, red carpet … can you see it?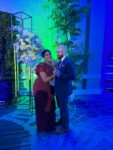 One of my favorite things about my aunts and uncles getting married was the preparation leading up to the event … nail appointments, the perfect opportunity to introduce a new hair color or style, my cousins and I thinking we were grown up because we got to wear adult perfume and cologne. Now that it's my cousins and friends I'm celebrating and we're all adults, my favorite thing is just being able to be around everyone. Yes, thankfully, we are able to stay in touch and stay connected with each other so easily now, but to actually be present with my family and share that love face to face is irreplaceable.
And let's face it, who doesn't love a good wedding? And what a wedding we started with! My cousin Brendha's was held at Dominican Air Force Chapel and the reception at Renaissance Santa Domingo Hotel Jaragua — a beautiful property located across the street from the coastline and a pathway leading directly to El Malecón and eventually Zona Colonial. They chose to have a Catholic ceremony, and after Mass, we kicked off the festivities with a cocktail hour around 6 p.m. and partied until the hotel staff turned the lights on around 2 a.m. — an all-day affair for me since I was part of the bride's getting-ready crew. A good time was had!
Nathan and I decided to be real tourists and stayed a couple extra days at Jaragua to be closer to everyone staying for the weekend. After relaxing by the pool and resting during the day, we met part of the family for dinner and spent the rest of the night sharing photos and videos and recapping the night.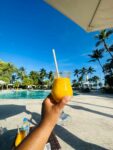 We left the hotel on Monday and drove straight to Playa Esmeralda in Juan Dolio for a sunset bath in the Caribbean Sea. A perfect way to close out the festive weekend. I'll tell you all about this gem in my next blog.
Until next time,
— Yasser Ogando, advertising & production manager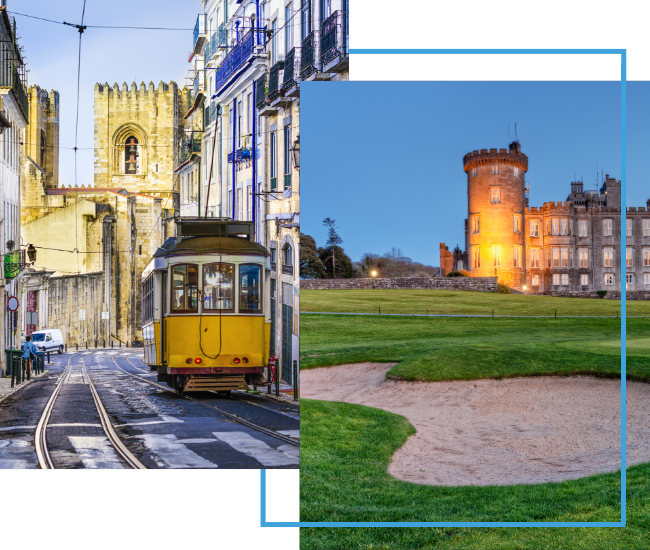 FX Excursions
FX Excursions offers the chance for once-in-a-lifetime experiences in destinations around the world.
Explore Excursions
It's time to start dreaming of your next trip. Here's some destination inspiration for you. Take a visual journey through these U.S. Christmas markets with us.
Sponsored Content
The Saronic or Argo Saronic Islands of Greece call travelers to explore its seven small islands and islets brimming with history, natural sites and more. With most easily accessible by boat, the islands' proximity to ports of Athens make the Saronic Islands an ideal destination for those preferring shorter boat rides. In fact, trips from Athens ports to the islands take only between 10 minutes and two hours, depending on the island you choose, making them perfect for day or weekend trips. From Piraeus port, you can access Hydra, Spetses, Aegina and Poros directly. Come explore these stunning islands with us and find the inspiration to plan your next trip to these islands. Hydra Hydra town curves around a slope overlooking the Argosaronic Gulf like an amphitheater and is considered one of the most romantic destinations in Greece. Most unique to the island is its lack of vehicles. People on the island get around on mules and donkeys as well as water taxis, making for a peaceful and laid-back day. Hydra lies a two-hour ferry ride from Piraeus port in Athens.
Everyone loves a good Christmas tree, but these iconic hotels around the world take it one step further with designer-styled trees illuminating lobbies and public spaces, wowing all who enter. From Lela Rose to Louis Vuitton, don't miss these ultra-luxury trees redefining tree decorating as we know it.